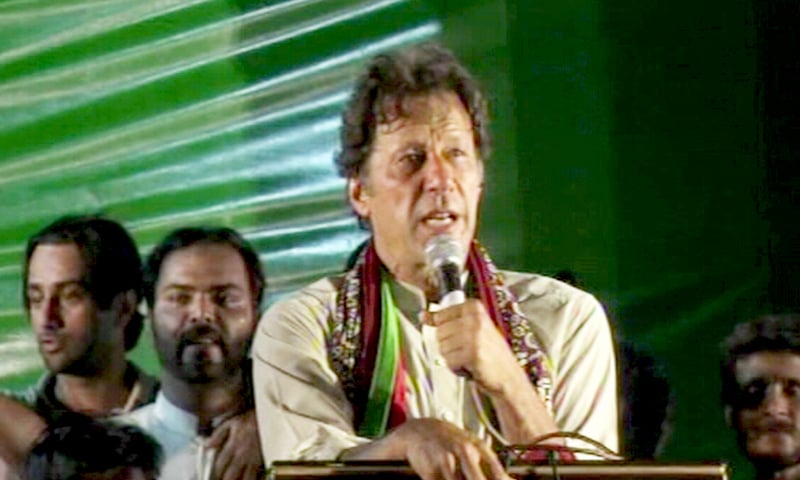 Pakistan Tehreek-i-Insaf (PTI) Chairman Imran Khan appeared to have former president and PPP leader Asif Zardari in his crosshairs as he addressed a public gathering in Sukkur on Friday, calling on the people of the province to come out onto the streets and end the reign of "Sindh's pharaoh".
Although Khan continued his criticism of ousted premier Nawaz Sharif at the gathering, the focus of his attention was Zardari. "A pharaoh in Sindh will also soon be asking 'Why was I removed?'," he said, referring to an oft-repeated refrain by ousted PML-N leader Nawaz Sharif after his disqualification from holding public office.
"But Zardari does not put on an act. He will know why he was removed, and he will leave without a fuss," he vowed.
"When the head of Sindh steals, he cannot stop others from stealing. He corrupts the whole system from top to bottom," Khan asserted, asking the crowd to come out and "take down" Zardari with him, and to usher in a new era for the province.
"I could not visit Sindh earlier because I was stuck in [the] Panama [Papers case]," he told supporters in Sukkur, as he promised to remove the "pharaoh" in Sindh "the way Pakistan's godfather was thrown out [of office]."
Touching upon unemployment, which he claimed was one of the most pressing issues in the province, Khan told his supporters that corruption leads to capital flight through money laundering, which in turn results in fewer jobs in the country.
He narrated the story of a civil servant who, he alleged, had committed suicide so that his unemployed son could get his job.
He also asserted that "The biggest issue is that the law for the powerful is different from the law for the poor."
He promised to visit all of Sindh in an attempt to take down Sindh's "corrupt mafias" and bring about a new "golden era" in the province and the country.
Khan had, in April this year, said at a rally in Badin: "Asif Zardari, I am coming after you," signalling a shift in the PTI's strategy regarding the PPP's traditional stronghold of Sindh.
In his Badin address, Khan appeared to cast doubt over Zardari's loyalties to the province, claiming: "He has property everywhere. Is he really sympathetic to your suffering?... Both [Zardari and Sharif] have money abroad. Both are involved in money laundering," he had alleged, suggesting that both politicians had "taken turns... to rob the country of its wealth".
As Khan visits Sindh, PPP Chairman Bilawal Bhutto-Zardari is busy testing the waters in Khyber Pakhtunkhwa.
"Your own ministers are alleging that Imran Khan's kitchen and Jehangir Tareen's plane operate [financially] on KP's contracts," Bilawal said in a recent visit to Mansehra while accusing the KP government of financial mismanagement.
A number of political figures have switched loyalties from both sides recently, with several leaders of PPP Punjab switching to PTI - including Firdous Ashiq Awan and Babar Awan - while PTI and PML-N leaders have been joining the PPP in Sindh as new alliances are forged ahead of 2018 elections.
Ousted prime minister Nawaz Sharif also announced on Thursday to visit Sindh soon as he welcomed former premier Mohammad Khan Junejo's son into the party's fold.