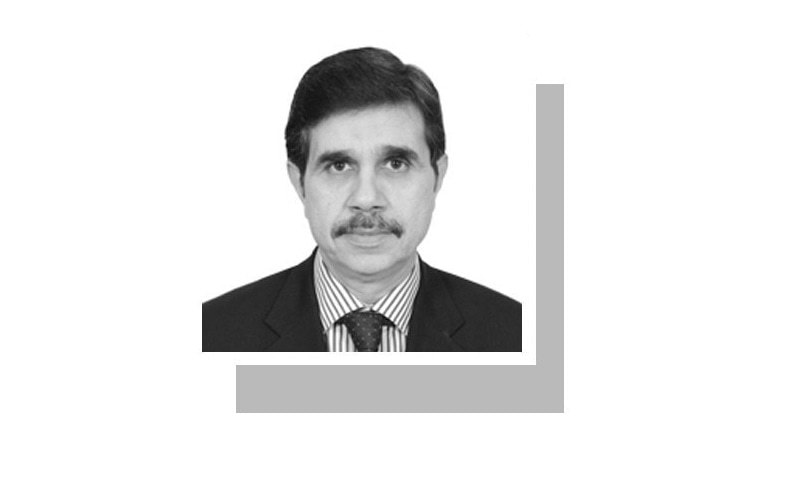 FINANCE MINISTER Ishaq Dar recently reiterated his desire that political parties develop a common 'charter of economy'. At the post-budget news conference last month, he urged political parties to draw up a common economic vision for 2018-23.
I argue that a charter of economy is neither possible nor good for the nation, as this would essentially mean political parties contesting elections would use a common manifesto.
In developed societies, the different views of political parties on national issues distinguish them from each other. If major political parties were to contest elections from a common economic platform voters would have little to distinguish one from the other. Therefore, voters would make distinctions based on personalities and dynasties. This is exactly what needs to be avoided.
Development through the construction of road networks and then waiting for the fruits of connectivity to trickle down is one of the possible development paradigms — a paradigm that the PML-N has adopted. But this is not the only development paradigm; there are others that have been successful in different parts of the world.
Given the strong evidence on the positive role of human capital in promoting economic growth and development, an alternative paradigm could be to focus more on developing human capital. This would mean giving greater priority to education and healthcare. Here it is worth mentioning that the four Asian Tigers — South Korea, Singapore, Hong Kong and Taiwan — which took off economically in the 1960s had achieved 100 per cent primary school enrolment by 1965.
A common economic agenda is not good for the nation.
Yet another development paradigm could be to improve 'institutions' ie systems. The underlying rationale of this paradigm is that better institutions curb corruption and rent seeking, encourage transparency and allow the rule of law and merit to prevail. Better institutions also bring in efficiency thereby cutting costs. This is the paradigm that much of the developed West seems to have followed while pursuing development.
Political parties may also differ on the role of the government in the economy. The question would be whether the government should be an active player — managing businesses like airlines, steel mills and railways — or whether it should restrict itself to being a mere enabler — providing a level playing field to all businesses, maintaining law and order and providing 'public goods'.
Recent literature suggests that income and social inequality in a country not only constrain development but may also drive terrorism. Therefore, to encourage development and curb terrorism a political party may prefer to spend more out of state funds on regions lagging behind such Balochistan, Fata, south Punjab, etc.
Some political party may like to follow what Pakistan's unsung hero Dr Mahbub ul Haq advocated — take care of poverty and this will take care of GDP. A political party may seek to address poverty through direct measure like cash transfers and unemployment pay while another may seek to address poverty by encouraging pro-poor economic activity.
Different development paradigms have different mechanisms and outcomes — one may rely on trickle-down to the poor while the other may insist on direct transfers like subsidies and free healthcare; one may attempt to reduce inequality while the other may exacerbate it. Therefore, it is not easy to frame a common economic manifesto that would equally serve all segments of society — a paradigm that the poor and deprived might prefer may not serve the interests of the rich and the powerful.
Political parties shall attempt to seek votes on the basis of the development paradigm that it intends to pursue. The party which promises to use the paradigm preferred by the majority shall be voted in. This is what democracy is all about.
Without taking a position in this article on which paradigm is preferable, one can see two slightly different development paradigms being followed by those at the helm in Islamabad and KP. Islamabad is more focused on roads, energy and mega projects. KP, on the other hand, seems to be tilted towards education, health and institutions. The people by casting their vote in 2018 will make it clear which paradigm they prefer. A common economic manifesto, courtesy the charter of economy, will deprive the nation of an opportunity to show its preference for one or the other development paradigm.
Though part of the PTI's vote count in 2013 might be owed to Imran Khan's personal charisma one cannot deny that many PTI voters did vote for 'change'. So a gradual shift from personality and dynastic politics to issue-based politics is discernible. A common charter of economy will take issues out of politics leaving the nation at the mercy of dynastic politics.
The writer is associated with Air University and the Pakistan Institute of Development Economics, Islamabad.
Twitter: @khawajaidrees11
Published in Dawn, June 7th, 2017