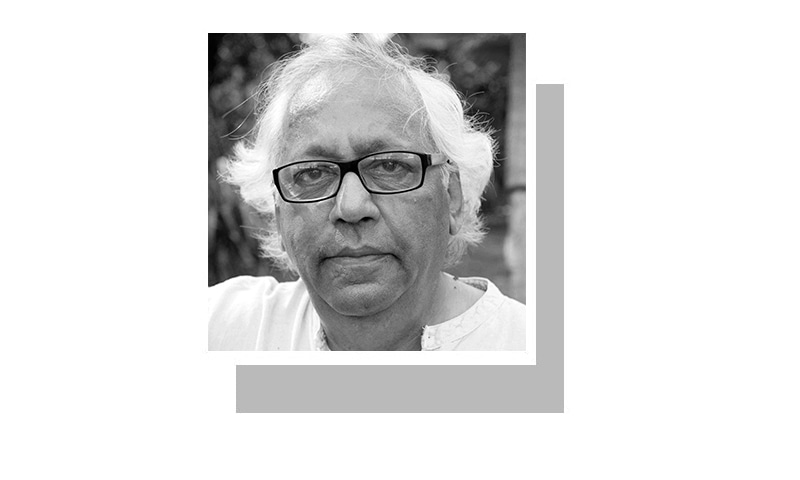 ACCORDING to a news report, ex-president Asif Zardari returned to Karachi after over a year of self-exile in a private plane.
There has been much speculation in the media about his political strategy for the coming months. But all I want to know is who paid for the plane? And not just the plane, but who funded his months of high living in Dubai, London and New York?
After all, Zardari has denied all the many corruption charges levelled against him over decades. So if he's as clean as he claims to be, where does all the money come from?
---
It's not just the political class that's riding the gravy train.
---
And it's not just Zardari, but most of the political class who seem to do nothing to earn money, and yet have enough to own luxury homes, expensive cars and be able to fly first class.
OK, so members of assemblies do get salaries and rent-free accommodation when parliament is in session. But even though they have voted increases to their emoluments, these would in no way pay for their lifestyles. So who's footing the bill?
Take Altaf Hussain, the MQM godfather, as an example. For nearly a quarter century, he has been living in London. Not for him the indignity of existing on the dole: the London police recovered around half a million pounds in cash from his large house. At the risk of sounding naïve, could somebody in the MQM tell me where the money for maintaining their head honcho in style is coming from?
Or take our many political clerics: they all cruise around in large SUVs, fly from one city to another and, judging from their well-fed appearance, seem in no danger of starving to death. No ascetic life for them as they add pounds and cholesterol to their ample frames. Again, who's footing the bill? With nicknames like Maulana Diesel and Maulana Sandwich, one can only speculate about the source of their wealth.
Of course, Nawaz Sharif is in a class of his own. By now there is so much confusion about what he owns where that his legendary lifestyle no longer raises eyebrows. Few doubt that his early stints as finance and then chief minister of Punjab in the 1980s and 1990s have contributed mightily to the Sharif clan's material wellbeing. But his supporters think that a bit of graft is only their ruler's right.
Imran Khan, the PTI chief, disputes this, insisting on accountability. But considering that he stopped playing professional cricket over two decades ago, and has not done any paid TV commentary for sometime now, who pays for his lifestyle?
And I'm not talking about his personal utility and food bill either. From the feverish media coverage of every word he speaks and every push-up he does, we know that his palatial Bani Gala home outside Islamabad is a hive of constant political and social activity. During the recently aborted Islamabad lockdown, we saw hundreds of his fans being fed and housed on the premises. This bit of generosity must have cost a few lakhs — but hey, who's counting?
Feudal politicians maintain a luxurious lifestyle, often funded by bank loans which, often enough, are written off when their party is in power. Then, licences, plots, contracts and permits are distributed to the faithful. Others, in the background, who finance politicians when they are out of power earn a tidy return on their investment. And so it goes.
And it's not just the political class that's riding the gravy train. Take the case of Mushtaq Raisani, the former Balochistan finance secretary, who had stashed away over Rs730 million at his Quetta residence. Anti-corruption officials had to bring in cash-counting mach­ines to total up the wads of banknotes. This haul did not include his many houses and the foreign currency he had allegedly squirrelled away.
Raisani is one of the few bureaucrats who actually got caught. In a plea bargain deal with the National Anti-Corruption Bureau, he was let off after paying Rs2 billion into the exchequer. Even after being relieved of this fortune, I'm sure Raisani is in no danger of having to beg for a living.
Many businessmen I know whinge about corruption, but are quick to pay bribes to evade taxes or get a bank loan or a permit. One even says he doesn't pay taxes because he doesn't agree with government policies. Clerics often justify smuggling by asserting that the holy texts don't mention custom duty as a religious requirement.
Then, of course, there is the low-level bribery that is considered the cost of doing business. This involves paying a bribe to get your bill passed in a government department, or your pension papers processed on retirement. While adding up to many billions, such petty corruption is not even considered particularly wrong.
When society welcomes the corrupt with open arms, then we should not be surprised when the cancer eats into every institution.
Published in Dawn, December 31st, 2016