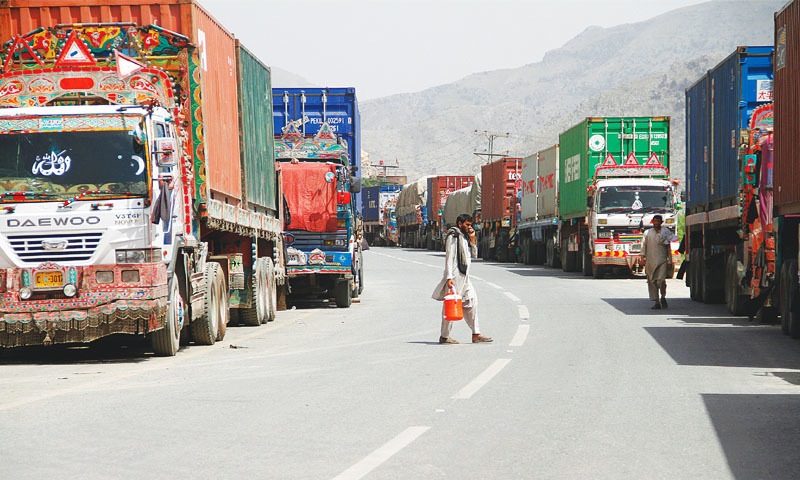 ISLAMABAD: Pakistani and Afghan officials remained at odds on Thursday over the issue of construction of a gate on the Pakistani side of border at Torkham.
The two countries had, after diplomatic and military contacts a day earlier, agreed to defuse the tense situation that had arisen due to skirmishes over the construction of the border gate by Pakistan, but there were disputed claims about the conditions on which the hostilities were to be ended.
After Afghan Ambassador Dr Omar Zakhilwal's meetings with Foreign Secretary Aizaz Chaudhry and Chief of General Staff Lt Gen Zubair Mehmood Hayat, Pakistani officials had said an agreement had been reached under which Afghanistan would end the hostilities and allow continuation of work on erection of the gate and in return Pakistan would allow resumption of cross-border traffic at Torkham.
But the Afghan ambassador, who had earlier himself confirmed the agreement on ceasefire, said in a statement that resumption of construction work was contrary to the understanding reached at the meeting with Gen Hayat.
"Much to my disappointment it was presented as if it was agreed to in our meeting yesterday (to restart the construction work). Something that clearly was not, otherwise there would have been no need for our agreement to resolve this through talks expeditiously and amicably," Mr Zakhilwal said.
He instead claimed that the meeting with Gen Hayat had concluded with an agreement on four points, which he listed as: "An immediate ceasefire and de-escalation of tension and drawing down of our forces in Torkham on both sides; a conversation at the leadership level; immediately convening Pak/Afghan military coordination meeting to resolve this issue expeditiously and amicably; and halting the construction work to avoid any further incidents and allowing talks to resolve the dispute".
The envoy threatened to quit and return to his home country if the construction work was not stopped. In such an eventuality, he warned, his interlocutors would be responsible for the consequences.
Hitting back at the ambassador's statement, an official accused him of twisting the facts and creating confusion.
Earlier at a media briefing, Foreign Office spokesman Nafees Zakaria, without naming anybody, said: "Afghans are being misguided."
He underscored that the purpose of holding dialogue on the Torkham dispute was to peacefully resolve the matter and plug the communication gap.
Obliquely referring to the phrasing of Ambassador Zakhilwal's statement yesterday, which used terms like 'ceasefire', 'de-escalation' and 'drawdown', the spokesman said border tensions between neighbours were "not unusual, but they don't connote larger hostilities or war-like situations".
Mr Zakaria recalled that the gate was being constructed for effective border management and controlling the cross-border movement.
He said Pakistan had shared its concern and disappointment with the Afghan government over the border clash in which several lives were lost and had urged the Afghan leadership to take necessary steps to avoid recurrence of such incidents in future.
"We believe effective border management serves mutual interest," he added.
NSG: In reply to a question about the Pakistani and Indian candidature for the Nuclear Suppliers Group, the FO spokesman said Pakistan was for "a level-playing field and criteria-based approach which treat the applications of Pakistan and India in a non-discriminatory manner".
He noted that the two applications cannot be considered in isolation from the goal of maintaining strategic stability in South Asia. Strategic stability in South Asia is a critical factor to achieve non-proliferation objectives.
Mr Zakaria expressed the hope that the upcoming NSG meeting in Seoul would commence discussions on developing criteria-based approach for membership for non-NPT states while taking into consideration the imperative of regional strategic stability and benefits for the non-proliferation regime.
About Iran's response to Pakistan's letter on capture of Indian spy Kulbhushan Jadhav, the FO spokesman said it was a manifestation of cooperative ties between Pakistan and Iran.
Published in Dawn, June 17th, 2016