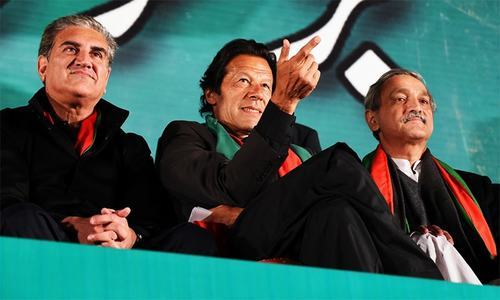 LAHORE: The Pakistan Tehreek-i-Insaf's Nazriati Group has made it clear that its workers will not let the party become "PTI-Q" by bringing the political orphans at the helm of affairs in the party.
"Any wrong decision in the intra-party elections by the workers will make every party member bear the brunt for the years to come," party leaders asserted.
The PTI Nazriati group leaders, including Shah Mehmood Qureshi, Hamid Khan advocate, Shafqat Mahmood, Dr Yasmin Rashid and Waleed Iqbal, were speaking at a workers' convention as a part of campaign for intra-party elections in Gulberg on Sunday.
---
Presses for party election without delay
---
Expressing his support for the Nazriati Group, PTI central deputy parliamentary leader Shah Mahmood Qureshi said the workers decision in the intra-party elections would also lead to the selection of candidates for the 2018 general elections.
Chiding Jahangir Khan Tareen and Chaudhry Sarwar, he said their Unity Group was busy creating "disunity" in the party but he had always followed party's national agenda unlike the opposite group's leaders. Stating that both Tareen and Sarwar could not influence party chairman's intra-party election decision, he said that he would say good bye to politics if he would ever be required to beg for party ticket from these politicians.
Saying that parties that forgot their ideological workers could fade away like the PPP, Qureshi said that party leader Ejaz Chaudhry also became victim of Unity Group leaders' conspiracies.
Terming the present times "a defining moment in Pakistani politics", Mr Qureshi said the status quo was crumbling all around the world and added that the PTI was also moving in this direction within the country. Referring to political corruption, Shah Mehmood Qureshi said that within the PTI, a group had emerged that wanted to influence everything with the power of its money.
"The workers' ideology will defeat the power of money in the party," he asserted, adding that the country's economy was changing where honest and white-collared people were finding it hard to earn their Halal livelihood. He said terrorism around the world was also changing world view and constitutions, including that of Pakistan, had been amended to fight terrorism.
Hamid Khan said the party's diehard workers would not let the party be hijacked by those having a lot of money. Clearly referring to Jahangir Tareen and Abdul Aleem Khan, he asserted that the Nazriati workers would not let the party become "PTI-Q". He said the political orphans after the downfall of dictator Gen Pervez Musharraf were running around the PTI to accept them in its fold.
"They could be welcomed if they followed party's ideology instead of trying to hijack the party with the power of their money," he asserted.
Hamid Khan also clarified that Imran Khan did not listen to their requests of cancelling the intra-party elections to protect the party from disintegration. He said the PTI chief wanted to develop party as an institution instead of winning just one election and he had also said that he would become party's chairman twice or thrice and then hand over chairmanship to other leaders. He urged the workers to vote for true and clean leaders instead of being influenced by wealth.
PTI Nazriati Group's Punjab president candidate Shafqat Mahmood said Imran had taken a very bold decision to organise the intra-party elections in the wake of assertions that it would disintegrate party into groups. He said the party elections had activated the workers across the country. Saying that many people in the PTI wanted that there should be no party elections, he emphasised that the intra-party elections should be held on schedule so that party's structure could be developed.
Stating that he would not tell lies to his workers, Mr Shafqat made it clear that he would not give fake offices to workers and instead everybody would win with his or performance and loyalty to the party.
Dr Yasmin Rashid, Waleed Iqbal, Shireen Mazari, Munazza Hassan, Rai Azizullah, Saifullah Niazi and others also spoke.
Published in Dawn, April 11th, 2016