2015 was an eventful year to say the least for the political parties of Pakistan. Fortunately for us common folk, Pakistani politics are full of drama, ensuring that the entertainment-starved population is kept adequately engaged and entertained.
Here is a review of some of the more dramatic moments that political parties witnessed in 2015.
Pakistan Peoples Party (PPP)
Zulfiqar Mirza strikes back
Once best friends, now the bitterest of enemies. Reason: Politics.
Mirza and Zardari had a falling out of epic proportions. Again, no shortage of drama or allegations. On orders of the 'provincial government', police laid seige to Mirza's farmhouse in Badin, and a bloodbath was narrowly avoided. It seemed as some sense has prevailed with in the provincial government, but then we witnessed masked police officials beating people up outside the Sindh High Court. Injustice outside the provincial palace of justice, oh the irony.
Mirza went on to form his own political bloc and in the recent LG polls, trounced PPP in Badin.
Zardari's infamous 'eenth se eenth' speech
In an uncharacteristically aggressive speech, Pakistan Peoples Party Co-Chairperson Asif Ali Zardari lashed out at the military establishment and issued hardly-veiled threats of 'exposing the generals'.
Such a speech takes guts, but staying in Pakistan after such an explosive speech would have taken more, hence the co-chairman decided to run his party from Dubai. He is expected back in the country 'soon'.
PPP wins big in LG polls
Despite being heavily criticised for being a largely 'absent government', the PPP was victorious in the recently held LG polls. Excluding the major urban areas of Karachi and Hyderabad, the PPP managed to secure a significant number of seats in the rural areas of Sindh.
The party firmly cemented its place as the largest party of rural Sindh, and that is an achievement in its own, people who thought it was a national party had no vision at all, rural Sindh is where its at.
Muttahida Qaumi Movement (MQM)
Rangers raid 90
Echo of boots reverberated through the administrative headquarters of MQM earlier in the year, when it was raided by the paramilitary Rangers in a move that shocked, well, everyone. Allegations were made, activists arrested and a large quantity of arms seized. The party claimed the weapons were for 'security', while the Rangers allegation that the weapons came from Nato containers was rebuffed by the US consulate in Karachi.
He Who Shall Not Be Named
Lahore High Court issued a directive, stopping all media outlets from covering the speeches of MQM supremo Alt...we all know who.
The blanket ban on quoting and naming the chief came as a surprise for many, but fit into the narrative of events against the party at state-level. The people of Pakistan's largest city were disappointed , as no other leader had such a penchant for singing on television. Sad day indeed.
MQM sweeps Karachi and Hyderabad
The party dispelled all doubts regarding their political support when they established a firm hold over their traditional bastions of Karachi and Hyderabad in the recently held LG polls.
MQM decimated political opponents in the hotly contested polls.
Pakistan Tehreek-i-Insaf (PTI)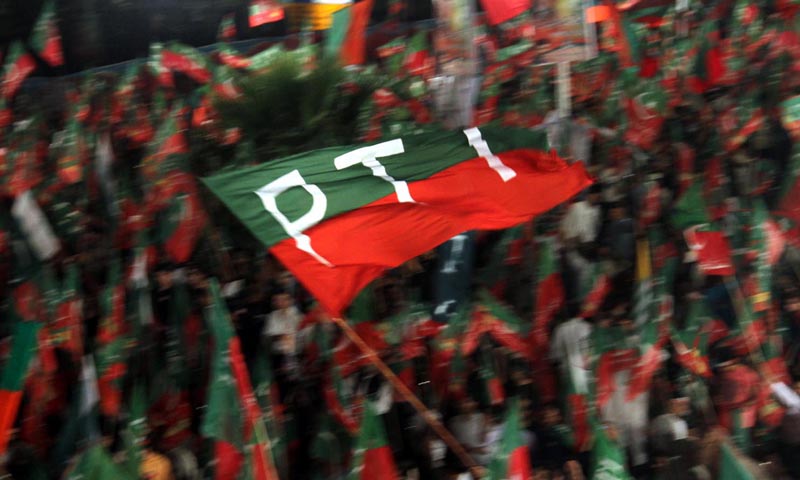 'Dhandli'
For PTI, the year started with allegations of 'dhandli', much like the previous year. The populace of the country spent another 12 months waiting for Imran Khan to change his mantra, but were left disappointed.
If only PTI changed their narrative as frequently as they change songs in their rallies, us folk would have had a tad more entertainment in our lives.
More 'dhandli'
NA-122, Ayaz Sadiq, Aleem Khan — Doesn't require much more of an explanation.
Lodhran!
The level of drama and see-saw action witnessed in NA-154 constituency of Lodhran district dwarfed all other by-elections. This had all the hallmarks of an addictive TV show in the making, with allegations, counter allegations and more allegations being hurled by everyone who was involved.
The first by-election was won by PML-N, but than the winning candidate was disqualified as he had a fake degree. Such an oversight by PML-N, I mean, its your government and at least you could have had the degree verified and made it 'legitimate'.
In the end, PTI won the much fought after seat in a second round of by-elections.