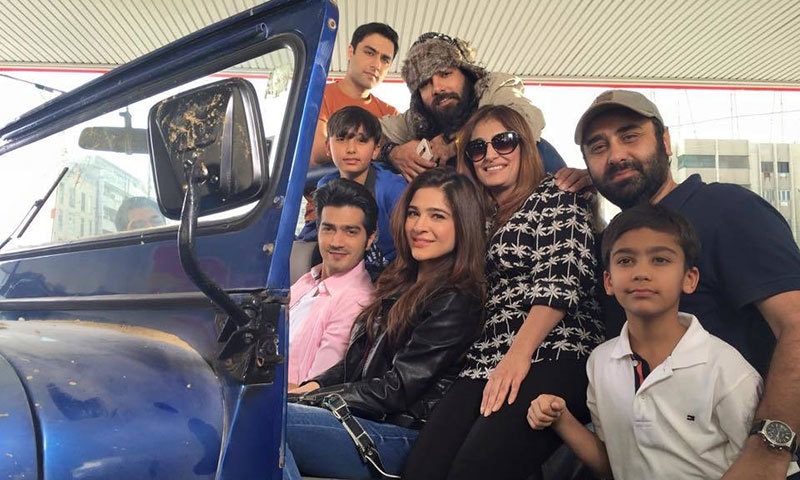 Local films Good Morning Karachi, Jalaibee and Jawaani Phir Nahin Aani have another challenger entering the arena for 2015 cinematic glory: director-producer Wajahat Rauf's romantic comedy Karachi se Lahore (KSL).
Wajahat, who is known for his rom-com serials Karachi High (ARY), Minglish (ARY), and recent dramas Nikkah (HUM TV) and Soteli (ARY), discusses KSL with Dawn in an email interview.
Poster of the film.— Photo courtesy: Karachi se Lahore's official Facebook page
"Karachi se Lahore is a romantic comedy, a home-grown Pakistani road trip movie about a group of five people travelling from Karachi to Lahore for a specific purpose," Wajahat reveals.
"They go through this roller-coaster journey to get to their destination and end up finding themselves in the process."
While the premise sounds cliche, the director-producer promises that going local with a proven formula will work.
"We've seen road trip movies from Hollywood and Bollywood but never a home-grown Pakistani road trip film. Our aim is to take the audience along with us on this journey," Wajahat says.
The road trip is currently being shot in different parts of Pakistan, including Karachi, Hyderabad, some parts of Balochistan, Lahore and Jhelum. Wajahat hopes to release the film in time for Eidul Fitr this year.
The film boasts a cast of famous TV and film actors like Javed Sheikh, Rashid Naaz, Ayesha Omar, Eshita Syed and Shehzad Sheikh. Popular theater artist Yasir Hussain, who was lauded for his skills in plays Aangan Terrha and Sawa 14 August has penned the script for Karachi se Lahore.
New actors, including Ahmed Ali, Aashir Wajahat and Mantahaa Tareen Maqsood, also feature in Karachi se Lahore.
Yasir Hussain and Ahmed Ali from BTS photo. — Photo courtesy: Karachi se Lahore's official Facebook page
While Na Maloom Afraad provided a first glimpse at the potential of Pakistani item numbers, KSL may take this one step further.
The music for KSL will be directed by singer Shiraz Upal and Noori's Ali Hamza and Ali Noor. Wajahat has said that there may be item numbers – or what he terms "performance-based songs" – in the film.
A BTS photo during the shoot. — Photo courtesy: Karachi se Lahore's official Facebook page