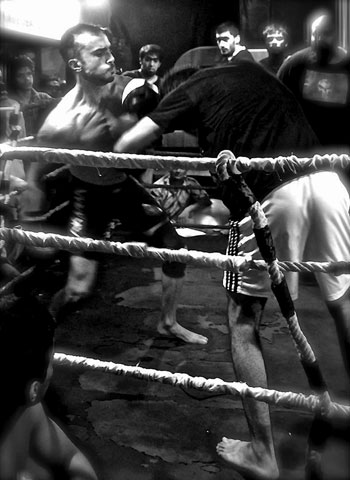 It isn't entirely implausible to find a seasoned guitarist pursuing other avenues besides music in Pakistan. But while many acts can be found in various spheres of the performing arts, Mahmood Rahman, 31, is engrossed in bringing the increasingly popular sport of mixed martial arts to the forefront with Pak MMA Fighting Alliance.
A musician and a skillful guitarist (16 years and counting), Mahmood Rahman, known for his stint with Overload (and subsequent departure), rose to the ranks within the industry when he started playing with Atif Aslam during his early days. It lasted nearly four years.
"I had a great time with Atif," says Mahmood, as we discuss his transition from music to sport. "While he is super-talented, he also works really, really hard. The sheer scale and love that Atif receives is incomparable to anything else I did in music later, and makes everything pale in comparison … concerts for 40,000 or 75,000 people and shows in Europe, the Middle East, the works."
Mahmood moved from Atif's band to Farhad Humayun's Overload to challenge himself. By then, Overload had already released their instrumental debut album to critical acclaim and developed an ever-expanding fanbase.
Though Mahmood isn't exactly proud of his stint with Overload, he doesn't regret it either. "I'm not proud of anything I did with Overload, like I am with my portfolio with Atif. I feel like we didn't make the type of music we could've and we didn't fully realise our potential. While Overload has intense live shows with dhol and all, I feel like we didn't make great songs."
But the band held prominence for personal reasons as well. Overload's headstrong leader, Farhad Humayun, who is growing rather nicely into his role as a singer in the band now, is Mahmood's first cousin. Mahmood and Meesha Shafi knew each other from their NCA days, and got together after both joined Overload and eventually tied the knot in 2008.
Meesha Shafi shot up into the stratosphere with her first appearance on Coke Studio and had jaws dropping because of her big voice.
Meanwhile egos, ideas and relationships collided, which resulted in the eventual departure of Mahmood and Meesha from Overload as a public battle ensued between the two aggrieved parties.
Ask him about Farhad now and he says: "Farhad and I, while being cousins, don't meet much, and talk even less."
It is easy to note that while Meesha's celebrity grew with fashion, music and acting projects in the offing, Mahmood continued to let his wife shine in the spotlight.
"This is not 1950. While both of us work, it would be petty and small-minded of me to be jealous or envious. I'm super-proud of the work she does; she has a strict quality control over what projects she does. I mean, she won't play a lead role in a B-grade movie just because it's a lead role, instead of a supporting character in an A-grade film, case in point: The Reluctant Fundamentalist, Waar and Bhaag Milkha Bhaag."
Fatherhood, meanwhile, is one of the great joys of Mahmood's life. "I'm a total hands-on dad. People ask me if I know how to change a diaper. I've changed thousands! We do try and schedule work so that one parent is at home with our daughter."
For Mahmood, the shift from music to sport came with "the steady decrease of quality live gigs." The tryst with mixed martial arts didn't happen on a whim. Looking for a challenging workout, Mahmood joined Synergy MMA gym in Lahore.
"It was unlike any other gym I had seen," says Mahmood alluding to the sharp workout, friendly environment, good folks and better music.
Mixed Martial Arts, says Mahmood, mixes Brazilian Jiu Jitsu, boxing, muay thai and wrestling (minus the rage of WWE).
Through Synergy, owned by Bashir Ahmed, a professional mixed martial artist who has represented Pakistan abroad, Mahmood got his first taste of the sport. He became friends with Bashir and the rest, as they say, is history.
"PAKMMA Fighting Alliance is my baby. It's a promotion, or series of events, or a 'league', if you like and holds itself to a certain standard."
ONE Fighting Championship [ONE FC], the largest MMA promotion in Asia got in touch with Mahmood's Fighting Alliance, lending it legitimacy around a sport that still raises eyebrows.
"ONE FC got in touch with us," says Mahmood and adds, "They made us a part of their Amateur Series Network which means that we now train fighters at various gyms around the country, give them experience about not only fighting, but how things are done internationally and then send them to ONE FC!"
With events planned till July 2014, Mahmood's showing no chance of slowing down. He maybe on the wrong side of 30 to play the sport himself but he is willing to take a chance on the youngsters, dismissing criticism that the sport will breed violence.
"There are few factors at play here: one is the context. What are kids here supposed to do? Go watch a cricket match in a stadium? They can't. Go to a concert? They can't. Stay indoors and play video games and watch television till their bodies and brains turn to mush? I feel like we provide an opportunity that's very unique, living in a frustrating society, we give boys an outlet that's safe, controlled and monitored. It's just a sport, there's no anger involved and there's no denying the cathartic value of putting on gloves and punching the hell out of a heavy bag. While this is a brutal sport, it's certainly hit a nerve around the globe because it's the fastest growing sport in the world!"
And the future certainly looks promising for Mahmood. "Good quality MMA events, great fighters and great entertainment. Meanwhile, playing music live is my first love and being onstage is my home, I'd love to see things improve to a point where ticketed concerts make a comeback.
Of performing arts, career moves and musical notes
In Pakistan, mainstream musicians often, if not always, unearth new ways to make an impact on popular culture. Mahmood Rahman's shift from music to MMA is unique and yet, it is a perfect example of how musicians can branch out. It can be with or without music taking precedence. With fewer avenues for performance available to them, and lack of support from monopolistic record labels, this tryst with diverse performing arts is constantly evolving.
Fawad Afzal Khan, who first arrived on the scene as the front man for EP, a Lahore-based rock band with critical endorsement no less, catapulted to superstardom after acting in Humsafar and is reportedly starring in a Bollywood film. And he has amicably departed from EP, the Lahore-based rock band with Ahmed Ali Butt at the helm, leaving his musical roots behind for the small screen and an inevitable film career, at least for now.
One of pop music's most popular names, Ali Zafar is, at least for now giving his acting career precedence over music. However, Ali Zafar is channeling his inner Bollywood music director nowadays vis-à-vis film-related music mostly or dare I say, tiresome jingles. Unfortunately, while India has a thriving and intriguing independent music scene, Bollywood, for most parts, is producing monotonous and forgettable songs, something that Ali ought to avoid if he hopes to maintain musical integrity.
Here, it must also be said, that Ali Zafar is a showman now and his performance skills are still intact as he entertains audiences across the globe, be it solo music concerts, or Bollywood-esque shows such as Shah Rukh Khan's Temptations Reloaded that also included Katrina Kaif and Preity Zinta.
Former Call front man Junaid Khan is also shooting back to back for serials and is a regular on the small screen. He is, for the time being, pursuing music as well by releasing singles regularly.
Ali Azmat, meanwhile, new father to another beautiful baby girl named Mia, can do many things. He enjoyed an acting stint in Bilal Lashari's now-declared blockbuster Waar this year, sung for a Bollywood film, and returned to Coke Studio (now in its sixth season). He's also one of the three judges on the new music reality show, Pakistan Idol.
From mainstream, Strings are not only planning another studio album, but, they have also turned producers for Jami's much-anticipated film, Moor.
Meesha Shafi, fashion model and actress (The Reluctant Fundamentalist, Waar), has some new music coming out. While an album is not around the corner just yet, Meesha can be heard, in the coming weeks, on the soundtrack of Jami's Moor and Sarmad Khoosat's Manto with True Brew Records' Jamal Rahman serving as music producer for the latter.
Uns Mufti, the force behind musical acts such as Rola and Rushk (returning with an all-star improved lineup) has a starring role in indie film-maker Hammad Khan's Anima State. Uns plays a bandaged, homicidal gunman who goes on a killing spree and is met with complete indifference. Anima State premiered at the 10th South Asian International Film Festival in New York earlier this month and has opened to fantastic reviews (online).