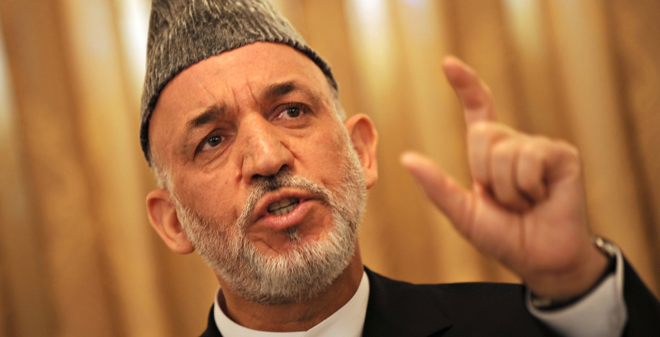 Afghan President Hamid Karzai. — Photo AFP/File
KABUL: Afghan President Hamid Karzai and Nato-led forces have reached an agreement on the departure of foreign troops from a strategically key province near the capital, coalition forces said, but it was unclear if US special forces would leave.
An Afghan defence ministry spokesman told reporters in Kabul that the elite American force would quit Wardak within a few days, despite earlier US concerns that their departure would leave a security vacuum.
The Nato-led International Security Assistance Force (Isaf) in Afghanistan said in a statement Afghan security forces would take over security from coalition forces in Wardak, but did specifically mention the withdrawal of U.S special forces.
The expulsion of US special forces has raised fears that Taliban and Hezb-i-Islami militants might use Wardak, just a 40-minute drive from Kabul, as a launch pad for attacks on the capital.
Karzai first ordered their expulsion last month, after villagers accused them of torturing and killing civilians, an allegation the US special forces denied.
Despite the deadline for their departure expiring over a week ago, US special forces tasked with fighting the Taliban are still operating there, US and Afghan officials say.
Their continued deployment has angered Karzai, who has become increasingly critical of his Western allies operating in the country ahead of the departure of most foreign combat troops by the end of next year.
Isaf said the arrival of the Afghan security forces would "preclude the need for ALP (Afghan Local Police) and Coalition forces" in Nerkh district of Wardak, a known hiding place of the Taliban.
"This plan meets the president's intent and leverages the growing capacity and capability of the Afghan security forces to meet the security needs of this country," Nato commander Joseph Dunford, who met on Karzai on Wednesday, said in a statement.
"This solution is what success looks like as we continue the transition to overall Afghan security lead." Isaf said the Afghan government would determine the timeline for the takeover.
The Wardak issue, along a series of inflammatory remarks by Karzai deriding the United States and other foreign forces, has further strained already fraught ties between the president and Western allies.
Opposition politicians say Karzai's order to expel the US special forces was a political move intended to bolster his party's support base ahead of a presidential election next year.
Karzai is not allowed to stand again.
Some in Wardak however are furious US special forces are still operating in the province, and about 1,000 residents converged on the capital on Saturday demanding they leave.
US special forces are expected to play a major role in Afghanistan after most Nato combat troops withdraw by the end of next year, and Karzai's decision to expel them was seen as complicating talks between the United States and Afghanistan over the scope of US. operations after the pull-out.