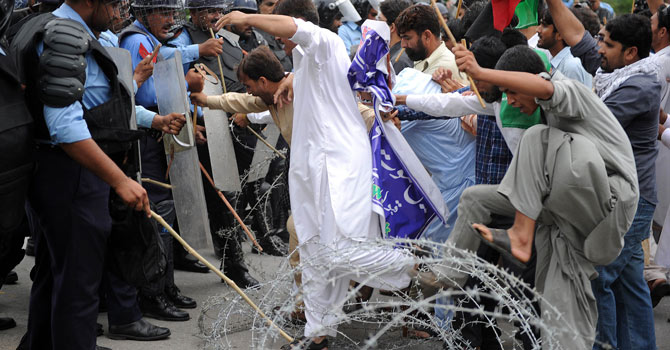 Pakistani Muslim protesters cross barbed wires as they attempt to reach the US embassy during a demonstration against the anti-Islam film in Islamabad on September 14, 2012. - AFP Photo
ISLAMABAD: Hundreds of people demonstrated in cities around Pakistan on Friday to denounce an anti-Islam movie, with some urging death for the film-maker and others demanding the expulsion of US diplomats.
The low-budget movie, entitled "Innocence of Muslims", which has sparked fury across the Muslim world, pokes fun at the Prophet Mohammed and touches on themes of paedophilia and homosexuality.
Police beefed up security around US missions in Pakistan after violent attacks on American consulates and embassies in Egypt, Libya and Yemen this week, but protests in the country's major cities on Friday passed off largely without incident.
In the eastern city of Lahore, Hafiz Saeed, head of the Jamaat-ud-Dawa charity, seen as a front for a banned militant organisation, led a 500-strong rally against the film.
Saeed - who has a $10 million US government bounty on him - urged the Pakistan government to summon the American ambassador to protest over the film.
"We condemn this conspiracy of producing (an) anti-Islam film. Such blasphemous acts are intentional conspiracies from the US and we will not tolerate it," he told the rally.
Jamaat-e-Islami (JI) organised a rally in Karachi, where around 700 party activists and supporters gathered with banners and placards bearing anti-US and anti-Israel slogans.
"Hang the filmmaker...hang the apostate," they chanted. "Jihad is the only treatment to cure American cancer," another slogan said.
Around 400 protesters rallied in front of Islamabad's Red Mosque after Friday prayers, following a call from JI.
They called for the handover of Terry Jones, an American Christian pastor linked with the film, who has drawn protests in the past for burning the Quran.
"Terry Jones should be handed to us for a trial in the sharia court," a speaker at the rally told the gathering. Sharia courts try defendants according to Islamic law.
Another speaker called for closure of the US embassy and the expulsion of the US ambassador and other diplomats from Pakistan.
Elsewhere in the capital, there were two smaller demonstrations against the film, one of which led to brief scuffles with police.
In Peshawar, the northwestern city on the edge of the lawless tribal areas where anti-US feeling runs high, around 150 gathered after Friday prayers, chanting "Death to America".