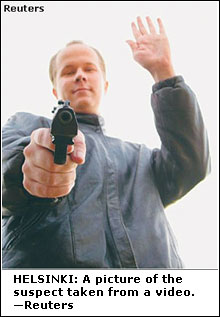 HELSINKI, Sept 23: A young trainee chef went on a shooting rampage at a Finnish vocational school on Tuesday, mowing down at least 10 people before turning a weapon fatally on himself, police said.
Witnesses at the school in Kauhajoki in southwestern Finland described scenes of panic as the man, thought to be in his early 20s, prowled the corridors letting off round after round at helpless students.
"I heard the sound of shooting and hysterical girls' voices. Then two girls came towards my room and said a weird man was shooting," Jukka Forsberg, the janitor of the school, told AFP.
"I went to see and saw a guy leaving a big black bag in the corridor and going into classroom number three and closing the door.
"I looked through the window and he immediately shot at me. Then I called the emergency number," he said, adding, "Thank God I was not hit!
"He fired at me but I was running zigzag. I ran for my life." Forsberg said he heard "horrible screams of pain" as he raced out of the building.
The shooter --- identified by police as a second-year culinary arts student Matti Juhani Saari --- was clad in black clothes and a ski mask as he stalked the school looking for victims.
After his shooting spree, the attacker turned a gun on himself and was taken to a local hospital with head injuries. He later died of those wounds, police told AFP.