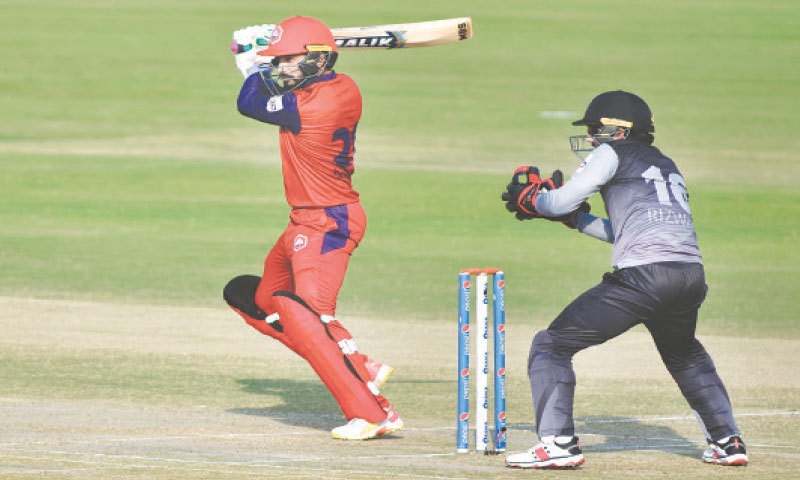 KARACHI: Mohammad Nawaz just couldn't have hoped for an appropriate moment to showcase his all-round prowess with the Twenty20 World Cup almost on the horizon.
The 27-year-old has been the inspiration behind Northern's resurgence in the National T20 Cup's first leg at the Pindi Cricket Stadium. And Sunday was no exception as Nawaz excelled with both bat and ball to ensure his side kept their remarkable track record against Khyber Pakhtunkhwa with a 14-run triumph.
Northern's fifth win against the reigning champions was achieved after a tense battle upfront. Shaheen Shah Afridi had provided Khyber Pakhtunkhwa with a double-wicket opening over of the penultimate fixture of the competition in Rawalpindi.
The tall left-armer Pakistan spearhead removed the recalled Ali Imran and the in-form Haider Ali in the space of three deliveries to leave Northern on the brink at two wickets down for just a single run on the board.
But Northern then showed how resilient they can be when the chips are down through two critical partnerships to post an impressive total of 181-7. Nasir Nawaz — who had watched haplessly the demise his two partners in that first over after Shadab Khan had opted to bat first — and a fit-again Umar Amin repaired the early damage by adding 52 in 42 balls.
After Umar (27 off 26 balls, five boundaries) and Nasir (24 off 19) fell to the left-arm spin of Asif Afridi and Israrullah, Northern again found themselves in strife at 55-4 in the ninth over.
However, Shadab and Nawaz not only stopped the rot by scoring at a brisk rate but also put forced Khyber Pakhtunkhwa to rethink their game. The partnership flourished brilliantly with both men playing high-class strokes.
The look on Mohammad Rizwan's face told the story. The Khyber Pakhtunkhwa team leader was a worried man by the time Shadab was mistimed a drive against Imran Khan — who reacted with a loud grunt after holding a high return catch.
The skipper was gone for a superlative 46 (27 balls, six fours and two sixes) after having put on 89 in 55 deliveries with the well-set Nawaz. There was more drama as the very next delivery caught Asif Ali in front of the stumps but the underperforming Pakistan batter was reprieved when TV replays confirmed Imran had marginally overstepped.
Asif, who like some of his World Cup-bound team-mates is under pressure, hoisted two sixes in an 11-ball cameo of 21 before he got run out. Nawaz also met with a similar fate after contributing 51 from 34 balls (three sixes and one four).
Rizwan and Israrullah then set about giving Khyber Pakhtunkhwa a flying start to their chase, but the dismissal of Rizwan (25 off 19, three fours and one six) and Israrullah (17) enabled Northern seize control.
And although Iftikhar Ahmed stood firm with a stroke-filled knock of 58 (34 balls, five sixes and two fours) until he was sixth out, the chase fizzled out at 167-8. After his batting heroics, player-of-the-match Nawaz grabbed two key wickets of big-hitting Sahibzada Farhan (13) and Musadiq Ahmed (2).
Haris Rauf continued his improvement of late after again being asked to take the new ball. On this occasion, the pacer captured three wickets for 31 runs, while Shadab chipped in with the scalp of Asif Afridi (21 off 19).
At the time of filing this report Central Punjab were seeking their fourth victory since they were in action against Southern Punjab, who have lost all five of their matches in this edition.
Scoreboard
NORTHERN:
Nasir Nawaz c Iftikhar b Israr 24
Ali Imran lbw b Shaheen 0
Haider Ali b Shaheen 0
Umar Amin c Iftikhar b Asif 27
Mohammad Nawaz run out 51
Shadab Khan c and b Imran Khan 46
Asif Ali run out 21
Haris Rauf not out 0
Sohail Tanvir not out 4
EXTRAS (LB-1, W-5, NB-2) 8
TOTAL (for seven wkts, 20 overs) 181
FALL OF WKTS: 1-1, 2-1, 3-53, 4-55, 5-144, 6-172, 7-177.
DID NOT BAT: Rohail Nazir, Salman Irshad.
BOWLING: Shaheen Shah Afridi 4-0-30-2 (3w); Imran Khan 4-1-38-1 (1nb, 1w); Arshad Iqbal 2-0-36-0 (1nb); Israrullah 2-0-9-1; Asif Afridi 4-0-22-1; Iftikhar Ahmed 1-0-9-0;Mohammad Imran 3-0-36-0 (1w).
KHYBER PAKHTUNKHWA:
Mohammad Rizwan c Sohail b Salman 17
Israrullah c Nasir b Haris 25
Sahibzada Farhan c Shadab b M. Nawaz 13
Iftikhar Ahmed c Asif b Haris 58
Asif Afridi c Asif b Shadab 21
Musadiq Ahmed c Haider b M. Nawaz 2
Adil Amin c Sohail b Haris 2
Shaheen Shah Afridi not out 13
Mohammad Imran c Rohail b Ali Imran 5
EXTRAS (B-4, W-6, NB-1) 11
TOTAL (for eight wkts, 20 overs) 167
FALL OF WKTS: 1-39, 2-45, 3-64, 4-109, 5-112, 6-148, 7-148, 8-167.
DID NOT BAT: Arshad Iqbal, Imran Khan.
BOWLING: Sohail Tanvir 4-0-27-0 (1nb); Haris Rauf 4-0-31-3 (1w); Salman Irshad 4-0-38-1 (2w); Mohammad Nawaz 3-0-26-2 (1w); Shadab Khan 4-0-33-1 (1w); Ali Imran 10-8-1 (1w).
RESULT: Northern won by 14 runs.
UMPIRES: Qaiser Waheed and Nasir Hussain.
TV UMPIRE: Saqib Khan.
MATCH REFEREE: Mohammad Anees.
PLAYER-OF-THE-MATCH: Mohammad Nawaz (Northern).
Published in Dawn, October 4th, 2021