Brightly painted trucks and buses are as familiar a sight to us as the Grand Trunk Road is to your average truck driver who spends his life plying it in such decked-out vehicles. For truck art enthusiasts and foreign tourists who go wide-eyed at the sight of these moving canvases, these trucks offer a wide-angle view of our political and cultural sensibilities, rendered in portraits of generals, politicians, matinee idols, saints and, of course, the ubiquitous winged-centaur with the mien of an angelic woman — the buraq.
Trouble is, trucks make for huge art pieces and heavy mementos. On shelves, they cannot sit but awkwardly, and from walls, they would hang clumsily, if at all. They are a nuisance to fit into a handy gift-bag to bring home to a loved one. For a long time, admirers of truck art have had to be content with miniature replicas of trucks or rickshaws, painted in psychedelic hues and motifs drawn from Pakistani folk culture.
Ismail Khan, a truck artist in Peshawar, has just added to that meagre array of choices. His truck art is meant to grace your dining room, without the body of a truck and the attendant wheels, of course! By telescoping trademark truck art themes on to pots and pans painted like the real thing, he turns humble crockery into art forms, without compromising its use. Imagine eating and drinking out of art pieces and taking them home to your aunt, nicely gift-wrapped.
A truck artist in Peshawar survived the dearth of work during the pandemic by moving from painting heavy vehicles to dainty crockery. But is truck art destined to endure its limited appeal?
Khan's painted cups and kettles bring to mind vintage Gardner tea sets from 19th-century Russia, albeit with an aesthetic that is loud, as truck art is supposed to be. But apart from their garish aspect, and whether truck art is your cup of tea, in time they could come to be as coveted as crockery from Imperial Russia.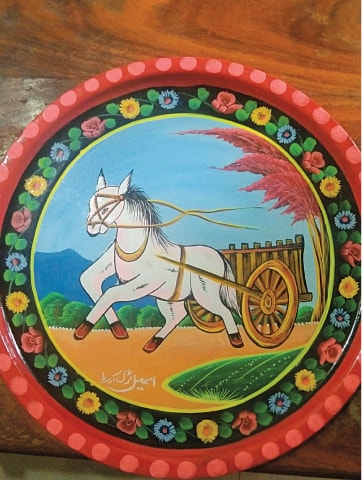 Each of these pieces, after all, is an individual artefact, set apart from others in form, design and execution, each one bearing a signature of the artist's skill. Albeit prosaic in merely transferring the familiar aesthetic and sensibility of truck art from a larger medium to a smaller one, Khan's creativity is original, as he rescues individual motifs that escape attention and appreciation on the crowded canvas of a heavily decorated truck's body, and gives them a niche of their own.
But in the absence of state patronage, as is the sad fate of artists generally in Pakistan, and their eternal expectation of it to escape an impoverished state, his art is bound to appeal more to commoners than kings or nobles. Nor does his tiny, decrepit rooftop abode in the noisy Shahqabool neighbourhood of Dabgari Garden, Peshawar, in any manner recall the wanton opulence and grandeur of Imperial Russia. "Da zamoong da gharibay zay day [this is my humble home]," he says apologetically.
And yet, for an artist whose art is rooted in the culture of his place and people and draws inspiration from it, where would he rather be but in this soaring, swelling welter of people, of life, and the cultural pulse of the old city.
Amidst shops selling beddings and charpoys, animal organs, seedy hotels and balakhanas (lofts) of musicians, tea stalls and street restaurants, the old city is an eternal, infernal bubble of noise. A constant drone of traffic, pierced by horns from rickshaws, float up from the street below into Khan's bare dusty workshop where his artefacts are arranged on the floor like some treasure found.
He sits beavering away on a metal kettle or a porcelain milk pot, transforming bland surfaces into something striking, as he etches a vivid partridge, a peacock, the Bab-i-Khyber or the Faisal Mosque, lost in work as the hum of a fan above his head struggles with the din from the street below, whirring its lonely refrain.
It's enlightening how art informs life, transforming even the most banal of moments to reveal something sublime. At his spare workshop, that moment is when Khan orders qahwa, a staple of Peshawar's traditional hospitality. From the street below comes the steaming drink in a kettle of bruised paint, with chipped cups. He pours it into one of his painted cups, turning the mundane act of sipping qahwa into an edifying ceremony, by letting you drink from an artefact. The scent of cardamom wafts up from the cup to dispel the faint oily odour of turpentine hanging in the air.
Khan learnt painting from his uncle Sher Mohammad, a truck artist, to support his family. His father was a cobbler who died young, leaving Khan to care for eight brothers and sisters. When he married off one of his sisters, he gifted her two vases he painted with truck art. It was his first attempt at painting something other than a truck.
He did it on a whim, a random dalliance to create something for love, not money. For that, he went back to the streets of Shuba Bazaar where the trucks workshops were, Bedfords and Hinos waiting to be transformed, to be turned into 'brides' for their drivers, married as they were to a lonely life on the road. But trucks are pricey and truck art a major investment, with prospects for work diminishing over the years. "There are few truck owners investing in art now," says Khan. "On the other hand, there are more artists and so we end up idle."
The grim prospect of redundancy was always there, but he has also had a job at the Khyber Pakhtunkhwa Directorate of Archeology for the last 10 years, a 'class four' position to fall back on. It is the lowest paid post in the government. The pandemic brought ample time on his hands, so he took to painting pots and pans at home.
When he introduced his work to people at work, they were pleasantly surprised. "My boss, Dr Samad, head of the directorate, said why didn't you tell us about your art skills before?" The directorate frequently receives foreign tourists and dignitaries, keen to explore local heritage and the history. In Khan's art, government officials found the perfect souvenirs for them.
Khan has no lofty notions of art and his art, like other truck artists', remains a matter of class. Barring the occasional foreign tourist and ambassador, its appeal is limited to truck drivers and qahwa khanas. In the absence of patronage from the state and a wider appeal, there is little impetus for truck art to break beyond the class-barriers suggested by trucks and pots and pans. Enticing as these mediums are, artists such as Khan remain class-four workers, in more ways than one.
The writer is a Peshawar-based journalist
Published in Dawn, EOS, September 26th, 2021