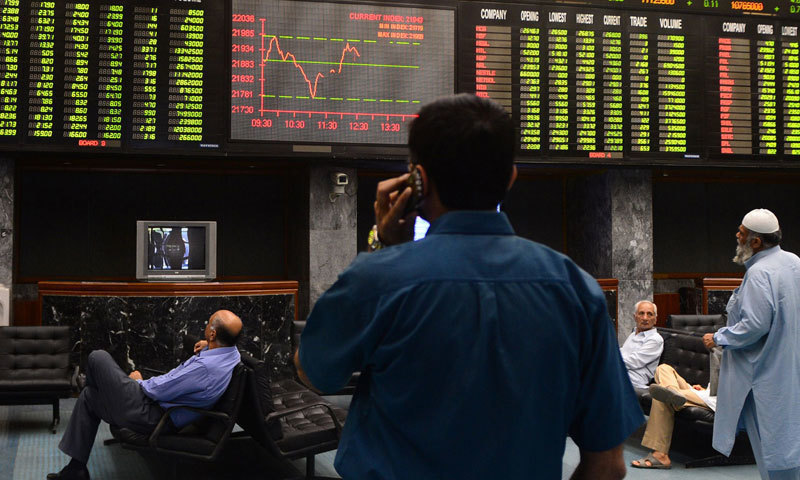 KARACHI: The stock market remained range-bound in the outgoing week with the KSE-100 index recording a fall of 562 points, or 1.19 per cent, to close at 46,636.
Investors mostly re­­mained in a blackened mood as there was scarcely anything to show by way of a positive development. The debilitating pressure on the rupee that ditched it to an all-time low of Rs169.1 against the dollar, was the major factor that disillusioned investors.
Moreover, higher coal prices continued to put pressure on cost of production of cement, while higher oil prices raised concerns over future import bill. Temporary suspension of gas supply to general industries, and mounting international commodity prices also kept investors on their toes.
By the end of the week, things began to look a bit better with some recovery in the rupee parity due to an apparent SBP's intervention and restoration of gas supply to general industries. The slowdown in Covid-19 cases which resulted in relaxation in restrictions in Sindh also helped to improve investor sentiments.
The dramatic events on the last trading day which saw the index in massive volatility by over 600 points could have provided perfect opportunity for some major investors to buy at dips and sell at highs. One of the reason for the index to take a dip in the second half on Friday was stated to be the New Zealand's eleventh hour decision to call of cricket match with Pakistan, citing security concerns.
Foreign investors continued their sell-off of stocks worth of $10.9m, though lower than the preceding week's selling of $18.6m. Major outflow was witnessed from commercial banks amounting to $12.7m and all other sectors $2.2m.
On the local front, buying was reported by individuals of shares worth $16.8m followed by banks/DFI $7.3m and insurance companies $0.9m. Average daily volume clocked in at 400m shares down by 7pc week-on-week while average value traded settled at $90m, up by 3pc.
Going forward, the week would start with the announcement of SBP monetary policy on Monday. Except some lone voices of a hike between 20 to 25bps, the market consensus re­­mains of no change in MPS.
Positivity is likely to creep in the market on improved sentiments attributable to talks with the IMF for the sixth tranche to start at the end of the current month. Market gurus opined that the slowdown in global oil prices would relieve pressure off the external account.
However, current macroeconomic concerns such as rising imports, higher inflation due to increasing petroleum prices and pressure on currency could deteriorate investors' sentiment. Other than that the decline in infection ratio of Covid cases in Pakistan is a good omen that could provide encouragement to investors to trade.
Published in Dawn, September 19th, 2021