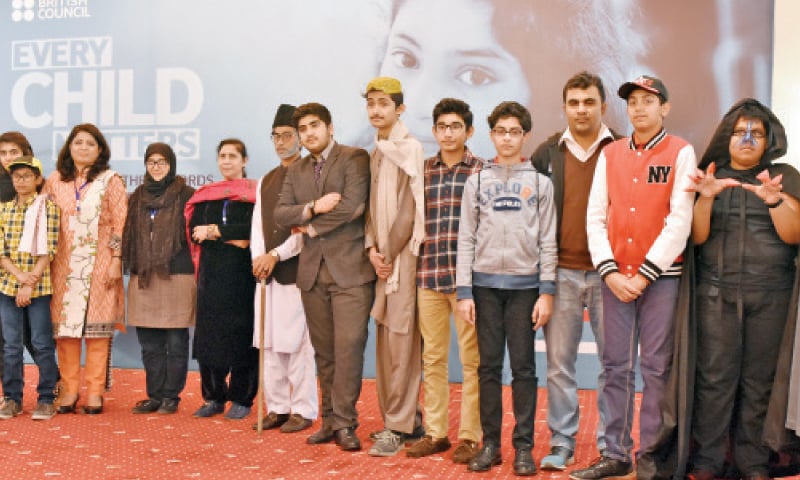 ISLAMABAD: A ceremony was held on Tuesday to acknowledge the role of principals and teachers in supporting the British Council's Child Protection Awareness Campaign.
The campaign focused on safeguarding and empowering children, and concluded on Tuesday.
The closing ceremony was organised to acknowledge the role of principals and teachers in promoting a school-based child protection mechanism to prevent and respond to child abuse.
It was attended by school principals and teachers, students and civil society representatives.
In November 2018, the British Council initiated a project aimed at educating schoolteachers and coordinators on child neglect and abuse to reduce the impact of abuse on present and future generations.
Ceremony acknowledges role of teachers, principals in protection of children from abuse
A series of six training sessions were held across Pakistan, through which the campaign reached out to more than 100 schools from 14 cities and trained more than 200 principals or teachers from the council's Partner Schools Global Network.
Digital Rights Foundation Executive Director Nighat Dad, while speaking at the ceremony, said awareness among teenagers about online safety is crucial in the modern age, where they are more exposed to it.
Most young people share personal data or photographs with each other, which later become security risks for them, and at this stage teachers and parents have a very important role in guiding them.
Ms Dad criticised the Federal Investigation Agency (FIA) for not establishing a special wing to deal with child pornography despite announcing it. She also urged school administrations to establish online safety desks at schools, where children can get help with online harassment or stalking.
"The mental health of a child is related to online harassment, therefore children should be provided help at the appropriate time," she said.
She also advised children attending the ceremony that they must be careful sharing personal data and passwords with their friends and uploading content to social media websites as it could be dangerous for them in the future and they would have no way to remove it.
She also asked them to seek help from parents and law-enforcement agencies and helplines, as there are systems and laws to deal with cybercrime and sexual harassment in Pakistan.
Sahil Executive Director Munizeh Bano screened a few animations regarding child abuse, which informed viewers that most abusers are known to the child and offer children sweets or toys to be familiar to them. They told children to say no to such gifts and tell their parents.
She said: "Mostly, we think that a child above 10 years is safe from child abuse as they can take care of them but our research shows that most vulnerable age group to abuse is six to 15 years.
"This is the era of information technology; children have access to internet through their tablets and iPads at a very early age. Here comes the responsibility of parents to keep a check on children's online activities to save them from online harassment."
She also highlighted the role of teachers in this regard, who spend more time with them in schools.
"Observe the children with the child protection lens as any child getting abused by anyone will show it through his or her behaviour," she told teachers.
British Council Pakistan Director Rosemary Hilhorst said: "Every child deserves a safe environment to grow and survive. Parents' and teachers' trust is key in this fight against child abuse."
Published in Dawn, December 19th, 2018