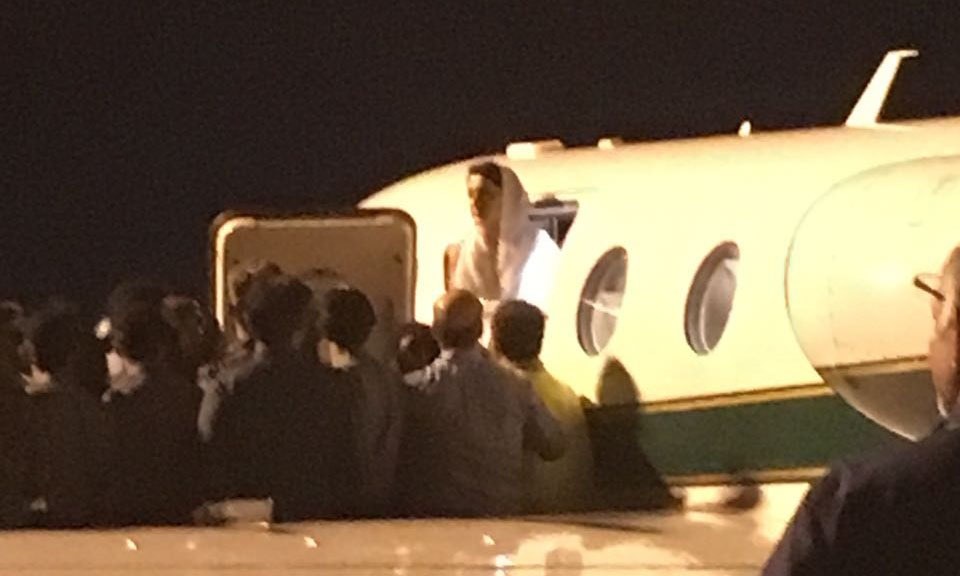 Former premier Nawaz Sharif and his daughter Maryam Nawaz were arrested by National Accountability Bureau (NAB) officials upon their arrival in Lahore on Friday night, and subsequently whisked away to Islamabad on a chartered flight.
The two were separated and taken from the Islamabad International Airport in two convoys to the Central Jail in Adiala, Rawalpindi, for a medical examination.
As per official procedure, the examination was carried out in the presence of the Islamabad magistrate and senior police officials.
The penitentiary's medical board compiled reports on Nawaz and Maryam's medical history and declared them fit for incarceration in the facility.
Nawaz spent the night in one of the rooms of the jail's high security zone, whereas Maryam was transferred to the women's barracks.
Meanwhile, a NAB prosecution team had approached the accountability courts seeking an exemption for Nawaz and Maryam's appearance before the court. NAB Additional Deputy Prosecutor General Sardar Muzaffar Abbasi told the court that the convicts cannot be produced before the court due to a high-security risk.
The accountability court conceded the request and appointed Magistrate Wasim Ahmed to execute the warrants of imprisonment at Adiala. By this exercise, the authorities eliminated any chance of producing Nawaz and Maryam before the court the same night or next morning.
Media representatives who had gathered to cover the production of Nawaz and Maryam before the court were not allowed to enter the premises of the court complex.
There had been a lack of clarity till late Friday night over where the two would ultimately be incarcerated, at least for the short term.
The Islamabad chief commissioner had initially issued a notification declaring the Sihala Police Training College Rest House in the capital city "as sub-jail for keeping the convicted prisoner Mian Muhammad Nawaz Sharif, ex-prime minister, and Mariam Nawaz, who have been arrested by NAB authorities, with immediate effect and till further orders."
However, a second notification had followed, stating that Sihala would serve as a sub-jail only for Maryam and that the preceding notification would be considered void ab initio.
Conflicting reports had continued to make the rounds, with some stating that both Nawaz and Maryam would be incarcerated at Adiala, while others said Maryam would be separated and shifted to the Sihala rest house. They were eventually both confined to Adiala for the night.
Return to Lahore
Nawaz and Maryam had taken off from Abu Dhabi for Lahore shortly after 6pm PST on the last leg of their journey home from London.
Their flight, Etihad Airways flight EY243, was earlier scheduled to land at 6:15pm PST at Lahore's Allama Iqbal International Airport, but suffered a nearly three-hour delay.
An airport official, when approached by our correspondent, had stated the reason for the hold-up in Abu Dhabi as a delay in an Etihad flight arriving from Bangkok, which was supposed to fly EY243's passengers to Lahore.
The flight eventually took off at nearly 6pm PST and landed in Lahore at 8.45pm.
According to media reports, dozens of security officials entered the plane after it landed and asked other passengers to leave. The duo's passports were seized by a three-member Federal Investigation Agency (FIA) team. Their immigration formalities were completed on board the plane.
The two were taken into custody at around 9:25pm and put on a chartered plane to Islamabad.
Nawaz and Maryam had been convicted by an accountability court in the Avenfield corruption reference last Friday and handed jail sentences of 10 years and seven years, respectively. The former was found guilty of owning assets beyond known income, while his daughter was convicted for aiding and abetting her father in covering up a "conspiracy".
After the verdict was announced, Nawaz and Maryam had said they would return to Pakistan and appeal against the decision.
The National Accountability Bureau (NAB) and Punjab government had made arrangements to take the father-daughter duo into custody upon arrival and shift them to Adiala Jail, where they are supposed to serve their jail term.
PML-N workers rally in support
In Lahore, authorities had braced to maintain law and order as thousands of PML-N workers and supporters had gathered at various points in the city to welcome the ousted premier and his daughter.
Large parts of the city were locked down as the state seemed determined to prevent supporters from reaching the airport.
PML-N President Shahbaz Sharif, whose caravan had gathered at Lohari Gate, had led the main welcoming rally to the airport to accord his brother and PML-N supremo Nawaz a warm welcome.
When Nawaz and Maryam were flown out, he was en route to the airport. PML-N workers who were part of the rally were chanting slogans of "Rok sako tau rok lo (stop us if you can)" and "Vote ko izzat do (respect the vote)".
According to media reports, no PML-N supporters were allowed onto airport premises.
'Not afraid of being arrested'
While waiting at the Abu Dhabi airport for his flight home, Nawaz spoke to reporters from various news organisations over the phone.
During the call, Nawaz wondered how a flight "that is never late" had been delayed today and urged people to "think about who delayed this flight and why."
When asked if he believes that returning to Pakistan in the current "tense" situation was a good idea, Nawaz said that he knows "what the situation in the country is like".
"I know I have been handed a 10-year sentence and Maryam has been given seven years in jail, but we are returning because this country's fate needs to change — we need to change it."
"The media also needs be brave and take a stand in the face of it all," Nawaz said, adding that the media's freedom is being curbed today because "they see that this nation has risen and the media is rising and they are afraid. Why else would they do all this?"
"What is happening in this country today, what is happening in Lahore, raises questions regarding the elections. No other province is facing the situation we see in Lahore: hundreds of our party workers have been arrested; people are being pressured into switching loyalties. All of this forms a question mark on the credibility of the election," Nawaz said.
"I am not afraid of being arrested. If I was, why would I be coming back? It does not matter if NAB or the people who have sent NAB personnel arrest me from here [Abu Dhabi] or from Lahore. I am ready for it," Nawaz said.
BBC correspondent for Pakistan and Afghanistan Secunder Kermani, who was at Abu Dhabi airport, said that Nawaz and Maryam were in a lounge at the airport but security personnel would not let reporters through, so they had to huddle around a phone in a different lounge in order to speak to him.
Earlier, in a video message, tweeted by Maryam, the former premier had urged his followers to stand with him when he arrives and "change the fate of the country".
"The country is at a critical juncture right now," Nawaz said in the recording. "I have done what I could. I am aware that I have been sentenced to 10 years [in prison] and I will be taken to a jail cell straight away — but I want the Pakistani nation to know that I am doing this for you."
Security ramped up
Cellphone services have been partially suspended in certain parts of Lahore, and as many as 2,000 Rangers personnel have been deployed at and around Lahore Airport where ─ according to sources ─ the Interior Ministry, in a meeting two days ago, had decided to contain Nawaz and Maryam, sources said.
Heavy contingents of police have been deployed at all entry points to the city, and containers have been readied to block off main roads.
A police official claimed that the arrangements were made to avoid any terrorism-related incidents, and that no orders had been passed to arrest political workers or to block the motorway.
Punjab Home Department sources earlier told Dawn that anyone holding a rally would have to seek prior permission from the deputy commissioner as per the Election Commission of Pakistan Code of Conduct, but so far no one has sought any permission in Lahore.
The sources had said that authorities would not allow any processions to go to the airport. Multiple blockades have been set up on roads across the city.
Three helicopters and the Punjab Chief Minister Prof Hassan Askari's airplane have been placed at NAB's disposal in the eventuality that Nawaz and Maryam will need to be transported to Rawalpindi.
Traffic plan
The caretaker government devised an alternate traffic plan on the eve of the arrival of Nawaz Sharif at Lahore airport on Friday.
Traffic coming from Islamabad will enter Lahore via motorway through Thokar Niaz Beg, Qazilbash Chowk and Shaukat Khanum Chowk. Traffic from GT Road will enter the city via Kala Shah Kaku through Thokar. Traffic from Kala Khatai Road will enter via Shahdara Chowk, Begum Kot and Faizpur Interchange through motorway. Traffic from Multan Road will enter via Bund Road and Mohlanwal Road. To exit Lahore, use Maulana Shaukat Ali Road, Johar Town Main Boulevard, Shaukat Khanum, Qazilbash Chowk, Motorway Interchange or Multan Road.
The international travellers have been asked to reach at least six hours prior to the departure time at designated areas in Lahore. They will be transported to airport via a shuttle service which will be provided from Bhatta Chowk, Chungi Dogaij, Gajjumata, Mehfooz Park and Niazi Shaheed Park.
Solemn farewell
Maryam had taken to Twitter to post pictures of scenes in London ahead of the father-daughter duo's departure.
In one picture, the father and daughter were seen bidding farewell to Kulsoom Nawaz, who is said to be comatose and admitted at a London hospital.
.
Sentenced for corruption
The two PML-N leaders are returning to Pakistan to face a prison sentence handed out on July 6 by an accountability court in the Avenfield reference case, in which the judge ruled that Nawaz, Maryam and her husband Captain Safdar own assets beyond known income. They were respectively handed jail sentences of 10, seven and one year each.
The father-daughter duo were also fined £8 million and £2 million respectively. The money will go into the state treasury.
All three of them have also been disqualified from running for public office.
The Avenfield reference ─ which was related to the purchase of four flats in Avenfield House, Park Lane, London ─ was among the three corruption references filed by NAB against the former premier and his children on the Supreme Court's orders in its [landmark July 28 Panamagate verdict.
Besides Nawaz, Maryam and her husband Captain Safdar, NAB had also nominated Hussain Nawaz and Hassan Nawaz — Sharif's sons — as accused in all three SC-ordered corruption references.
Though the Sharif family insisted that they had purchased the apartments through 'legitimate' financial resources they remained unable to disclose those resources before the accountability court or the Supreme Court.
One day after the sentence was announced, NAB obtained arrest warrants for Nawaz, Maryam and Safdar. Safdar, who was in Pakistan at the time offered his [arrest to NAB officials in Rawalpindi][8] on July 8.
Nawaz and Maryam were in London when the verdict was announced, as they have been with the ailing Kulsoom Nawaz who was diagnosed with cancer last year and is reportedly comatose. They announced that they would return to Pakistan to appeal against the sentence after the verdict was issued.
A day before the verdict was announced, Nawaz and Maryam had appealed to the accountability court to postpone the announcement of the verdict for a week citing Begum Kulsoom's health as the reason for seeking the delay. The appeal was turned down.
Addressing a party conference in London with Maryam by his side before his return, Nawaz said he had decided to return to the country to fulfil his pledge to 'honour the vote', "despite seeing the bars of prison in front of my eyes".
"Is there any Pakistani who has had three generations of his family go through an accountability process only to find out that no corruption was ever done?" he asked during the presser that was broadcast live on Facebook.
Nawaz also criticised the court's decision to sentence his daughter to a seven-year term in jail, saying those who did so "did not even remember in their hate what stature daughters have in Pakistan".