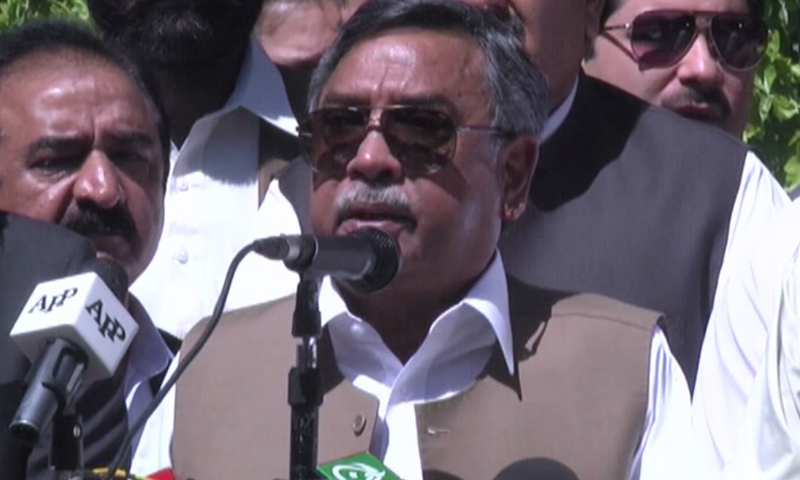 Lawmakers announced the launch of a new Balochistan-based political party comprising the political and tribal elite of the province in Quetta on Thursday.
Addressing a press conference at the Chief Minister's Secretariat, former Pakistan Muslim League-Quaid (PML-Q) ideologue Saeed Ahmed Hashmi announced the formation of the Balochistan Awami Party.
Senator Anwar-ul-Haq Kakar, former provincial ministers Faiq Jamali, Mir Saleem Khosa and other leaders were also present on the occasion. Influential chieftains including Jam Kamal Khan, Jan Mohammad Khan Jamali, Nawab Zulfiqar Ali Magsi and Sardar Mohammed Saleh Bhootani are part of the new political party.
Examine: Are we ignoring the political dynamics in Balochistan?
Balochistan Chief Minister Mir Abdul Quddus Bizenjo is also a member of the party, which is backed by the six independent senators who were elected in the recent Senate elections, including Sadiq Sanjrani, the new chairman of the upper house.
"We will contest the elections [2018] through [Balochistan Awami Party]," Senator Kakar, who is the spokesman of the party, announced.
The new party could be a major blow to the former ruling coalition of PML-N and PML-Q in Balochistan since more than 20 legislators from these parties have joined BAP.
Muslim League 'with a new name'
Senator Kakar while addressing the press conference said the economic and political rights of the people of Balochistan will be the chief priority of his party and it will never compromise on either of them.
Former Senator Hashmi, who had been associated with the PML-Q for most of his political career, said although he has now decided to part ways with the party, "we are not separating ourselves from the mindset of Muslim League."
He said the new party is being launched using Muslim League's mindset "but with a different name".
The process to get the party registered with the Election of Commission of Pakistan will be started once its office-bearers have been elected, Hashmi said.
The announcement of the launch of the party was postponed for one day due to the absence of Chief Minister Bizenjo who could not return to Quetta on Wednesday due to his official engagements in Islamabad.
Sources had earlier told Dawn that the leaders of the new party have not yet decided who the president is going to be, but names of former governor Nawab Zulfiqar Ali Magsi, ex-CM Jan Mohammad Khan Jamali among others have been tabled. The final decision on who the president is going to be will be made after further discussions within the party leadership.
"All dissident MPAs of the PML-N and independent senators who were elected in the recent Senate elections would be important members of the new party," the sources had said.
Hashmi had floated the idea of forming a new political party for the dissenting members of the PML-N in Balochistan. According to sources, Hashmi was also pivotal in the appointment of Bizenjo as the chief minister.