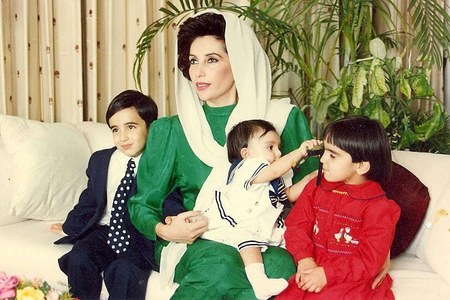 "Benazir Bhutto proved beyond a doubt, with her life and relentless courage, that women can certainly do everything," wrote Bilawal Bhutto-Zardari in a column penned for The Guardian, published on Monday.
In January, it was learnt that New Zealand Prime Minister Jacinda Ardern is set to become the second premier in recent history to give birth while in office after she announced her pregnancy. Former PPP leader Benazir Bhutto was the first to give birth while serving as prime minister in 1990.
Australian Prime Minister Malcolm Turnbull and others had offered their congratulations on the "wonderful news".
Ardern's plans for a family had sparked a sexism row during the election when a television host quizzed her on the issue, saying voters had a right to know before they cast their ballots. She had rejected the line of questioning as "unacceptable", saying pregnancy and child rearing should not hinder women's opportunities in the workplace.
"I am not the first woman to multitask. I am not the first woman to work and have a baby," she had said.
Bilawal, the current PPP chairman, said that while it was "uplifting to see the world rejoice at her [Ardern's] good fortune", it was only natural for him to look back and compare this situation with the one his "mother faced 28 years ago when she became the first world leader to give birth while in office".
Speaking of General Ziaul Haq's regime — during which Zulfikar Ali Bhutto was hanged — he said the dictator "radicalised Pakistan to such an extent that we are still haunted by his actions today".
"It was in this environment that my mother cut her political teeth, and led the political campaign against the regime," said Bilawal is his article. "In 1988, my mother led a nationwide election campaign, wrote a bestselling book, had her first child and became the youngest and first female prime minister of the Muslim world. All in one year! For her detractors this wasn't good enough. She was unacceptable because she was a woman."
Read: 'I spent the best part of my life watching my mother fight the forces of patriarchy'
Recalling the time when Benazir was pregnant with his sister, Bakhtawar, Bilawal said that his mother's prime ministership was challenged for that fact alone. "There were calls for her dismissal, the setting up of a caretaker government because a pregnant woman had no right to be prime minister. It's not like the constitution allowed for maternity leave."
"My mother, being who she was, took this all in her stride with a smile on her face, had her baby in secret and was back at work the next day."
Calling Benazir's face-off against the military dictatorship of General Musharraf her "final campaign", Bilawal said: "She fought consistently for democracy, and advocated for the release of political prisoners, including my father [...] all the while raising her children as a single mother, lecturing and giving speeches to make a living, making time to have a meal with us every day, taking us to the mosque every Friday, helping us with our homework, and much to our annoyance, never missing PTA meetings."
"She proved beyond a doubt, with her life and relentless courage, that women can certainly do everything — I know every child thinks of their mother as superwoman, I certainly did."