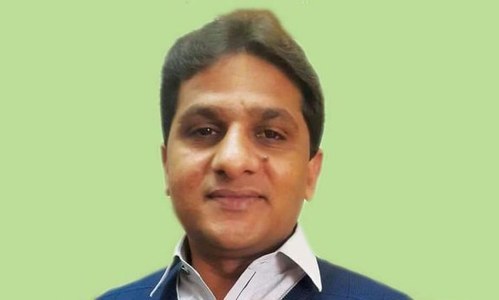 LAHORE: Activists belonging to various rights groups as well as friends and family of Raza Mahmood Khan, a rights activist who has been missing since Dec 2, condemned the 'enforced disappearance' of activists and attempts to silence and harass those speaking up for peace and human rights.
Speaking at a press conference on Friday, they announced that they would file a habeas corpus petition for Raza's recovery in the Lahore High Court on Monday and approach the Commission of Inquiry on Enforced Disappearances as well.
They announced holding nationwide protests and separate agitations in front of the Pakistani embassies in Washington DC and London.
They will file habeas corpus petition in LHC on Monday
Raza was seen last leaving his office at around 8pm on Dec 2, after attending a talk on extremism, shared Raheemul Haq, a friend and fellow activist of Raza's. The next day, his friends called him up several times but his phone was switched off. Panicked, they visited his single-room apartment and found it locked from the outside, but the lights inside were switched on.
Raheem explained that this was uncharacteristic of Raza, who never left his house without turning the lights off. Nevertheless, his friends called Raza's family in Kasur to ask if they knew where he was, but they had not heard from him either. They approached the police then.
Raheem said they entered the apartment to find all of Raza's belongings scattered on the floor. The police pointed out that his computer's CPU was missing.
"We are in a world of pain," said Hamid Nasir, Raza's younger brother, who filed an application with Naseerabad police station. The FIR was registered on Dec 5. Hamid stressed that his brother did not have any enemies. Raheem added that Raza was involved in several community initiatives around art, peaceful coexistence and urban issues.
As the convener of Aaghaz-e-Dosti, an initiative to help students from India and Pakistan send each other messages and paintings depicting peace, Raza had been a staunch advocate of peace in the region. Activist Saeeda Diep explained that the initiative – which did not receive any NGO funding – would publish calendars carrying paintings of students.
Representing the Women's Action Forum, Humaira Shaikh said, "We condemn Raza's enforced disappearance and appeal to the government to at least inform his family about his safety and wellbeing."
The panel, which included lawyers Sarah Suhail and Asad Jamal, demanded that the state fulfil its obligations under Articles 4, 10, 24 and 25 of the Constitution of Pakistan and protect the rights of citizens and activists. They added that the trend of picking up activists – as many as six activists have been picked up this year – had created a sense of fear and aimed at silencing them. "But we will not be silenced, and we will use every platform to agitate and raise our voice," Sarah said.
Published in Dawn, December 9th, 2017