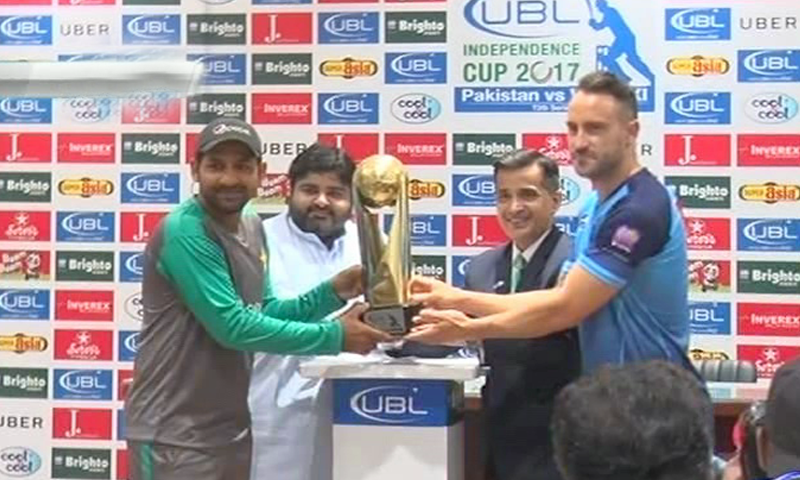 "There is a lot of excitement and this is a matter of great happiness," Pakistan captain Sarfraz Ahmed said on Monday, hours after the World XI squad arrived in Lahore for the Independence Cup 2017, which will start tomorrow.
Sarfraz was speaking to the media after unveiling the trophy of the Independence Cup with World XI Captain Faf du Plessis.
"We are playing in Pakistan after a long time. Luckily, I am involved in this event and that too as a captain. This is a very proud moment for me and for all those players who have been selected in this team," the captain added, as he expressed hope that following the Independence Cup, regular series would be played in the country.
When asked about the home team's batting lineup, Sarfraz acknowledged that since he became captain, the T20 squad has consisted mainly of young players.
"We are trying to form a good, young team so that the same players can find their place in one-day internationals and test series."
"This is an important series for us. After our victory in the Champions Trophy, our responsibility has increased. Expectations have been raised, we have to prepare better," the captain said when asked about feeling pressure on the home field while facing a top international squad.
"We will try to play good cricket to maintain our rankings in the T20s."
The captain expressed hope that future series would be held in his hometown, Karachi, and in other cities of the country.
When asked about the participation of Indian players in the series, Sarfraz said: "It would have been great if they were here, but we are thankful to those who have come."
"We hope Indian players do come in the future," Sarfraz added.
Regarding the home squad's strategy for the series, the captain said that the team was paying attention to all three fields; bowling, batting and fielding.
The World XI squad comprising 13 players from seven top cricket-playing nations landed in Lahore early Monday morning amid massive security, with Pakistan hoping the tour will end years of international isolation.
Pakistan has not hosted top-level international cricket — barring five limited over matches against minnows Zimbabwe in 2015 — since the Sri Lankan team bus was attacked by terrorists in March 2009, killing eight people and injuring seven players and staff.
The World XI will play three Twenty20 internationals starting Tuesday in Lahore's Gaddafi Stadium.