A day before the National Assembly gathers to vote on Pakistan's interim prime minister in the wake of Nawaz Sharif's dismissal, Dawn.com readers are generously backing Pakistan Tehreek-i-Insaf's (PTI) nominee, Sheikh Rashid Ahmad.
Backed by the PTI as the 'deserving' candidate for the role, Rashid has been praised by Imran Khan for being a vociferous campaigner in the Panama Papers case who earned the PTI's nod of approval for his 'struggle'.
Why Sheikh Rashid?
Senior PTI leader Arif Alvi tells Dawn.com that the choice is a practical one. "He was one of the good petitioners who persisted with this cause [the Panama Papers case]," Alvi says.
"It makes sense because opposition parties will not support a PTI candidate so an independent candidate like Sheikh Rashid was a good choice for nomination," he added.
PTI and Rashid
In the 2013 general election, Rashid's party entered an electoral alliance with the PTI, with both pledging to support the other in the polls for Rawalpindi's NA-55 and NA-56 seats.
Rashid secured victory in NA-55 and took oath as an MNA on June 1, 2013. Since then, he has been seen sharing the platform with the PTI during campaigns to put pressure on Nawaz Sharif to resign over allegations of corruption.
PTI leader Imran Ismail, too, says Rashid is an obvious choice as he can muster more support from opposition parties.
"He's a nice guy and since we have been working for a long time with Sheikh Rashid we don't feel like he isn't part of PTI," Ismail adds.
"Hes always with us on all issues or platforms and is part and parcel of PTI. One can get along with him and he really understands grassroots politics."
He adds with a laugh, "I'm also learning from him how to smoke a good cigar."
Rashid in politics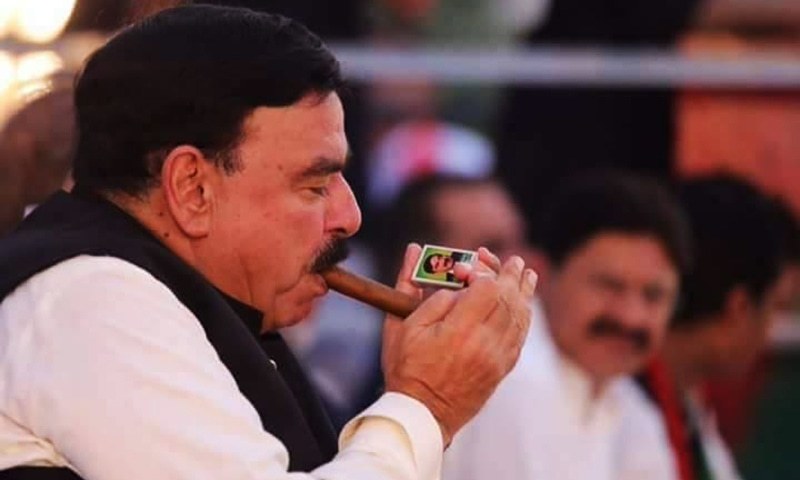 Known for his quips and political 'predictions', Sheikh Rashid has been elected as a member of the National Assembly seven times between 1985 to 2013. Although he has a reputation for witty (or crass, depending on who you ask) one-liners, he is more famous for switching allegiances between parties.
Rashid was born on November 6, 1950 in Rawalpindi and obtained his early education in his hometown. He later graduated from the famous Gordon College and went on to study law in Lahore. Rashid's political career started during his student years when he became involved in activism against the regime of former military ruler Ayub Khan.
In 1985, he contested elections held during Ziaul Haq's regime and won a seat in Rawalpindi. He continued winning from that seat on various platforms — from the Islami Jamhoori Ittehad (IJI), the Pakistan Muslim League-Nawaz (PML-N), the Pakistan Muslim League-Quaid (PML-Q) and also as an independent — until he finally lost in the 2008 general election by a wide margin to a PML-N candidate.
His defeat from NA-55 on a PML-Q platform led him to part ways with the league and launch his own political party, which he called the Awami Muslim League Pakistan (AMLP). Rashid is the chief of AMLP and holds the office of party president.
Over his political career, Rashid has served as a federal minister in several portfolios, including railways and information and broadcasting, during the reign of former president Pervez Musharraf.
He was among the few close aides of the retired general who stood by him during his military campaign in Pakistan's Federally Administered Tribal Areas (Fata).
In February 2010, over a year after Musharraf had stepped down and Rashid was no longer an elected representative, unknown gunmen opened fire on the politician and his associates, leaving the former federal minister and several others injured.
The attack, which was said to be politically motivated, also led to speculation that it was orchestrated by Taliban militants or by elements sympathetic to them.