June 05, 2017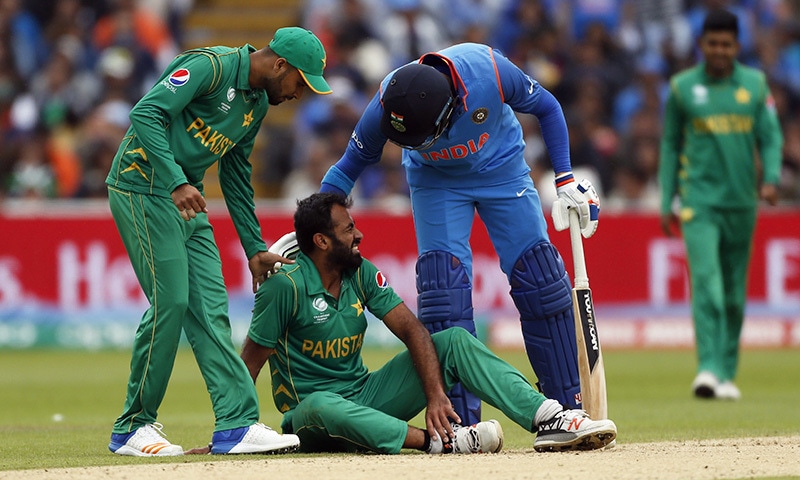 Pacer Wahab Riaz, who had to leave the field during Pakistan's opening Champions Trophy clash against India after an ankle injury, has been ruled unfit for the rest of the tournament, the Pakistan Cricket Board (PCB) said in a statement on Monday.
However, fast bowler Muhammad Amir, who also left the field after developing a cramp during Sunday's match, has been declared fit for the remaining matches, official sources told DawnNews.
"A scan has confirmed that Wahab Riaz suffered a deltoid ligament complex after an eversion injury mechanism whilst bowling during the India vs Pakistan match on June 4," said the PCB press release.
"Wahab will not be able to continue to play in remaining games of the Champions Trophy," the statement said, adding that it will take minimum two weeks for the player to recover from his injury.
PCB has sent an official request for Wahab's replacement to the ICC Technical Committee, it said. The fast bowler is likely to be replaced by Mohammad Abbas.
On Sunday, one of the most eagerly awaited matches of the tournament proved a damp squib in the end as India utterly dominated every aspect of a stop-start, rain-interrupted 124-run victory at Edgbaston.
Pakistan won the toss but nothing else went right for them as they dropped catches, persisted with bowlers who bled runs and folded inside 34 overs with the bat.
Apart from the manner of their surrender, Pakistan are also fretting on the fitness of fast bowlers Amir and Wahab.
Amir bowled 8.1 overs before developing severe cramp and leaving the field, while Wahab, who conceded 87 runs in 8.4 wicketless overs in the most expensive spell of five-plus overs in tournament history, hobbled off after twisting an ankle.
"I don't know why they're cramping," coach Mickey Arthur said Monday. "That's something that I need to take up with the medical team."
Wahab had suffered a slight injury on his left knee prior to the start of the tournament, however a Pakistan Cricket Board spokesman had said at the time that it was "nothing serious".
Pakistan play South Africa in their next Group B match at the same venue on Wednesday.