PML-N Senator Nehal Hashmi resigned from Senate hours after a video surfaced on Wednesday showing him lashing out at "those investigating" Prime Minister Nawaz Sharif's family.
Chief Justice of Pakistan Mian Saqib Nisar also took suo motu notice of Hashmi's remarks and summoned him in person on Thursday to appear before the bench implementing its Panama Papers verdict, media reports said.
In the video, the senator had warned that those conducting the investigation will be "taken to task" for grilling the premier's family.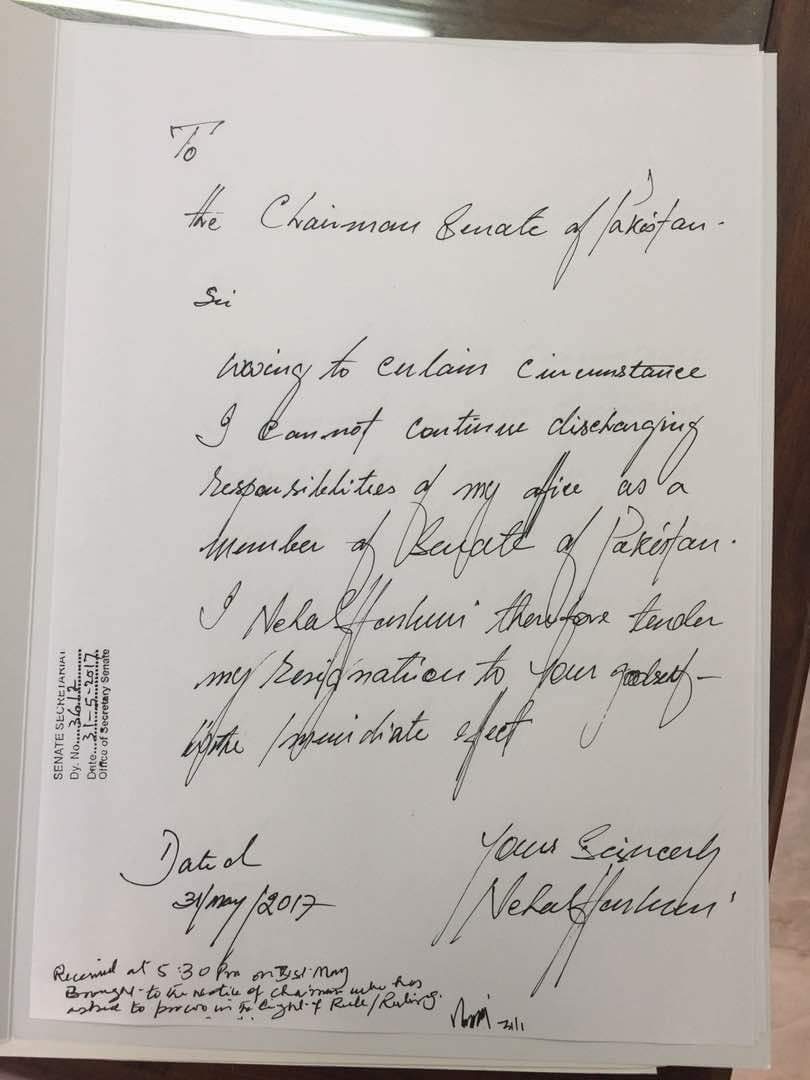 His remarks were apparently made in reference to a Supreme Court-sanctioned investigation into the Sharif family's business dealings abroad.
Hours after the senator's incendiary remarks made national headlines, DawnNews reported that Hashmi's membership of the PML-N had been suspended and a show-cause notice issued to him.
Minister of State for Information Marriyum Aurangzeb said the prime minister had also asked Hashmi to hand in his resignation from his Senate seat, which the Senate Secretariat received later in the evening.
PML-N's general dissatisfaction with Panama Papers JIT
Earlier, Hussain Nawaz, the prime minister's elder son, had objected to the inclusion of two individuals — Securities and Exchange Commission of Pakistan's Bilal Rasool and State Bank of Pakistan's Amer Aziz — in the Supreme Court-appointed joint investigation team (JIT), accusing them of being "close" to the PML-N's political rivals.
However, his objections were turned down by the Supreme Court.
"We are not going to remove any JIT member on mere conjecture unless something concrete comes up because the prime minister is the one being investigated," Justice Ejaz Afzal Khan, who heads the three-judge implementation bench of the Supreme Court, had said on Monday as he discarded the appeal.
Hussain had subsequently appeared before the investigators for the second time on Tuesday, where he was reportedly grilled for almost five hours.
Following Hussain's interrogation, PML-N leaders had held a press conference, once again accusing the two members of the JIT of harassing the prime minister's son.
Read more: Minister says PM's son harassed by two JIT members
Senator crosses a red line
Hashmi's outburst, which appeared to reflect the party's conviction of the JIT's partiality, included the warning: "Those who are scrutinising them [Sharif and his sons], we will not spare you."
"Those grilling [the family] ... [be warned that] we will arrange the day of judgment for you."
"You are making the life of the prime minister difficult; the Pakistani nation will make it difficult for you to live," he added, without taking any names.
Minister of State for Information Marriyum Aurangzeb later said that the party does not support what Hashmi said and that it was his "personal opinion", Radio Pakistan reported.
She said the prime minister believes in accountability, adding that he has sought an explanation from Hashmi for his remarks.
Hashmi offers a clarification
Nihal Hashmi had met Senate Chairman Mian Raza Rabbani earlier on Wednesday to offer a 'clarification' about his speech.
"I was speaking to party workers at a Youm-i-Takbeer gathering on May 28," Hashmi said.
"I expressed my own opinions at the gathering. If the prime minister asks about the speech, I will explain this to him," he added.
Defending the nature of his speech, Hashmi pointed out that he did not directly threaten anyone. "I did not take aim at any institution, nor did I mention any person's name. My address to the workers was very normal."
"My targets were our political opponents," Hashmi added. "Our opponents have a habit of joining my statements to institutes," he alleged.
'Elements trying to jeopardise probe'
Denouncing Hashmi's statement, Pakistan Tehreek-i-Insaf (PTI) Chairman Imran Khan said the PML-N senator's "shameful threats to the superior judiciary and JIT members" are representative of the party's political culture.
"They either buy people or try to scare them," Khan said in a tweet, accusing the ruling party of strong-arming the investigators.
PTI spokesperson Fawad Chaudhry said: "Some government workers are trying to jeopardise the processes of accountability."
Chaudhry claimed these elements were trying to "scandalise" the ongoing probe.
"We will ensure no such schemes against the Supreme Court or the JIT are successful," the spokesperson added. "PTI will defend the quest for justice."
With additional reporting by Haseeb Bhatti and Nadir Guramani.