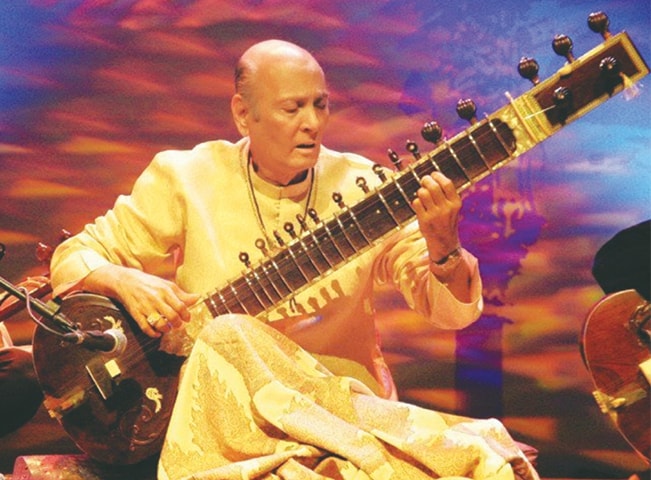 KARACHI: Ustad Raees Khan, one of the most outstanding players of sitar, passed away on Saturday. He was 77.
He leaves his wife, renowned singer Bilqees Khanum, and four sons.
Ustad Raees was born in 1939 in Indore, India. He belonged to the Mewati Gharana of Indian classical music. The great sitar player Ustad Vilayat Khan was his uncle. He started playing sitar at a very young age. One account suggests his father gifted him a sitar when he was barely three years old. He was also a vocalist of high merit. He would often sing a composition to illustrate the raga he was playing. One of his early major performances was at the Sunderbai Hall.
Apart from performing at a number of concerts as a solo artist, Ustad Raees collaborated with legendary shehnai player Ustad Bismillah Khan on stage. Their performances together are considered to be some of the finest collaborative pieces of classical music. He also played sitar for film music composers. His association with composer Madan Mohan resulted in famous tracks such as 'Naino mein badra chhayey' in the film Mera Saya and 'Rasm-i-ulfat ko nibhaen' in Dil ki Rahein.
After marrying Bilqees Khanum (his second wife) in the 1980s, Ustad Raees moved to Pakistan. He was welcomed with open arms, and he gave here one great performance after another. He regularly attended and participated in classical music concerts in Pakistan, sometimes playing sitar with his son Farhan. He encouraged young artists with all his heart and always lent them a helping hand.
Distinguished writer Anwar Maqsood felt terribly uneasy on Saturday night when he expected television channels to run the news of Ustad Raees Khan's demise but instead saw the usual newsflashes and heated debates on political issues. "How can they do that? They can't be this insensitive. After Quaid-i-Azam Mohammad Ali Jinnah and Abdul Sattar Edhi, Ustad Raees was our greatest personality. It's such a huge loss. The man's sitar-playing had magic and they (TV channels) don't know that," he said.
Mr Maqsood was finding it hard to believe that Ustad Raees had left us just like that. "God had given him a rare gift. His fingers had that rare touch. I have a number of recordings of his performances. He may be physically no more, but he is with us," said Mr Maqsood.
The All Pakistan Music Conference's Ayla Reza was also distraught. Ustad Raees had performed for the conference and had played a pivotal role in reviving interest in classical music among local audiences. "There are a handful of artists who achieve such greatness in their lifetime. He was known not just in the subcontinent, but was famous across the world. His virtuosity was rare. Not many know that he was a child prodigy. When he was two and a half years old, his father gave him a sitar made of coconut. He was a wonderful person at that. He was worth everything," said Ms Reza.
The Tehzeeb Foundation's Sharif Awan said, "He used to claim that he invented gaeki ang in his sitar playing. When I asked him, he told me that particular style of music could not be played without gamuk, and he used to do that. He was right. It's a huge loss. He was a thinker when it came to sitar playing. He introduced more aspects to the art form. Ravi Shankar did that as well."
Published in Dawn, May 7th, 2017