Perhaps because it neighbours the ancient civilisation of Gandhara, traditional wood-carving is still popular in Rawalpindi, where craftsmen prefer hand-carved wooden products. However many machines are also being used in the market.
The city is popular for its beautifully hand-carved wooden doors, balconies and windows. Carved doors and windows greet visitors to downtown Rawalpindi, with some of the work simple and the older doors featuring more intricate, almost majestic designs.
Though many trends have come and gone when it comes to designing buildings and houses, installing hand-carved doors and windows has always been popular with residents of the city. The narrow lanes of Pindi's bazaars, from Raja Bazaar to Pirwadhai, Saddar and Rawat, are speckled with carpenter's shops, all busy carving delicate designs on huge panels of wood.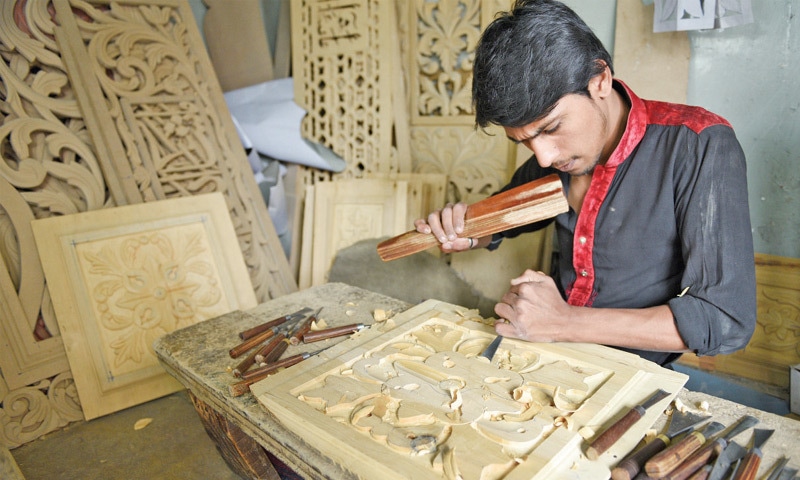 Six workmen are required to turn a plain panel of wood into a heavily-decorated door. Hand-carving is one skill which has not lost its signifance. Skilled labourers use traditional methods of wood-carving, despite physical and health risks.
After trees are cut down, they are taken to a timber market and cut in different sizes for making windows, doors and furniture.
One of the oldest timber markets in the city, which was established more than a century ago, is located in Raja Bazaar, along City Saddar Road. "Big machines have been installed in timber shops to cut wood to the size specified by customers after they are done selecting the designs they want," said Ghulam Rasool, a 77-year-old wood cutter at the old timber market. The now cut-down logs are taken to a carpenter's shop where he gets six workmen to carve out a door or furniture.
"We start with our work after an order is placed and most of the time, customers buy wood themselves and give it to us to design. It takes more than 10 days to make a door," said Mohammad Zahid, who works as a carpenter along City Saddar Road.
"They use machines to carve designs in workshops, but at local carpenter's shops, we still use traditional techniques and can make any design once a customer shows them to us," he added. After they are carved, doors, windows and furniture are sent to a workshop to be polished. "The joints in a design are grinded and imperfections removed. A lot of wood is wasted in this process," Mohammad Zahid explained. Most of the carpenters in the old timber market came from Kashmir a long time ago and most of the workers are from Chiniot, he said.
"They spend three to five years learning this trade," the carpenter said. Despite the hard work they put in, workers only earn between Rs300 and Rs500 a day.
"Carpenters are always at risk of developing respiratory problems because we are always around saw dust, whether we are cutting, grinding, drilling, sanding or otherwise pulverising wood and many workmen injure their hands when they use saws," he said.
Another carpenter, Mohammad Naveed, said that hand carved wooden doors sell for a good price. Most customers put in orders of large, detailed designs for their front doors and import wood from China for the purpose as it is cheaper, he added.
Published in Dawn, April 3rd, 2016