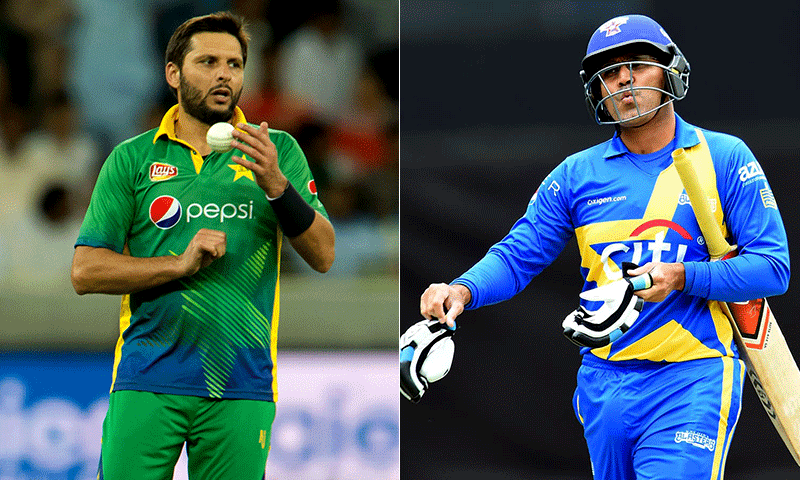 DUBAI: The proliferation of Twenty20 cricket continues apace over the next couple of weeks when a contest of retired greats goes head-to-head with the Pakistan Super League (PSL) for the dollar of the Emirati fan and the eyes of the sub-continental TV viewer.
The Masters Champions League (MCL), which boasts Brian Lara and Muttiah Muralitharan, and the Kevin Pietersen-endorsed PSL are embarking on their maiden seasons and seeking to emulate the Indian Premier League (IPL) and Australia's Big Bash League.
An appetite for watching retired players was illustrated when Shane Warne and Sachin Tendulkar's "Cricket All-Stars" games drew an aggregate crowd of 83,900 of mostly South Asian expatriates to three matches in the United States in November.
The MCL is looking to that same expatriate audience to fill stadiums in Dubai and Sharjah but so is the PSL, which cannot be held in Pakistan for security reasons and has switched from Qatar to use the same grounds.
The MCL runs Jan. 28-Feb. 13, the PSL Feb. 4-23.
The rival leagues play on the same day on seven occasions, creating a dilemma for the most dedicated cricket fans.
"On the commercial side it has created a problem, because we will compete for ticket revenue," said MCL chief executive Zarah Shah, projecting $500 million revenue over 10 years.
"There's a limited crowd that goes to cricket here. It's stressful and draining but we'll make it work."
Dubai drew sell-out 25,000 crowds to all five IPL games it hosted in 2014 and demographics suggest both leagues could thrive.
Workers from cricket-obsessed India, Pakistan, Bangladesh and Sri Lanka constitute about half the UAE's population.
"Broadly speaking, we know how much is coming in from broadcast rights, title sponsorship, but the big factor is gate money and sale of (corporate) boxes," said Najam Sethi, chairman of the PSL Governing Council.
"If we've 70-80 percent turnout, we're running away with a lot of money. If we've 50 percent things may not look as bright."
Sethi said television rights would be the PSL's biggest revenue source, while Shah predicted 60-70 percent of the MCL's income would eventually come from subcontinent broadcast rights.
Yet getting fans through the gate remains vital.
"The more people that throng the stadiums, the more advertisers back home will see the enthusiasm and then other people sitting on the fence will advertise," said Sethi.
Retirement Doubts
The MCL was approved by International Cricket Council (ICC), the sport's governing body, on the expectation it would be for retired internationals.
Players require a no objection certificate (NOC) from their national associations to appear.
But some haven't so much quit their national teams as been overlooked for selection, prompting complaints from at least two countries' cricket boards, named in local media as the West Indies and Pakistan.
Shaun Tait quit the MCL after the fast bowler was recalled to Australia for the ongoing Twenty20 series against India, having last played for his country's one-day team in 2011.
He has now signed for the PSL's Peshawar Zalmi.
"A number of members contacted the ICC in regards to the MCL," said an ICC spokesman.
"Their concerns are attempts to sign players who do not have NOCs from their home boards, or players not retired from international cricket. The ICC is discussing the matter with the MCL to resolve the issue."
MCL sold six franchises for $15 million each, this sextet pledging about $5.5 million in player wages.
The PSL's five franchises sold for $93 million combined and are named after Karachi, Quetta, Lahore, Peshawar and Islamabad.
Both leagues plan to expand.
The MCL hopes to add another two teams in 3-4 years, while PSL aims to sell three more franchises.
"Whether that happens in the second, third and fourth year depends on profitability," added Sethi.
"There will be a loss in the first year. We don't think it will be very big."
The MCL aims to break even in year three and will pay its franchisees a share of gate money, central sponsorship revenues and broadcast income, plus prize money.
"A lot depends on the players you have," said Nalin Khaitan, the 27-year-old owner of Gemini Arabians.
"You have to have a long-term view. Those looking to make a quick buck are in the wrong business."