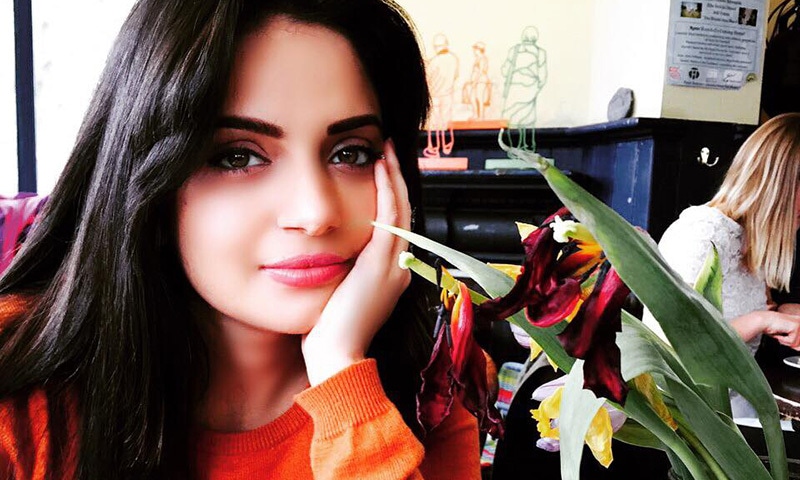 Armeena Rana Khan is set to be Pakistani cinema's newest darling.
A newcomer even in the TV industry, she has a fan following that tells us that she's clicked with the crowd. It helps that she has the face of an angel and is cast in roles that match.
In her debut film, Bin Roye that opened this Eid, her role is a small one, but she's enjoying the spotlight all the same. We'll also soon see her shine in the ensemble cast of Yalghaar and play the female lead in Jaanan.
Dawn.com talks to Armeena Rana Khan about Bin Roye and other dramas, Bollywood and the future.
Dawn: Tell us a little bit about Armeena Khan pre-stardom. You were studying business in Manchester when you stumbled into modeling/acting. Could you tell us more about how you broke into the entertainment industry?
Armeena Khan: Yes, I was studying for my honours degree in Business at Manchester when I was offered to do some modeling on the side.
I always had an inner regard for acting and the creative industries but at the time I was more focused on completing my studies. But when my work began to encompass music videos and short films, I discovered my passion for acting and was lucky to be offered a Bollywood art house film, some short films in the UK and also a couple of dramas in Pakistan. My initial results were mixed as I learnt my craft. Since then I have been fortunate enough to have a couple of my short films screened at Cannes and I went on to study acting at Pinewood and Ealing in London.
Dawn: You've lived in Canada, the UK and Pakistan... where are you based now, and where do you think your ventures will take you in the near future?
Armeena: I am based in the UK because it is such a great travel hub and makes it easy to visit my family in Canada or travel for work to the States and South Asia.
In terms of the future, I am planning on furthering my work in the UK and the US by pursuing more English-speaking roles and exploring ideas that will help me grow as a professional.
Dawn: You've acted in music videos, TV dramas and films, as well as modelled on the runway and for print. Do you want to keep your portfolio this diverse or do you plan to focus on one of these mediums in the future?
Armeena: As an actor, you try to avail interesting opportunities as they arise. So you accept sensible roles as well as projects that take you out of your comfort zone. But make no mistake, I am first and foremost an actor. I pursue other avenues because deep down I am an explorer and am intrigued by interesting ideas and the people behind them. This is the reason behind the diversity in my work and I will keep on exploring.
Dawn: Few people know this but you've already made your film debut in a little-known Bollywood rom-com called It's Too Much. How was that for a learning experience? Were you happy with the response of the film? Would you like to work in Bollywood in the future?
Armeena: Yes, people don't realise that I actually worked in Bollywood before Pakistan. Normally, it is the other way around with actors making the transition from Pakistan to Bollywood.
But I am worried about Bollywood.
You see films should reflect the societies they emanate from, as well as their audiences. They should be able to transport their audiences to far away lands, bringing them face to face with monsters, letting them walk with heroes and giants. They should be able to make you cry, laugh and above all inspire you to be more than you thought you could be. But Bollywood seems lost. It has become all about the 'Masala' and the 'Sex'. But there are consequences. As a result, we are seeing that Bollywood is not only at odds with the hopes and aspirations of right-minded Indian women but also the rich heritage and culture of Indian society. India is more than this. Where is the philosophy, history, the dreams and the richness of India and its people? I hope Bollywood can start to encompass these facets and that is the Bollywood I would want to be part of.
---
You see films should reflect the societies they emanate from, as well as their audiences. But Bollywood seems lost. It has become all about the 'Masala' and the 'Sex,' says Armeena
---
Dawn: Tell us about how you landed your first TV role in Pakistan. When you signed up for your first, could you have predicted that your acting career in Pakistan would take off like it did? What's made you continue acting here?
Armeena: My first 'proper' role in Pakistan was in the drama Shab e Arzoo Ka Alaam followed by Mohabbat Ab Nahi Hogi and Ishq Parast. So I guess I am really only 3 dramas old in Pakistan. I feel blessed that the audiences have taken to me in the way they have in Pakistan. In turn I enjoy working here. I especially love the fact that we, my fellow actors and I, are pioneering and building a whole industry. We are professionalizing and challenging each other to reach greater heights and constructing something for future generations. It will be a lot easier for those that follow us because we are doing all the bleeding for them. They probably won't appreciate it but that's life.
Dawn: What can you tell us about your roles in Bin Roye and Yalghaar? Which of these films did you start working on first?
Armeena: In Yaghaar, I play the love interest opposite Bilal Ashraf. This is will be a great film because Hassan Rana is behind it and you know he will spare no effort or expense to bring a quality cinematic experience to our screens.
In Bin Roye, I play the role of Saman. She is a beautiful and gentle character whom Irtiza (played by Humayun Saeed) simply can't help but fall in love with. I would describe her as angelic.' I started Bin Roye before Yalghaar and it took over two years to finish. It was a real labour of love.
Dawn: If you could describe the film Bin Roye in one sentence, what would it be?
Armeena: 'Another small step for Armeena, but a giant leap for Pakistani Cinema.'
Dawn: What was your most memorable moment shooting Bin Roye?
Armeena: A poignant moment I remember is when the crew reversed the roles of entertainer and audience. We, the actors, were feeling a little gloomy so the crew decided to put on a parody of the song 'Baby Doll.' The cast and I laughed so much as we cheered their marvelous performance. It lifted us all. These moments keep you going through the dark hours in the middle of filming when you can't see the entrance or the exit of the tunnel.
---
Reham Khan is a professional and brings her wealth of experience from her time at the BBC. She is complemented by the vision and skills of Imran, says Armeena
---
Dawn: You've also signed on to Reham Khan's film, Jaanan. What's it like working with Reham? How did you bag that role, and what more can you tell us about this project?
Armeena: For me, the rest of the year is all about my next film, Janaan that is produced and co-produced respectively by IRK films, Reham Khan and Imran Kazmi. The script is the type that wins awards.
The makers are uncompromising and relentless in realising their vision. This will be nothing like the film industry in Pakistan has seen before. My message to the other filmmakers is to raise the bar this year because we will make a strong show with this one. Reham is a professional and brings her wealth of experience from her time at the BBC. It is refreshing working with someone who is straightforward and frank. She is complemented by the vision and skills of Imran who is an incredible listener and adaptive to new ideas.
Dawn: We have an abundance of films coming out in Pakistan in the next few months. Which films (apart from Bin Roye) are you most excited about and why?
Armeena: Well, firstly I am looking forward to 3 Bahadur. I am also looking out for some projects involving my colleagues, Mahira Khan and Sheharyar Munawar in Asim Raza's Ho Mann Jahaan and Humayun Saeed's Jawaani Phir Nahin Aani. Finally there is Halla Gulla, which should promise some laughs and smiles. All in all it is exciting times for Pakistan's cinema industry.