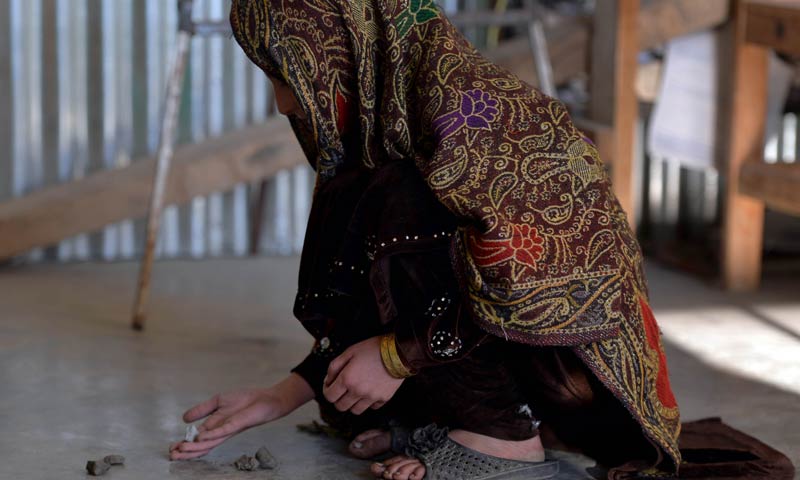 MADYAN: One sunny afternoon as she skipped home from school, Saneeda was accosted by her estranged father, who wanted to marry her to a man she'd never met to settle a debt of "honour". She was five years old.
A few months earlier, Saneeda's father Ali Ahmed had eloped with a girl from another valley. To avoid violent revenge from her family, he promised to give them his daughter and niece Sapna in marriage.
Offering young girls as brides in compensation to settle disputes persists in certain areas of Pakistan.
In Saneeda's home district of Swat, in the country's northwest, the practice is known as "swara".
Government data show that it is on the rise in Swat, four years after an army operation ended the Taliban's brutal two-year rule in the scenic valley.
Nine cases were registered in the area in 2013, up from just one in 2012. Rights groups say the true number is much higher.
"My father stopped me in the street and told me that he has given me in swara and soon will hand me over to a man who will be my husband," Saneeda, wearing a golden shawl with red and purple embroidery, told AFP, her cheeks reddening in embarrassment.
Her mother dismissed it at first, but the arrangement had been ordered by a jirga, a traditional tribal gathering, and the gravity of the situation soon became clear.
"We initially thought they can't take this girl away but then they increased pressure with every passing day to give her in swara," Fazal Ahad, Saneeda's maternal uncle, told AFP.
Eventually Saneeda's family got a court order protecting her. Police arrested her father and the jirga members who had decided to give her in swara.
A lucky escape, but Saneeda, now aged seven, still faces discrimination and mockery.
"Whenever I go to school, children taunt me and tell me that I have been given in swara and will be married to a man," she said.
Saneeda was unusual in that her family challenged the jirga's ruling. In Pakistan's patriarchal society, where family reputation is paramount, airing the "dirty laundry" in public in this way is very rare.
"There are many other cases of swara, but people in our area don't go to police and court and don't highlight such cases. We don't take matters of our women to the court — the victimised girls have to bear it all," said Ahad.
The authorities do not keep detailed data on swara, but Samar Minallah, an activist who made an acclaimed documentary on the practice, said she had identified at least 132 cases around Pakistan in 2012.
The other girl given by Saneeda's father, 16-year-old Sapna, had to abide by the jirga ruling and settled with the husband they chose for her.
The custom and the code of silence that surrounds it is so strictly followed that AFP was unable to reach her to speak about her experience.
Ahad said the nine Swara cases reported in Swat are just the tip of the iceberg, but victims were becoming increasingly willing to speak out.
"People are slowly getting aware through media that this custom is an evil, so some of them have started reporting," he said.
Forced marriage under swara is against the law, but police say that even when a complaint is brought there is great reluctance among witnesses to give statements.
"In the cases of swara, people don't provide evidence against each other, because they are from the same village and community," Naveed Khan, a senior police official told AFP in Mingora, the district headquarter of Swat.
"In the single swara marriage case in 2012, all 12 accused were set free because there was lack of evidence against them. Nobody speaks up in such cases."
Officers arrested 65 suspects in the nine swara cases in 2013, including Saneeda's father, Khan said, but their fate rests with the courts.
Women's rights groups say the government needs to do more to crack down on swara.
"There are more than 15 cases of Swara, which have been highlighted," Tabassum Adnan Safi, the chair of a local women's campaign group, told AFP.
"We are working to make women aware of the evilness of this custom. Besides these awareness campaigns, we also protest against Swara and raise voice for the protection.
"But getting evidence in such cases is no doubt a big challenge because nobody talks about it."
Minallah says that nothing will change until the police and prosecutors are prepared to challenge the authority of local elders — a difficult task in areas where such traditional power structures are deeply entrenched.
"An awareness has been created against swara, that is why there are more reported cases, but the authorities need to take strict action against jirgas and stop them violating the law," she said.
And there are those, even in the legal community, who defend the practice staunchly.
"It is helpful in removing deadly enmities among scores of tribes, saves dozens of lives and brings peace among families," Syed Kareem Shalman, a practising lawyer in Mingora, told AFP.
"If a family, which gets a bride in Swara mistreats her, faces revenge from the family who give their daughter to resolve the dispute."