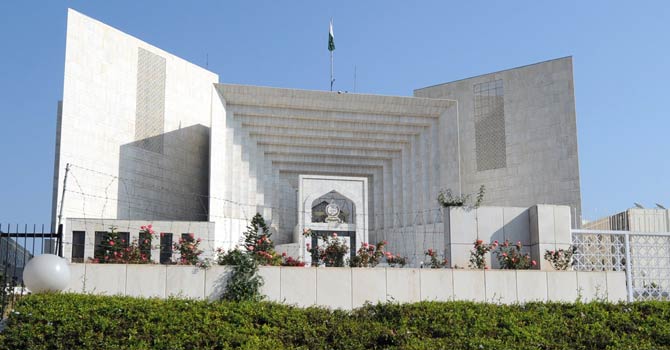 The Supreme Court of Pakistan. -File Photo
ISLAMABAD: Federal Law Minister Farooq H. Naek presented an authority letter on behalf of Prime Minister Raja Pervez Ashraf and a draft of the Swiss letter in the Supreme Court of Pakistan as the hearing on the NRO verdict case resumed on Tuesday, DawnNews reported.
A five-member bench led by Justice Asif Saeed Khosa heard the case and adjourned the hearing until Sept 26 upon the request of Farooq Naek.
The judges summoned  Naek into their chambers during the break.
During the hearing, the federal law minister approached the rostrum and presented an authority letter on behalf of Prime Minister Raja Pervez Ashraf and the draft of the letter, to be sent to Swiss authorities related to to alleged graft cases against President Asif Ali Zardari.
The Swiss letter draft was addressed to Geneva's attorney general, said the Federal Law minister, whereas the prime minister's authority letter delegated Farooq H. Naek to write the letter to Swiss authorities on his behalf in accordance to the apex court's earlier directives.
The court reviewed the prime minister's  authority letter and the draft of the Swiss letter and raised an objection to an incomplete reference made in the letter regarding the earlier Swiss cases.
Justice Khosa while giving his remarks said that it would have been better if the draft included a complete reference to the letter written by former attorney general Malik Qayyum for the quashment of graft cases.
Naek replied that a complete reference to Qayyum's letter could be included in the draft according to the court's instructions.
The court took a recess of 15 minutes while the judges held consultations.
Earlier, Federal Minister for Religious Affairs Syed Khursheed Shah had arrived at the SC premises whereas Attorney General of Pakistan Irfan Qadir  had also arrived to attend the hearing.