Gangubai Kathiawadi (2022, Netflix)
After making waves on the big screen in India and other parts of the world where Bollywood films aren't banned, Gangubai Kathiawadi is now finally available to watch on Netflix. And within hours of its release on the platform, it was ranked as the second most-watched film on Netflix in Pakistan.
Taken from S. Hussain Zaidi's book, The Mafia Queens of Mumbai, the film follows one of the mafia queens from the book, Gangubai Kathiawadi. Directed by Sanjay Leela Bhansali and starring Alia Bhatt, who plays the titular character and gives a very powerful performance, the film opens with a familiar yet altogether true-to-life anecdote of how a young Ganga is tricked by her boyfriend into leaving the countryside for a promised film career in Mumbai.
Once she's away from the familiarity and security of her village and vulnerable and overwhelmed by the bustling city of Mumbai, he betrays her and sells her to a brothel in India's main red-light district in the 1950s, Kamathipura. Although she's strong-willed, even her will is broken down and she is forced into servicing clients. But Ganga doesn't give up.
Ever the survivor, Ganga quickly understands that, while she cannot do anything about her circumstances, she can mould them in her favour. She aligns herself with the powerful neighbourhood mafioso (played by none other than Ajay Devgan) and becomes a fierce advocate for sex workers and their children — the first to go down this path.
The Eid holidays are coming up. When the guests have gone or after you come back from visiting, here's our recommendation of what to stream in the comfort of your home
Ganga rises through society and navigates a profoundly chauvinistic and narrow-minded society on her path to redemption and emancipation, including an encounter with the first prime minister of India, Jawaharlal Nehru.
Packed with powerful performances by both the leads, stunning art direction and incredible costumes (a key feature of any Bhansali film), Gangubai Kathiawadi is an absolute feast for the eyes. It is one of those blockbuster films that leave you informed, but mostly, entertained with a film that has a little bit of everything — song, dance, drama, tragedy, romance and redemption.
Mai: A Mother's Rage (2022, Netflix)
There's a scene from Mai that's haunted audiences around the world and shared widely. It's when the main character, essayed by Sakshi Tanwar (famous for playing the lead in Ekta Kapoor's Kahani Ghar Ghar Ki never-ending drama serial and opposite Aamir Khan in Dangal) is shown making tea for guests at her own daughter's funeral. The message is clear and resonated with South Asian audiences everywhere: for desi women, caregiving or kitchen duties take precedence over personal grief, no matter how great that grief may be.
A six-episode crime-thriller, Mai has a premise that's similar to a couple of previously released Bollywood films. Sakshi Tanwar plays an unlikely vigilante, who leaves her sheltered middle class life and role as a housewife to find those who murdered her child.
Mai's storyline and main character are quite similar to those played by Raveena Tandon in Maatr (2017) and Sri Devi in Mom (also released in 2017). Both of these films deal with an incredible injustice — and the loss of a female offspring in Maatr — leading the mothers to step into completely unfamiliar territory and avenge their daughter's assaults by hunting their attackers down.
This series is another one that's in the top-10 most-watched-in-Pakistan list. And rightfully so, some of the scenes keep you on edge. The series, with its overprotective, mama bear-esque one liners has also inspired its own family of memes. Mai has been greenlit for a second season.
Sharmajee Namkeen (2022, Amazon Prime)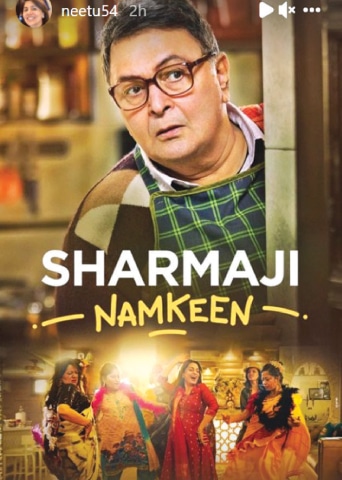 Released posthumously, Sharmajee Namkeen is Rishi Kapoor's final film. The beloved actor passed away in 2020, of leukaemia at the age of 67.
In that sense, it makes Sharmajee Namkeen 'precious' somehow and watching this can be somewhat of a bittersweet experience. You're watching the actor's last performance and you miss him already.
Sharmajee Namkeen is a light-hearted, adorable, coming-of-(retirement)age film in which Kapoor plays BG Sharma, a 58-year-old widower who's living a very regular, mundane life with nothing out of the ordinary — that is, until he's laid off. Forced into retirement, Sharma struggles to find relevance and meaning in his life. He tries and, at best, gets in both of his sons' ways, and fails miserably.
Nothing seems to work until he comes in contact with a group of merry women played by none other than Juhi Chawla, Isha Talwar and Sheeba Chadda. And they rekindle in him a previously lost passion for cooking. And he's an incredible cook.
Rishi Kapoor passed away while Sharmajee Namkeen was being filmed. Another legendary, lovable actor, Paresh Rawal, stepped in as Sharma and completed the film.
While Gangubai Kathiawadi and Mai are more serious productions, dealing with quite emotionally challenging themes and storylines, Sharmajee Namkeen is a light-hearted, absolutely adorable watch and leaves you smiling throughout. You can tell both Rishi Kapoor and Paresh Rawal have had fun playing Sharma. And the joy with which they cook translates through the character and on to the audience.
Published in Dawn, ICON, May 1st, 2022