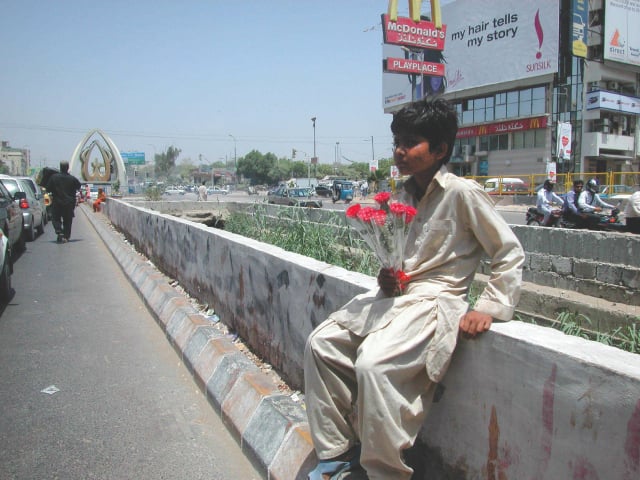 Noori was a new face at the Ujala Learning Centre at Saggian Pul, Lahore. The centre is set up by a non-governmental organisation (NGO) working for child rights, and the 13-year-old came to the centre for a two-hour class held for a group of street children.
When a staff member at the learning centre interacted with Noori, she suspected the young girl might be a drug addict. The instructor arranged a meeting with the psychologist working with the NGO. The psychologist discovered that Noori was under complete control of a man who lived in a settlement at the Ravi riverbank, among families of other street children. He would give Noori some substance and the girl child was being sexually abused while drugged.
The Ujala Learning Centre managed to locate this man, who threatened them with violence. So the NGO contacted the Punjab Child Protection and Welfare Bureau (CPWB) who rescued Noori, as there was no knowledge of her family's whereabouts.
Noori is still not reunited with her family because she is unable to provide sufficient information. She lives at the Child Protection Institution, Lahore.
Society seems to have turned a blind eye towards the significant number of children living on the streets, who are among its most vulnerable segments. There is a dire need not only to ensure their protection, but to sensitise the general population about why they matter
---
Street children, like Noori, populate all major cities of Pakistan — a worrying sign which we, as a society, seem to turn a blind eye to on a daily basis. These children seem to have become an invisible segment of our society. Many of them take to the streets at a very young age, become part of gangs and other criminal networks, spiralling into an abyss of drug abuse and prostitution.
Street children generally fall into two main categories: children of the street and children on the street. 'Children of the street' are homeless and live and sleep on the streets in urban areas. On the other hand, 'children on the street' earn their living selling small items or beg for money on the streets and return home at night.
This definition does not adequately account for children abandoned by their families, runaways or those who might have become street children due to other factors such as drug abuse. So, a broader term "street-connected children" is used nowadays.
Street-connected children are not a homogeneous group; they come from different socioeconomic backgrounds and in response to varied and changing social conditions, such as the death of parents, an abusive home life, broken homes, disabilities, delinquency, illiteracy and poverty.
They live in exceptionally difficult circum­stances and are a highly vulnerable group. Often they lack access to education, healthcare, food and adequate living conditions. They are vulnerable to all kinds of hazards, including sexual abuse, street violence, psychological trauma, drug addiction and exposure to communicable diseases.
In 2010, the Society for the Protection of the Rights of the Child (Sparc) estimated that there were 1.5 million street children living in Pakistan. In 2021, in an interview, the chairperson of the Child Protection and Welfare Bureau (CPWB), Sarah Ahmad, claimed "There are at least a million street children in Punjab" alone.
The CPWB is responsible for establishing Child Protection Institutions (CPIs), identifying crimes committed against children and for the prosecution of such crimes in specially designated Child Protection Courts. CPWB is also the monitoring body for NGOs who provide residential facilities to needy children.
"At the moment there are nine CPIs for residential facilities in nine districts of Punjab but, to secure all the children, the government has started the construction of CPIs in all 36 districts," Ahmad tells Eos.
Dr Naeem Zafar, the president of the Lahore-based child rights organisation Pahchaan (Protection And Help of Children Against Abuse and Neglect), says, "CPWB should emphasise its role of monitoring and oversight. The rules of business of CPWB should be introduced."
Child protection bodies, all over Pakistan, are often asked to round up street children, which results in their temporary removal from the streets and makes them even more vulnerable in the wake of hasty measures which do not meet child protection standards. Many times, this type of removal is done using the police, which is notorious for abusing little children.
Furthermore, there is no proper governmental strategy to address the issue of access to basic utilities for poor households, including children on the streets. The rehabilitation process for victims is often impeded by red tape, as reported by many civil society organisations.
The entire blame, however, cannot be placed on governmental bodies, as there is an inherent lack of sympathy for street children. It is imperative to address the "collective" social ignorance and to bring about real change in the lives of impoverished children and households. The average educated individual lacks even basic information on child rights and child protection.
A majority of people have no clue about the age bar set by state law for child labour, nor do they have any idea regarding which child protection institutions to contact in the wake of the discovery of a victim.
International and National Law
In the context of Pakistan, the situation of street children is mostly observed through the lens of child protection or child welfare. There is a dire need to address the situation through a rights-based approach, especially since Pakistan has ratified the UN Convention on the Rights of the Child (UNCRC) in 1990 which elaborates survival, development, protection and participation rights of children.
Likewise, the Constitution of Pakistan provides a legal framework for child protection, particularly: Article 35 prescribes the state to protect the marriage, the family, the mother and the child; Articles 11 and 25 elaborate on child protection; Article 25A guarantees free and compulsory education from 5-16 years of age; Article 25(3) recommends special laws for child protection; Article 37(e) directs the state to protect children from vocations unsuited to their age and morals; and Article 38(h) directs for measures for the social protection of children.
Recommendations
In order to tackle the issues faced by street-connected children, a strong child protection policy must be implemented in all the provinces. National laws must be harmonised and the functioning of child protection bodies across the country must be ensured. Member of Punjab National Commission on the Rights of Child Dr Rubina Feroz Bhatti recommends the establishment of "robust child protection units across all districts of Punjab, with a well-coordinated response between provincial and federal child protection bodies." She stresses on "coordination between other relevant ministries and departments tasked with the provision of child protection, healthcare, education, etc. The Ehsaas programme will have to purposefully extend its arms to embrace street children."
Across Pakistan, there must be comprehensive child labour laws and the implementation of existing labour laws must be ensured.
There is a need to establish a street rehabilitation strategy to support street-connected children at locations where they live. Removal of children from streets should only occur after a well-thought-out strategy is in place. There must be a proper diversion mechanism for their rehabilitation and integration as responsible citizens.
Poverty alleviation is another important aspect of addressing the plight of street children. This can include stipend programmes for educational initiatives, mobile healthcare vans to offer free healthcare to children and robust child protection units across Pakistan.
There is a need to recognise the gaps in social protection mechanisms, especially birth registration of children, so that the government can provide for adequate social protection measures. In order to sensitise the general population, it is necessary to include the subject of child rights on a mandatory basis in the curriculum.
As child rights activist Iftikhar Mubarik says, "All rights are for all children, including street children. Why have we resigned to the fact that the children we see begging every day are not our children, that their misery is not our misery?"
If children are our future, then the future of these children too will impact ours.
The writer is a human rights activist and columnist.
She tweets @NabilaFBhatti
Published in Dawn, EOS, April 3rd, 2022