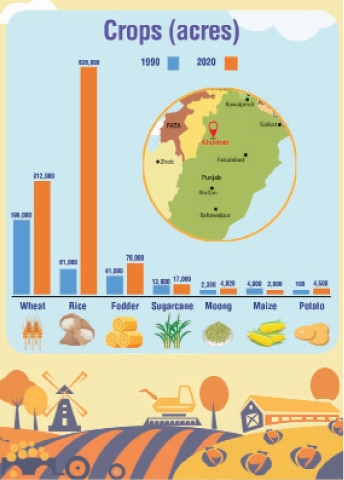 Established as a district on July 1, 1982, Khushab enjoys a unique topography in Punjab. Lying along the right bank of River Jhelum, it covers an area of 6,511sqkm and comprises serene and picturesque mountains, as well as fertile plains. Khushab city is a centuries-old settlement. Local researchers like Imtiaz Hussain Imtiaz claim the city was named by Sultan Mahmood Ghaznavi, deriving its nomenclature from two Persian words — Khush meaning sweet and Aab meaning water. A Sher Shah Suri era mosque, Sharfuddin Masjid, built with mud and clay bricks still exists in the walled city having 11 gates.
Unlike other districts, at least in Punjab, the city has not been made the headquarters of the district from which it derives its name. Rather Jauharabad, an adjacent town located over 7.5km away from Khushab, serves the purpose. The foundation of Jauharabad was laid in 1951 and developed under a master plan to serve as the new federal capital of Pakistan until military dictator Gen Ayub Khan replaced it with Islamabad. Because of its planned design, open spaces and wide avenues, it began serving as the district headquarters when Khushab was carved out of Sargodha as a new district.
It is also a strategically important district as it is situated roughly in the centre of Pakistan's east-west axis (which is stated to be one of the reasons for it originally being selected as the site of the federal capital). It houses Khushab Nuclear Complex and Pakistan Air Force Base Sakesar, one of the primary air defence radar stations in the country.
With a population of over 1.3 million, major tribes in the district include Awan, Aheer, Tiwana, Joyia, Baloch, Baghoor, Arain, Bandial, Mohajir (migrants from India after the Partition) and Rajput. It has produced men of literati like Khushwant Singh, a celebrated Indian writer who also authored 'Train to Pakistan', a historical novel published in 1956 recounting the partition of the sub-continent. A library in the name of Mr Singh is still being run by locals in his native village Hadali. Known poet Ahmed Nadeem Qasmi and Urdu columnist Abdul Qadir Hassan also belonged to the district.
The area under wheat, sugarcane and rice crops is on the rise with the increase in the availability of water
The district is not only rich in wildlife like urial, chinkara, chokor, partridges, waterfowl ducks and hawks but also minerals like bauxite, fire clay, silica sand, coal, gypsum and rock salt. In fact, the Warchha mine is the second largest salt mine after Khewra.
Officials say gypsum is exported to India after meeting national requirements. The mineral is used for construction as well as to improve acid soils, soil structure and water infiltration. Since no local industry has been established to utilise silica sand, it is taken to Gujrat and Gujranwala districts that are known for their pottery, earthenware and ceramics industries, respectively.
Khadis (hand-looms) once mushroomed in the district producing cotton delicacies like lungi and lacha, the latter embellished with tila work. The industry is, however, on the decline with the downward trend of wearing the two garments across Punjab.
There are two cement factories, three textile mills, a jute mill (which is lying closed now) and a chemical manufacturing unit. To the concerns of locals, five more cement factories are in the pipeline which may further degrade the environment of the scenic mountainous valleys, which contain Uchhali, Khabeki and scores of other lakes, and waterfalls and thus may be developed as a major tourist resort after Murree. Another distinct feature of the valley is a village, Peelu Waince, which claims 100 per cent literacy, both among males and females.
As the district has three types of lands, a variety of crops, fruits and vegetables are sown there. Two of its four tehsils — Khushab and Quaidabad — have irrigated lands, Naushehra tehsil is mountainous, while Noorpur tehsil comprises Thal desert. The Greater Thal Canal project was initiated during the Gen Musharraf regime to irrigate these barren lands presently known for producing both white and black chickpeas (gram). But work on it was stopped by the succeeding government though one of three portions have been constructed.
Wheat, sugarcane, rice, fodder, maize and cotton are major crops, while fruits include citrus, peach, guava, melon, and watermelon. All kinds of vegetables, particularly cabbage and tomato from Soon valley are produced here. The area under wheat, sugarcane and rice crops is on the rise with the increase in the availability of water. Wheat was sown on 199,000 acres in 1990, while it was planted on 312,000 acres in 2020.
Deputy Director Agriculture (extension) Qazi Afeef claims that Soon valley achieved a 100 maund per acre wheat yield and in other areas it was on an average 72 maunds per acre this year.
Rice is mostly grown on the belt along the river and its land increased from 41,000 acres in 1990 to 76,000 acres in 2020. Akhtar Islam Bali, a local grower, claims that the quality of the rice outclasses those of Sheikhupura and Gujranwala, known for the best quality Basmati variety of the commodity. The acreage of sugarcane improved from 13,900 acres in 1990 to 17,000 in 2020. This crop is sown after harvesting jawar and guvara, two fodder crops.
The land under maize and cotton crop, as well as moong pulse, is shrinking. Maize and moong used to be planted on 4,900 and 4,820 acres of land in 1990 but their respective areas reduced to 2,000 and 2,330 acres by 2020 though per acre yield of both the crops improved during this period. Mr Afeef says maize has never been planted here as a commercial crop and growers used to plant it for feeding their livestock. About the fall of cotton, the agriculture officer says it had low yields and attracted pest attacks therefore it became unpopular among the local farmers.
The mountain area of Naushehra tehsil is known for producing potatoes, reddish, cabbage and tomatoes. The cabbage and tomato crops ripen after they are harvested elsewhere in Punjab and thus ensure a good return to growers.
Mr Bali, who is also district president of Kisan Board Pakistan, laments that the incumbent government is oblivious to the problems being faced by the local farming community. He says that earlier 'true' representatives of farmers would be included in each committee concerning agriculture. But since the Pakistan Tehreek-i-Insaf came into power, only party elders or their close aides are given representation on these bodies who choose to ignore the plight of farmers in general.
He says that Mohajir branch canal is allocated water by the irrigation department only for three months which damages farming in Khushab tehsil.
Published in Dawn, The Business and Finance Weekly, July 26th, 2021