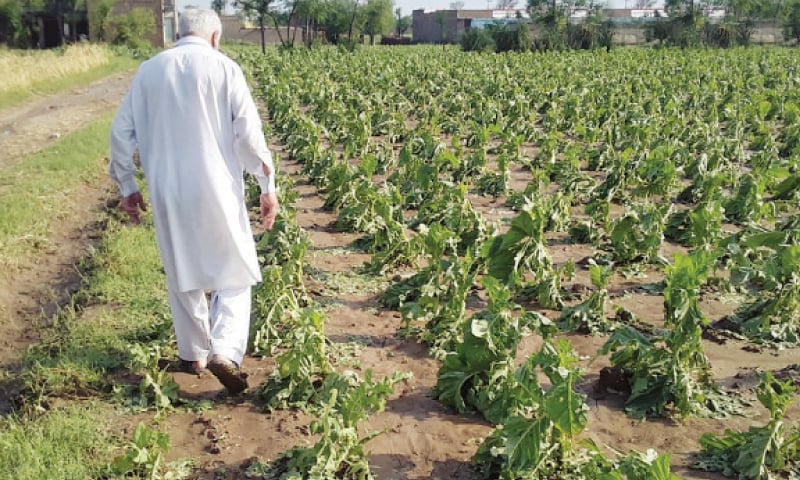 SWABI: Heavy rain and hailstorm destroyed tobacco, wheat and vegetable crops in different areas of the district on Sunday.
The rain accompanied with hailstorm lashed numerous farming terrains of the district which ruined the standing crops. Farmers said the affected crops had little chances of growing now, resulting in big losses for them. Wheat harvest has been in progress while tobacco curing is expected to start in the next few days.
Leaders of the farmers said the rain mainly damaged crops in Nazari, Swabi tehsil, Mattra village, Sikandari union council, Razaar tehsil, Gohati, Seenkhel, Babu Banda, Maneri Bala union council and various other regions. All these regions are popular for growing both Virginia and white patta tobacco, they said.
This correspondent visited fields and met with farmers who had been in a state of shock over the damage.
Govt urged to provide financial assistance to farmers
Juma Gul, a tobacco farmer, said he was shocked to see the crops in his fields destroyed, saying hailstorm caused him loss of Rs1.5 million.
Kisan Board district president Khalid Khan, who cultivated tobacco and wheat, said the provincial government should constitute a team to visit the hailstorm-hit regions and determine financial losses of the growers.
Kashthkar Coordination Council general secretary Liaquat Yousafzai said the affected growers needed financial assistance to survive because their entire year expenditures were linked with the wheat and tobacco production.
SAFETY MEASURES: Heads of two major hospitals and the doctor community here on Sunday urged the people to stay at homes to contain spread of coronavirus.
A meeting of doctors was held in district headquarters hospital here which was attended by Bacha Khan Hospital Complex MS Dr Abdul Latif, DHQ hospital MS Dr Sartaj Ali Shah, Dr Yasmin and others.
The participants expressed deep sorrow over the death of senior ENT specialist, Prof Dr Mohammad Javed, offered fateha for the departed soul and expressed sympathy with his family.
They said that it was the responsibility of the government to provide personal protective equipment to doctors at the earliest. They also called on masses to remain in their houses and uphold the principle of self-quarantine.
Meanwhile, police thrashed people and traders who violated the lockdown despite repeated warnings in Topi tehsil on Sunday.
Published in Dawn, April 27th, 2020