KARACHI: The stock market made a surprise recovery on Tuesday where the KSE-100 index managed to claw up by 92.30 points (0.27 per cent) and close at 34,659.85.
The index kicked off in the negative and fell by intraday low 300 points before value hunters entered to swoop over blue chips that traded at hugely discounted prices following days of battering over the budgetary jitters. Investors seemed to take heart and be comforted by reports that the State Enterprise Fund may start buying activity before the end of the week.
Although the budget 2019-20, expected to be laced with higher taxation, removal of subsidies and frightening prediction of negative news for the market was to be announced in the evening, a major stock broker said that those were priced into the share values.
The political headwinds that saw the arrest of Asif Zardari and Hamza Sharif, leaders of the two major political parties spooked investors. Noise grew a little louder after the news of arrest of the MQM founder in London. Some panic was seen early in the day as the dollar hit all-time high against the rupee in interbank, which inevitably passed on to the open market.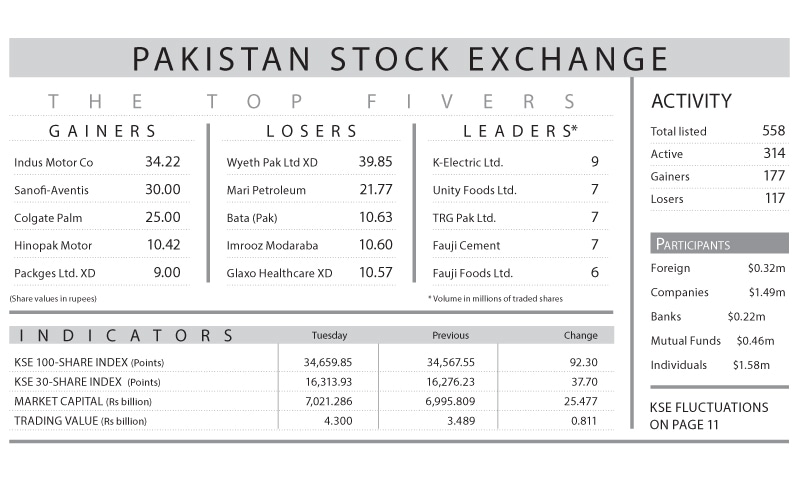 The volume increased 27pc from 91.7 million shares a day earlier to 116.9m while traded value also rose by 23pc to reach $28.4m as against $23m. Stocks that contributed significantly included K-Electric, Unity Foods, TRG Pakistan, Fauji Cement and Fauji Foods, which formed 31pc of total volume.
Analyst Ahsan Mehanti commented that the stocks showed recovery after reports of Rs7.022 trillion budget outlay for FY20.
Scrip-wise major gainers were Fauji Fertiliser, up 4.99pc, Engro Corporation 2.01pc, Dawood Hercules 1.27pc, Fauji Fertiliser Bin Qasim 5pc, Oil and Gas Development Company 2.47pc and Pakistan Petroleum 1.12pc. On the flip side, banking sector stood out as a major underperformer with Bank Al Habib down 2.29pc, MCB 1.71pc, Habib Bank 0.69pc and National Bank 2.10pc.
Published in Dawn, June 12th, 2019