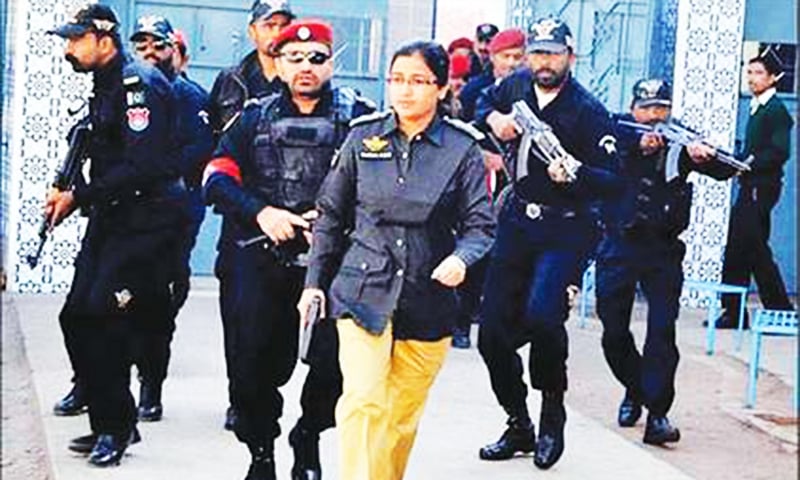 KARACHI: In one week or less, Clifton Assistant Superintendent Police (ASP) Suhai Aziz Talpur will be promoted to the rank of SP, and no one can be prouder than her father, Aziz Talpur.
Mr Talpur is a political activist and writer based in Hyderabad who was excommunicated from his family after he decided to send his daughter to school.
On Friday, as ASP Suhai's name flashed on every news channel in the country, Mr Talpur says he received phone calls from family members who had once shunned them.
The young officer has been recommended for Quaid-i-Azam police medal, the first for a woman member in the force
Talking to Dawn, he said that his daughter was always interested in helping people. "She's a chartered accountant by education you know but she was never happy doing that. She told me that she wanted to become a police officer and that's how we got around to her preparing and then sitting for the CSS exam," he added.
ASP Suhai was the first police officer to arrive at the spot. Her name has been recommended for the Quaid-i-Azam police medal — the first for a woman in the police force — by IGP Sindh Dr Kaleem Imam for the bravery she demonstrated.
Talking to Dawn, ASP Suhai said: "Around 9am, I got the news that there was an attack at the Chinese consulate. I was already on my way to work so we redirected and rushed to the crime scene. I already had my guards with me, senior officers were on their way. In the meantime we gathered the bomb disposal squad and fire brigade as well."
She added: "All the credit for today's success goes to the jawans who lost their lives. They are the real heroes...they kept the militants engaged while we got there."
ASP Talpur is the first woman from lower Sindh to join the police force. She's been a serving officer after clearing her CSS in 2013.
Online praise
Users on Twitter were all praise for the young officer who spearheaded a team of law enforcers against the militants who attacked the Chinese consulate in Karachi.
Following the security operation that foiled the terror attack on the Chinese consulate, political leaders took to Twitter to praise the police officer's heroic efforts.
Foreign Minister Shah Mehmood Qureshi tweeted: "Pakistan is proud of all it's brave daughters like SP Suhai Aziz. She was among the first to reach the Chinese Consulate and successfully lead the operation that thwarted the terrorist attack in Karachi today."
Pakistan Peoples Party (PPP) chairman Bilawal Bhutto-Zardari said: "The reprehensible terrorist attack on the Chinese consulate in Karachi was thwarted by the courageous fight put up by our Sindh police led by the courageous Suhai Aziz. I salute the brave officers who were martyred courageously protecting our friends. We honour them."
Senator Sherry Rehman tweeted: "In the middle of a hard day, Pakistan's remarkable women rise to be the silver lining. So proud of Suhai Aziz, the woman who fearlessly spearheaded the vanguard of the successful police operation against terrorists at Chinese consulate."
Former minister and Pakistan Muslim League-Nawaz leader Ahsan Iqbal said: "Pakistan is proud of its brave daughters like Suhai Aziz."
Published in Dawn, November 24th, 2018