June 24, 2018
Established in 1952 by Ayub Khan, the Hassanabdal Cadet College was the first quasi-military boarding school of its kind in Pakistan.
The first principal of the college was Hugh Catchpole, a British educationist from the Rashtriya Indian Military College in Dehradun who was eventually buried on the college premises. The two principals who followed Catchpole, A.W.E. Winlaw and Lt Col J.D.H. Chapman, were also British.
The college was built in the colonial style in red brick, and the campus includes horse-riding, swimming and athletics facilities.
Catchpole gave the institutional a remarkable start, which was carried out by successive generations of principals, teachers and Abdalians – the term for the college's alumni.
The college prepares cadets from the Secondary School Certificate and Higher Secondary School Certificate examinations, as well as O Level examinations. Students from the college often secure the top positions in the Rawalpindi board examination.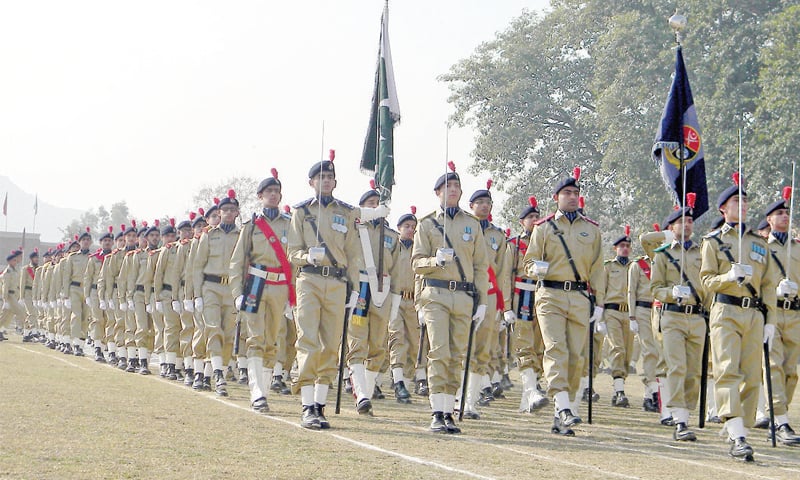 According to the college principal, retired Maj Gen Najeeb Tariq, there are currently 520 caders enrolled at the college who are selected in batches of around 110 in the eighth grade after qualifying in the examination.
The college's training is oriented towards preparing cadets to join the armed forces, but they are at liberty to pursue any profession of their choosing. He said nowadays, Abdalians were leaving their mark on almost every profession.
"Being a residential institution, it offers a wide range of co-curricular and extracurricular activities, which instil leadership qualities and confidence in the cadets and give them the opportunity to explore and promote their talents. It also emphasises all-around personality development and character building of its cadets," he said.
He said the college was the first institution of its kind in Pakistan and has been a trendsetter in terms of boys' boarding schools.
In its over 60-year history, graduates have gone on to become high-ranked armed forces officials as well as politicians.
They include former chief of naval staff retired Admiral Mohallad Zakaullah, former chief of air staff retired Air Chief Marshal Abbas Khattak, former chairman of the Joint Chiefs of Staff Committee retired Air Marshal Syed Qaiser Hussain, former foreign affairs minister Khawaja Mohammad Asif, former defence minister Khurram Dastgir, former Gilgit-Baltistan chief secretary Sikandar Sultan Raja, former KP sports and culture minister Syed Aqil Shah and former Punjab chief secretary retired Capt Zahid Saeed.
A total of 18 graduates have received the Sitara-i-Jurat and other gallantry awards.
Published in Dawn, June 24th, 2018