The State Bank of Pakistan (SBP), during its scrutiny of candidates for the 2018 general elections, has so far found that more than 100 candidates are bank defaulters, DawnNewsTV reported on Tuesday citing sources in the Election Commission of Pakistan.
The SBP has declared the particulars submitted by these candidates as "extremely dubious".
According to the SBP report, which has reportedly been sent to the Election Commission of Pakistan (ECP), PPP's Hina Rabbani Khar and Mian Manzoor Ahmed Wattoo — a hopeful from NA-143, NA-144 and PP-186 — have their names on the list.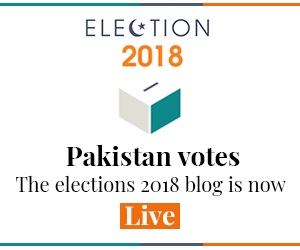 Ahmed Shah Khagga (PP-193), Ghulam Ahmed Shah (PP-193), Asim Irshad Khan (NA-124), Ameer Ahmed Siyal (NA-116), Khalid Masood (NA-30), Abdul Sattar Bachani and Zulfiqar Bachani (both from NA-224), Ameer Waliuddin Chishti (NA-256), Ayaz Khan (NA-257) and Changez Khan (NA-258) are also among the defaulters, as per *DawnNewsTV's* sources.
Azhar Khokhar (NA-52), Zainab Ahsan (PP-109), Umar Farooq (PP-113), Mushtaq Ahmed (PP-136), Ali Asim Shah (PP-185), Muhammad Ali Tarkai (PK-46) and Chaudhry Shakeel Gulzar (PP-66) are also among those who owe money to banks.
The scrutiny of nomination papers to exclude ineligible candidates from the election race started today, a day after returning officers (ROs) completed the process of receiving nomination papers from prospective candidates.
According to ECP spokesman Altaf Ahmad Khan, particulars of 12,000 candidates have so far been sent to the National Accountability Bureau, Federal Bureau of Revenue, SBP and other relevant institutions — out of which 7,500 had been verified with the help of an online system.
1,514 candidates are PTCL defaulters
Over 1,500 candidates who filed their nomination papers for various provincial and national assembly seats with the ECP are defaulters of Pakistan Telecommunication Limited (PTCL), a report sent by the company to ECP said on Tuesday.
The defaulters include Murad Saeed (Rs14,000), Faisal Kareem Kundi (Rs21,000), Ejaz Chaudhry (Rs33,521) and Syed Zafar Ali Shah (Rs18,000) among others.