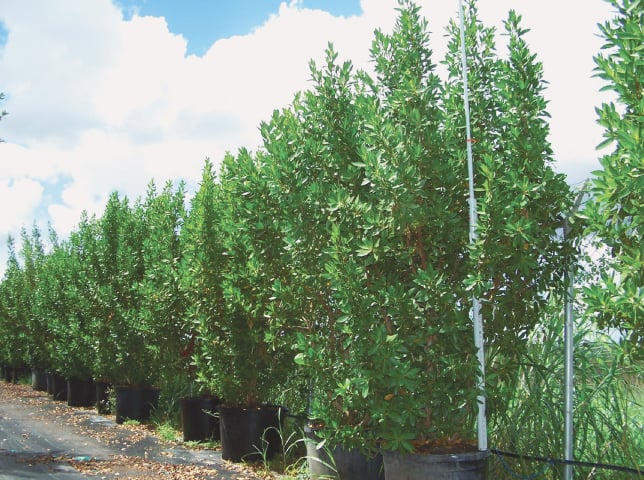 Q. I want to know about Conocarpus trees which, I understand, are native to the US. Some people have a negative response about it, others are positive. Conocarpus has been planted in Karachi in abundance because it is supposedly requires little water and maintenance, and grows quickly to provide greenery. From what I read, the negative aspects are that no birds come to this tree, that it causes less rainfall and causes allergies similar to the pollen allergies causes by paper mulberry trees in Islamabad. Is all this true or just exaggerated, illogical myth?
A. The concerns about massive Conocarpus plantation in Karachi are, if anything, underplayed. This imported tree species is a huge problem on a number of fronts: 1) It flowers twice a year, spring and autumn, and has the potential to be a huge problem for those suffering from pollen allergies. 2) It does not provide any food or sustenance for indigenous birds, bees, butterflies and other insects. 3) Its root system is such that it is highly damaging for road and pavement surfaces, underground service pipes, and house and wall foundations. 4) Whilst drought-tolerant once established, the roots of Conocarpus trees naturally seek out sub-soil water and use it, thus reducing the water table even further: in this respect it is just as bad as the previously-introduced problematic Eucalyptus.
Large-scale planting of just one tree species, irrespective of the species, is detrimental to the environment as a whole. It would be far more sensible, certainly environmentally so, to plant a wide mixture of indigenous trees in the city rather than just an imported one with massive problems attached. I hope this clarifies the situation for you.
All your gardening queries answered
Q. Which fruits can be grown in pots in Mardan and how should they be cared for?
A. A very wide range of fruiting trees, bushes, climbers and plants have the potential to do well in Mardan as long as the soil is of good quality, irrigation regular and pots/containers are suitable in size. It is advisable to select small/dwarf varieties of trees. Some of which you may like to try are: peach, nectarine, pomegranate, plum, pear, orange, lemon, grapefruit, apple, apricot, loquat and cherry. Fruit bushes, such as blueberries, raspberries, gooseberries, blackberries, blackcurrant, red currant and white currant are possible, provided perfect soil conditions are supplied. Climbers that do well in pots are passion fruit and kiwi fruit, while fruit plants such as pineapples, Chinese gooseberries, strawberries, plus purely seasonal sweet melons and water melons are also possible to grow. It is important to feed them, preferably throughout the growing season, with organic compost/manure or liquid fertiliser, on a monthly basis.
Q. I understand that Epsom salts can be used to improve plant health. What amount should be used per plant and how often should it be given?
A. This natural substance is, amongst other things, high in magnesium sulphate and sulphur and it is an excellent, all round, general plant tonic. Dissolve one tablespoon full in approximately four litres of water and use either as a foliar spray or watered directly onto the soil at the base of your plants. Using Epsom salts once a month is highly beneficial.
Q. I am growing a pomegranate in a large pot but it is not doing very well. Can you help please?
A. The things you need to consider are: a) is the plant pot large enough; b) is the soil rich in necessary organic matter; c) is the plant being watered enough or maybe watered too much; d) is the drainage hole in the base of the pot free of obstruction or is it blocked up thus preventing drainage of excess water; e) does the plant get enough direct sunlight? Take a close look at these issues, resolve any obvious problems and get back to me if the tree/plant health doesn't improve.
Q. My father is looking for a Bird of Paradise plant for his Karachi home. Will it do well in the Karachi climate? Also please share any tips about where to find one please.
A. Bird of Paradise (Strelitzia), does very well in Karachi provided that specific growing requirements are maintained. Plants should not be difficult to find in nurseries located in up-market areas of the city.
Q. Can blueberries be grown in Pakistan? If so, which area is most suitable?
A. Yes, primarily in cool climate areas with acid soil.
Q. Which climbing plants — those that are easily available in local nurseries — are suitable for planting at this time of year?
A. As long as the climbers are pot-grown to minimise root disturbance, the choice is quite wide but you may like to select from the following: Bougainvillea, Jasminium, money plant, Philodendron and Monsteria deliciosa. If you are prepared to grow climbers from seed, simple to cultivate climbing nasturtiums — which are fast-growing, very colourful and grow up to six to eight feet — are an ideal solution or the more tricky, from seed sown this month, passion flower.
Q. My four-year-old imli tree has grown to full stature but is still not bearing fruit. When will it begin producing?
A. Your tamarind/imli (Tamarindus indica) has not reached maturity as yet.
A fully grown imli tree can be 50 feet to over 80 feet tall which is why it is not suitable for small gardens. The tree will probably not fruit until it is 12 to 15 years old, at the earliest, so you have a long wait yet.
Please continue sending your gardening queries to zahrahnasir@hotmail.com. Remember to include your location.
The writer does not respond directly by email Emails with attachments will not be opened.
Commercial enquiries will be ignored.
Published in Dawn, EOS, June 10th, 2018