Formerly vice-captain of Pakistan women's cricket team, 26-year-old Bismah Maroof was appointed captain in September last year.
Since her tenure, the team has played two ICC Championship series: one home series against New Zealand in November 2017 in Sharjah and another away to Sri Lanka in March 2018.
In the November series, Pakistan came very close to winning the first match and subsequently won their first ever ODI against the Kiwis in the third match.
The ODI and T20 series against Sri Lanka were clean sweeps — this is only the second time that Pakistan women's team has won an ODI series 0-3.
Bismah's own performance has also been consistently strong. She is one of Pakistan women's top batters, bowls well and is a keen fielder, helping her side secure many of the wins during her captaincy.
Bismah is currently the highest-ranking T20 woman player from Pakistan at 11th in the ICC Women's T20 batters and 12th in the ICC Women's T20 all-rounders.
But while Bismah's on-field exploits are well known, her personal history and the story of her career path are not. In this interview, I try to bring that to the fore.
I spoke to Bismah over the phone recently to get to know her a bit more. The interview below is translated from Urdu and edited for brevity and clarity.
This is the first of a four-part series of interviews with two senior and two newcomers to the women's squad, which is currently playing the Women's Twenty20 Asia Cup in Malaysia from June 3-10, 2018. Read part 2 here.
---
Interviewer
What is your earliest memory of playing cricket?
Bismah
The first time I remember playing cricket was when I was six or seven, when my father brought me a toy plastic bat.
I used to play cricket with my elder brother. I live in a joint family with my paternal uncles and their families; and all of them were very supportive and happy when I played. My mother used to say that as long as you study well, it's okay.
She also believed that sports are a healthy pursuit, so she was supportive though she wanted me to study well too.
I was the youngest of three children. I have an elder brother and an elder sister. When I was born, my brother had been hoping for a younger brother so that he would have a playmate.
But he took me on as his playmate regardless of the fact that I was a girl. Whatever he did, he took me along with him; whatever he played, I played with him.
When I was 14, my uncle suggested that I go for open cricket trials. At the time, the Pakistan Cricket Board (PCB) used to hold open trials for girls.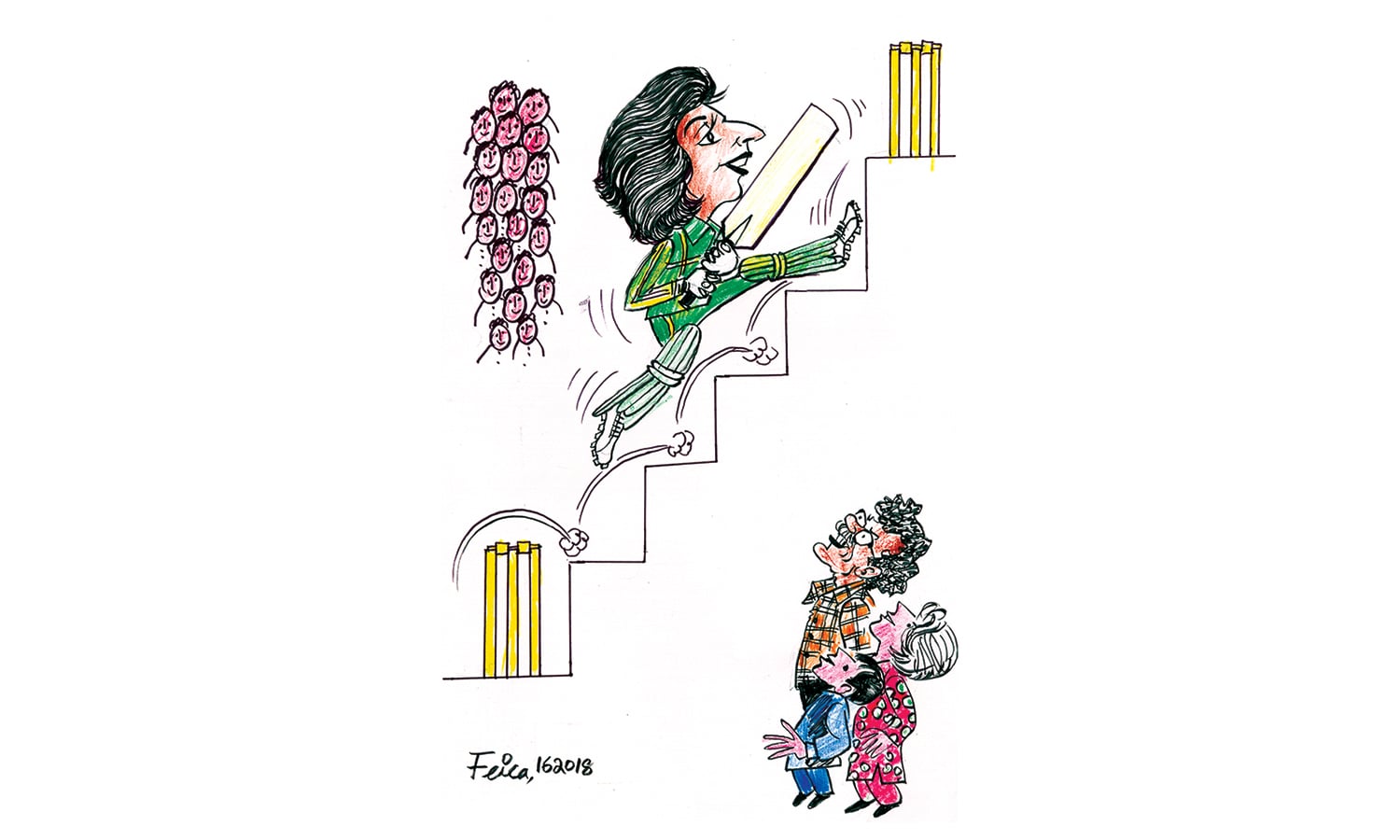 Imtiaz Ahmed was the chief selector then. At the trials, I was selected for an upcoming Pakistan versus Hong Kong series.
When I went to the trials, I used to play with a tennis ball, so Sir Imtiaz advised me that I should practice playing with a hard ball. I had to learn how to play with a hard ball and I spent three months practicing that.
I didn't get to play the first two matches but I played the third match of the Hong Kong series, in which I scored 82.
My whole family had come to watch me play. They were so excited when I made 82 runs.
I got cramps in my leg after the match. Without waiting for the physio, my mother started bandaging me in the ground right after the match.
After playing against other countries and meeting other players, I realised that if I am to be a serious cricketer, then I must work on my fitness.
My international debut for the national team was in the Asia Cup 2006, where I made 43 against India.
In the beginning it was difficult for me to stay away from my family because I was very attached to them. But the seniors — Taskeen Qadir, Qanita Jalil, Sajida Shah, Batool Fatima, Urooj Mumtaz and Sana Mir — really helped me.
When I made friends in the team and got the support of the seniors, I became more comfortable. Then it became easier to be away from family.
The seniors guided me on how to conduct myself off the field as well as on the field. I have had a lot of personal growth because of cricket. I may not have grown so much if it had not been for the sport.
Right in the beginning, I learnt humility because in this game there is both winning and losing.
Interviewer
You mentioned humility; what are some of the other key lessons have you learnt in cricket?
Bismah
I have been very close to Sana and she has helped me a lot personally and professionally. She is one person I discuss everything with.
I have also worked with her as vice-captain for a while, so I have learnt a lot from her — how she works with honesty, how she helps out others, how she makes decisions.
I try to cultivate all these in myself: to make decisions that are helpful to others and I try to judge my own self with sincerity.
Interviewer
You took over captaincy in 2017. What is the difference between you as a player and as a captain?
Bismah
Before, I used to help out Sana. If I had any ideas I would share them with her to assist her. But I didn't have full authority and also I didn't have the responsibility.
As captain you have to take the decision and own it fully.
So I feel it makes you more passionate and also increases the sense of responsibility. When you make decisions you have to be clear about your reasoning, so I have learnt to be sharper in decision making.
Also communicating with the girls to understand them — this is something I am doing more of but also something I'm still learning and trying to improve.
Interviewer
What have been your challenges over the past seven to eight months?
Bismah
As captain if I have to compare, I would say that I've seen Sana and she had to do a lot of things herself because before maybe the management was different and her vision was much broader.
The new management I have to work with is much more supportive because their vision and my vision are much more similar.
So I have not had to face such a challenge because management handles many aspects and the new coach, Mark Coles, also has been a big help.
Mark handles a lot of the team issues off the field and I would say he is doing very well. My responsibility is much more on the field as captain.
Interviewer
How do you balance your own performance as a player and your responsibility as a captain on the field?
Bismah
I fully captained the New Zealand ICC Championship series in November last year and at the time, I felt the pressure for my own performance and as a captain as well.
But when I returned from the series, I spoke to the coach and he explained that once you go on the field to bat, then you no longer have the responsibilities of a captain. Then you should just go and enjoy your game.
So during the Sri Lanka tour, I tried to stay in the present moment and play according to the requirements of the given situation. This was very helpful to me.
Interviewer
Two series, against New Zealand and Sri Lanka, were a big success. What do you attribute these successes to?
Bismah
Definitely the win against New Zealand was a success. The way our World Cup 2017 campaign had gone … I was with the girls and I know how hard everyone had worked. But we couldn't get the results we wanted in that tournament.
We were very disappointed that we weren't able to convert our hard work into results. So for the New Zealand series, the girls themselves were very enthusiastic. Every girl wanted to show that we can do something for Pakistan, so I think the unity of our team really helped us.
We had never defeated New Zealand before, but this was a home series and we had an advantage which we wanted to utilise fully.
I would also like to mention that the new coach gave us self-belief and confidence that we could defeat New Zealand. The atmosphere in the dressing room was very light.
We all felt confident and every girl wanted to improve herself and play better. Our first match against New Zealand was very close and then we defeated them in the third match.
After that series we were confident that we could easily win against Sri Lanka. But we never got carried away. Everyone still played with responsibility according to their role and that is what helped us to win both the ODI and the T20 series against Sri Lanka.
Interviewer
You have achieved the top position in your field. If someone wants to excel in theirs, what can they learn from Bismah Maroof?
Bismah
I believe very strongly in hard work. And I believe that whatever lies in my hands I should try and control that and whatever doesn't lie in my hands I shouldn't try and control that.
I think hard work and being honest with yourself are very important. If I need to improve in a certain area but I go into denial that I don't need improvement, then I can't improve.
Also focusing on my own work, my own contribution and not focusing on what others are doing or not doing. I think these things have really helped me and have increased my self belief. Therefore I can back myself.
I've never looked for shortcuts. I believe that we should keep putting in our effort and Allah will reward us. I have always believed this and Alhamdolillah, Allah has given me a lot of respect.