When the first kind of Women's Day was observed on February 28, 1909, in New York — in remembrance of the 1908 strike of the International Ladies' Garment Workers' Union — women didn't have the right to vote in most countries, including the US.
It was decades later in 1977 that the United Nations General Assembly proclaimed March 8 as the UN Day for women's rights and world peace. The day is now observed to celebrate the social, economic, cultural and political achievement of women. Though women's progress is needed the world over in all these sphere of life, there is much that women have achieved now — though largely due to their skills, determination and hard work.
Today we will celebrate the achievements of some Pakistani female trailblazers who have, in recent years, accomplished much to make Pakistan proud. The names that appear are not the only ones that deserve a mention, those that have been left out due to space constraint are just as worthy of our admiration and pride. In fact, all women of Pakistan and the world over deserve more than a day in recognition of their contribution to making this world a better place.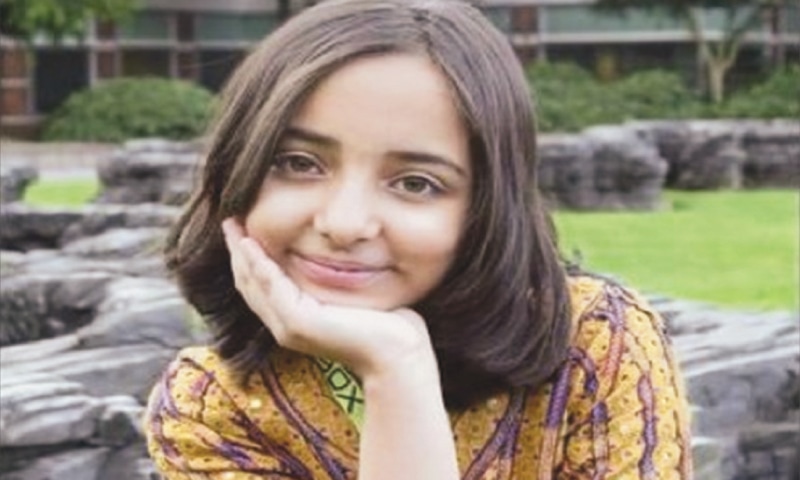 Arfa Karim Randhawa
Everyone knows and remembers Arfa Karim Randhawa.
The girl who surprised the world when she became the youngest Microsoft Certified Professional (MCP) in 2004 at the age of nine.
The girl who was the youngest recipient of President's Award for Pride of Performance and numerous awards and recognition both in Pakistan and abroad.
The girl who represented Pakistan on various international science and technology forums.
And the girl who had a bright future but left us too soon at the age of 16, on 14 January 2012, when she suffered a cardiac arrest after an epileptic seizure that damaged her brain.
Arfa Karim was a star that shinned brightly for a very short while but whose light is still laminating and inspiring many.
Arfa, you are dearly missed.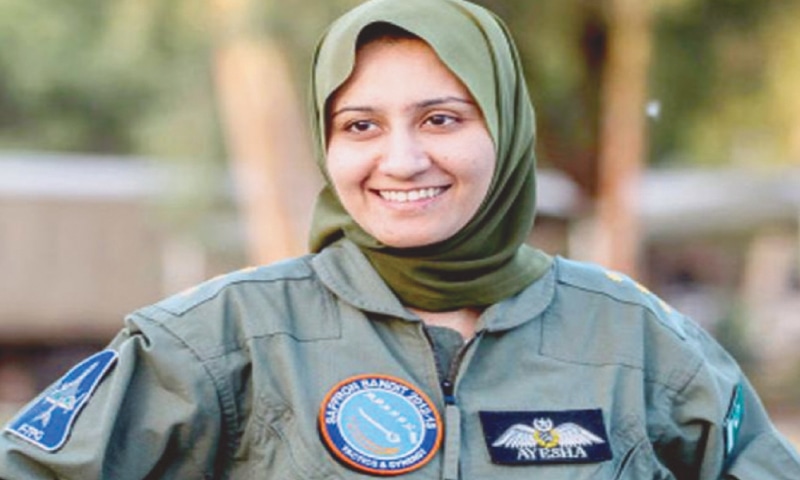 Ayesha Farooq
Twenty-eight-year-old Ayesha Farooq is Pakistan's, and South Asia's, first female war-ready fighter pilot. Hailing from Bahawalpur, Ayesha flies Chinese F-7PG combat planes for the Pakistan Air Force.
Losing her father when she was just three, Ayesha has always had her mother as her idol and her love for flying developed from seeing uncles and a cousin, who were in the PAF.
Undergoing tough theory, physical and practical training, Ayesha proved that there are no limits to what women can do. Her advice to young girls and women is that "instead of looking up to role models become one yourself."
About 19 women have trained as pilots in the Pakistan Air Force over the last decade, five as fighter pilots, but they are still training to qualify for combat.
Naseem Hameed
When Naseem Hameed was crowned the fastest woman in South Asia in the SAF Games in 2010, no one seemed to have heard of her. The 22-year-old covered the distance of 100m in just 11.81 seconds to win the gold medal at Dhaka, Bangladesh.
The Karachi girl's journey from obscurity to fame started in school and by the time she reached collage, her interest and abilities in athletics grew. So far she had only depended on her hard work, determination and talent to grow as an athlete for she could not afford proper coaching or kit. Finally Naseem was spotted by Army coaches during a college event and they granted her the permission to use the Army ground to practice running.
Her outstanding performances in various local events won her a contract with Pakistan Railways and it was inevitable that this budding field star would go on to represent Pakistan in the SAF Games and etched her name in record books as the fastest woman in South Asia in 2010.
Fame did make things a little easy for her on the financial front as she now had the support to practice and perfect her skills, but she has not let this fame get into her head and has used it to help others achieve their dreams by establishing the Naseem Hameed Sports Academy, to train upcoming athletes.
Sharmeen Obaid-Chinoy
Journalist, activist and filmmaker Sharmeen Obaid-Chinoy has made us proud by bringing home two Oscars for Pakistan. Sharmeen's documentaries Saving Face (2012) about acid-attack survivors, and A Girl in the River: The Price of Forgiveness (2015) about honour killings, both controversial topics, won her the Oscars in the category of Best Documentary — Short Subject
Sharmeen did her A-Levels from Karachi Grammar School and moved to Smith College, US, for a bachelors degree programme. Upon her return, she started writing for various newspapers and embarked upon a career of filmmaking. She is one of only 11 female directors who have ever won an Oscar for a non-fiction film.
And besides that Sharmeen has also bagged two Emmy Awards — an International Emmy Award for 2010 Current Affairs documentary Pakistan's Taliban Generation and Saving Face. She was named as one of Time magazine's 100 most influential people in the world for 2012. She also received the Hilal-e-Imtiaz in 2012.
Maria Toorpakai Wazir
"I am a warrior, I was born a warrior, I will die like a warrior." This is how Maria Toorpakay, the 25-year-old Pakistani squash player described herself in an interview to BBC.
From a young age this warrior from South Waziristan refused to accept the restrictions imposed upon girls in her birthplace. She dressed as a boy, acted like one and kept her hair short, getting into fights and playing sports. Her family supported her interest in sports and her father found a way out of the traditional restriction on girls by presenting her as a boy to help her take part in sport tournaments.
At the age of 12, Maria won a junior weightlifting tournament as a male participant 'Genghis Khan'.
By this time she had discovered her love for squash and her father enrolled her to practice in an academy in Peshawar, still passing off as a boy. But this deception could not last long and it was discovered that 'Genghis' was actually Maria. She was bullied at the academy and her family was harassed in the neighbourhood. But the more Maria was bullied, the more she practiced and the hard work paid off when she started winning national junior championships and turned professional in 2006.
The following year she received the Salaam Pakistan Award by the President of Pakistan and nominated as Women's International Squash Players Association Young Player of the Year 2007.
Eventually the threats got more serious and Maria stopped going to practice at the academy, despite being provided security by the Pakistani squash federation. She practiced in her room and sent emails to clubs, academies, schools, colleges and universities aboard for a chance to train internationally in a safer environment.
One of the emails was to former professional squash player Jonathon Power and, impressed with her talent and determination, he offered her a chance in 2011 to train at his academy in Canada.
Toorpakay currently lives and trains in Toronto, Canada, and is Pakistan's top female player and ranked the 49th best woman in the world squash.
Malala Yousafzai
Malala is currently the most well-know Pakistani girl around the world. The girl from Swat who wanted to go to school when girls were banned from attending schools in her troubled region caught the world's attention through the blog she wrote on BBC under the pseudonym Gul Makai.
She did start going to school later but she was shot in the head on her way home from school and two of her friends travelling with her in the school van were also injured.
Malala survived, recovered and bounced back. She now lives in the UK and is an activist for female education. For her efforts she became the youngest Nobel Prize laureate when she was awarded the Nobel Peace Prize in December, 2014, which she shared with Indian children's rights and education advocate Kailash Satyarthi.
Mehak Gul
Mehak Gul is a 15-year-old, Pakistani chess champion who first started playing chess at the age of six and has since then been taking part in championships both in Pakistan and abroad.
At 12, Mehak was the youngest person to represent Pakistan at the World Chess Olympiad and she etched her name in the Guinness World Record Book for arranging the chess keys on the board with just her left in only 45 seconds.
This champion hopes to become a Grandmaster and under the guidance of her father and coach, Mohammad Zahid, we can be sure of seeing it happening.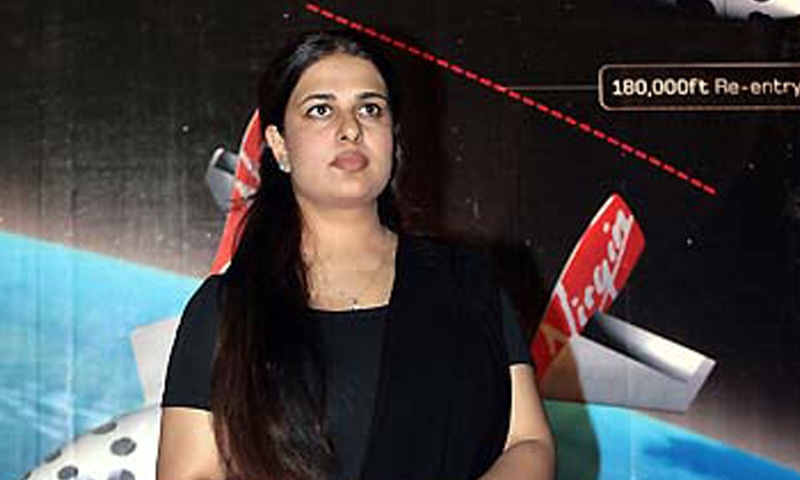 Namira Salim
The Karachi-born Namira Salim, who has mainly lived first in the UAE and then in Monaco, is an adventurer, professional astronaut, artist and, in her own words, "a truly global citizen."
In April 2007 she became the first Pakistani to reach the North Pole. A few months later in January 2008, she was the first Pakistani to reach the South Pole, making her not just the first Pakistani woman, but the first Pakistani to reach both the Poles. She hoisted Pakistan's flag at both the Poles
Her adventures continued as she became the first Pakistani and first Asian to skydive over Mount Everest in 2008 during the First Everest Skydives.
She received the Tamgha-e-Imtiaz in 2011 and the same year Namira became the First Honorary Consul of Pakistan to the Principality of Monaco. She holds a Master of International Affairs degree from Columbia University.
Sabia Abbat
Sabia is a cyclist from Haripur, Hazara Division, who started training on her maternal uncle's old bicycle inside her maternal grandparents' home. As she was already an adult, she couldn't ride the bike outside the house for the fear of repercussions. Within two years, in 2013, she won the National Cycling Championship that surprised not just others but Sabia too.
Seeing her determination and talent, the Cycling Federation supported her in terms of training and Sabia is a member of the national, provincial and the Army team. Sabia not just has the support of her family but also her husband in pursuing her professional dreams and she has taken part in international cycling events too.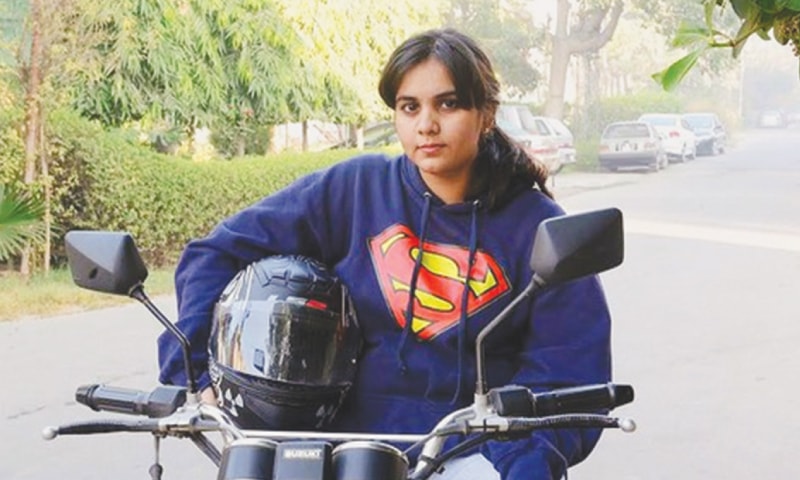 Zenith Irfan
Zenith Irfan is a 21-year-old student from Lahore, who completed a six-day solo journey on a motorbike from Lahore all the way to Azad Kashmir! She chronicled this journey that she undertook last summer, on her Facebook page "1 Girl 2 Wheels" and proved that there is nothing that a girl can't do.
Encouraged by her mother, Zenith only started learning to ride a bike when her younger brother bought a simple bike in 2013. And it was Zenith's father's dream to travel around the world on a motorbike that inspired her to undertake the solo bike adventure and she hopes to travel around the world this way one day.
We are sure to be hearing more about the adventures of this female biker in the future.
Nergis Mavalvala
One of the most recent Pakistani women to hit the international news headlines has been Karachi-born quantum astrophysicist Nergis Mavalvala, Associate Department Head of Physics at MIT, and a member of the team of scientists that announced the scientific milestone of detecting gravitational waves, ripples in space and time hypothesised by physicist Albert Einstein a century ago.
Dr Mavalvala worked with researchers at the US-based underground detectors Laser Interferometer Gravitational-wave Observatory (LIGO) Laboratory to build sophisticated sensors to detect gravitational ripples created from the collision of two black holes some 1.3 billion years ago and had been hurtling through space to reach Earth on September 14, 2015.
Dr Mavalvala, 47, attended the Convent of Jesus and Mary, Karachi, before going to the US as a teenager.
Muniba Mazari
Muniba Mazari is an artist, writer, motivational speaker, activist, TV anchor — and she is also wheelchair-bound.
A car accident in 2007, when she was only 21, injured her spinal cord but not her spirit. She had been studying Fine Arts at the time and has continued to pursue art and has established her brand, known as Muniba's Canvas.
Muniba has proved strength is in the spirit and limitations are only those that you put on yourself.
Published in Dawn, Young World, March 5th, 2015