KABUL/ISLAMABAD/PESHAWAR: In Pakistan, at least 248 people are confirmed dead in the aftermath of a massive 7.5 magnitude earthquake which hit northern Afghanistan and Pakistan on Monday.
The National Disaster Management Authority (NDMA) says at least 1,665 are injured across Pakistan.
Rescuers on Tuesday rushed to deliver relief aid to victims of the quake, which killed at least 311 people in the Pak-Afghan region over a wide swathe of mountainous terrain.
---
District-wise distribution of causalities by region
---
The initial quake — which struck the country at 2:09pm Monday — was followed by seven aftershocks, measuring as high as magnitude 4.8, according to the United States Geological Survey (USGS). The latest aftershock came just before dawn on Tuesday.
---
Emergency contact numbers
Swat control room: 09469240338
Chitral police emergency control room: 0333-9297267, 0943-412959
Peshawar helpline numbers: 091921302, 091921138
---
"Many houses and buildings have collapsed in the city," said Arbab Muhammad Asim, district mayor for the northwestern city of Peshawar.
Many people were trapped under piles of rubble, with officials warning that the toll was set to rise.
"The building was swinging like a pendulum, it felt as if the heavens would fall," Peshawar shop owner Tufail Ahmed told AFP.
Related: PM Nawaz convenes emergency quake meeting
Thousands spent the night outdoors in near-freezing temperatures reluctant to go back inside for fear of aftershocks, Pakistani media reported.
Rescue and relief operations underway
Pakistan Army continued relief efforts in Khyber Pakhtunkhwa (KP) and Gilgit-Baltistan (GB) on Tuesday.
Army spokesman Lt Gen Asim Bajwa said on Twitter two army helicopters each were flying in KP and GB for rescue services.
Frontier Works Organisation (FWO) personnel, he said, cleared 27 of the 45 landslides that blocked the Karakoram Highway (KKH).
A C-130 aircraft was on its way to Chitral with seven tonnes of ration, 2,500 ready-to-eat meals, medical teams, 1000 tents and blankets to be distributed in remote areas, the spokesman said.
Twenty tonnes ration, 10,000 ready-to-eat meals, 1,000 tents and 500 blankets had been dispatched by road for KP's Dir region while a ration distribution point and relief camp was also established, Bajwa said.
"Rescue work is ongoing, and tents, blankets and sleeping mats are being provided," Latifur Rehman, a Pakistani disaster management official, told Reuters from Peshawar.
Pakistan's military and civilian authorities dispatched several helicopters to affected areas to assess damage and run rescue operations, the NDMA said.
A team of Rescue 1122 Sialkot comprising 20 rescuers and wardens left to participate in the relief operation in quake-affected areas of KP.
Eyewitnesses near Lower Dir's Khal area earlier today said rescue and relief teams have yet to reach their area.
One Syed Shah says, "No rescue teams have reached here yet. There is no power, no water and no roads are open."
His account is echoed by Irshadullah who says, "Our houses are not capable of living in. We spent the whole night under the open sky because we were afraid of the aftershocks. Everything we own is buried under the debris of our house."
Shah says his house, too, has been completely destroyed. "All our possessions and our money is buried under it," he says.
"We sent our children to relatives living 5km away. We are very scared."
At least 95 people, including women and children, are injured, with many admitted to District Headquarters Hospital Timergara.
At least 12 houses have been destroyed in a village near Khal, where over 50 per cent of houses have been damaged by the quake.
According to the Khyber Pakhtunkhwa (KP) Provincial Disaster Management Authority, the highest number of confirmed deaths in the province is 38 in Shangla, while the highest number of injuries has been confirmed as 248 in Lower Dir.
Prime Minister Nawaz Sharif had said he would personally oversee the rescue efforts. "We will try our best to deal with this disaster using our own resources," he had said.
The toll is expected to rise as search teams reach remote areas that are cut off by the powerful 7.5 magnitude quake, which triggered landslides and stampedes as it toppled buildings and severed communication lines.
Landslides in Pakistan's northern areas over the weekend caused by heavy rain and snow had already left thousands of tourists stranded.
Earthquake intensity: 8.1 or 7.5?
The Pakistan Meteorological Department measured the intensity of the quake as 8.1.
The US Geological Survey (USGS), however, estimated the quake's intensity at 7.7, then revised it down to 7.5 on the Richter scale.
An official from the Met Office said that the USGS readings were different from PMD's because they were monitoring the situation from mainland America, as USGS did not have a station in Afghanistan or Pakistan.
"On the other hand, PMD has bases to observe seismic activities in Cherat and Chitral. There is also an advanced station in the Pattan area of Swat, since these areas fall in the active seismic zone," the official said.
Know more: Earthquake intensity 8.1 or 7.5?
Dr. John Ebel, chairman of the Department of Earth and Environmental Sciences at Boston College in the US, said the depth of the earthquake had limited its severity and meant damage was likely to be spread broadly rather than focused in one disaster zone.
But he said landslides on the unstable slopes of the mountainous region could pose a major problem.
"Obviously if a landslide comes into a village, it will take out buildings, but landslides can also take out roads and communications and power systems, so you lose the ability to access remote areas," he said.
In Washington, White House spokesman Josh Earnest said the US Agency for International Development was ready to provide emergency shelter and relief supply kits.
The US and Iran were among countries that offered to provide humanitarian assistance to Afghanistan, which already depends heavily on foreign aid after decades of war that have wrecked its economy and infrastructure.
Devastation in Afghanistan
Afghan officials said at least 63 people were confirmed dead and hundreds more injured, with casualties reported from around half a dozen of the country's 34 provinces.
The government has implored aid agencies for assistance.
But large swathes of Badakhshan, the remote province where the epicentre is located, and other areas are effectively controlled by the Taliban, posing a huge challenge to any official aid efforts.
"Today's earthquake was the strongest one felt in the recent decades," said Afghanistan's chief executive Abdullah Abdullah.
"Initial reports show a big loss of life and huge financial losses in Badakhshan, Takhar, Nangarhar, Kunar and other regions. Exact numbers are not known because phone lines are down and communication has been cut off in many areas."
'They could not even talk'
In the most horrifying episode to emerge so far from the quake, 12 young Afghan girls were crushed to death in a stampede as they tried to flee their shaking school building.
In remote northern Takhar, bystanders rushed the dazed and terrified survivors to hospital, many lying limp in the arms of their rescuers, as doctors tried reviving some of them by pumping their chests.
"When the relatives of the dead students came to collect their bodies, they were so distressed that they could not even talk to authorities to record their names," said Hafizullah Safai, head of the Takhar health department.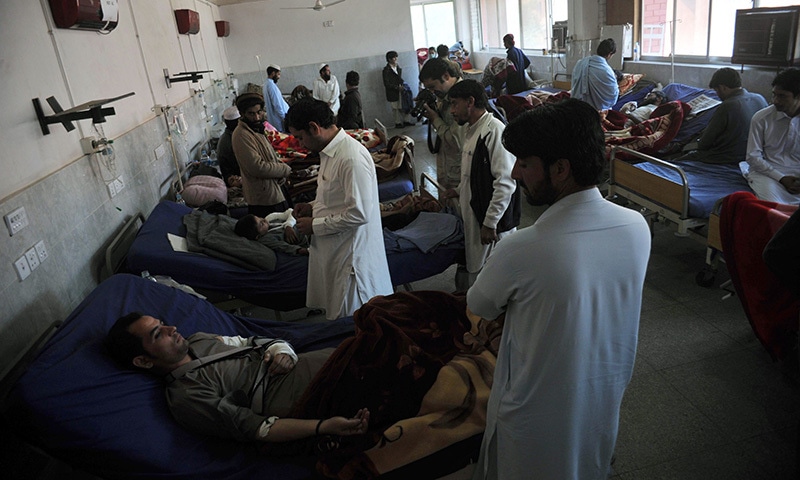 The quake was centred near Jurm in northeast Afghanistan, 250 km from the capital Kabul and at a depth of 213.5 km, the US Geological Survey said.
The quake, which lasted at least one minute, shook buildings in Afghanistan, Pakistan and India, sending thousands of frightened people rushing into the streets.
It was also felt in Tajikstan, Kyrgyzstan and Uzbekistan.
Live footage from an Afghan news broadcast filmed in Kabul showed the anchor abandoning his desk as the quake shook the cameras.
Restaurants and office buildings emptied in Islamabad, with cracks appearing in some buildings but no major damage reported.
Hundreds of people in northern India poured onto the streets from office blocks, hospitals and homes. In Delhi — more than 1,000 km from the epicentre — the metro ground to a halt during the tremor.
Indian Prime Minister Narendra Modi took to Twitter immediately after the quake, saying that India stood ready to assist, including in Afghanistan and Pakistan if required.
Pakistan mobilised troops and all military hospitals were put on high alert, army spokesman Lt Gen Asim Bajwa said, with the air force also offering support.
Also read: Is Islamabad prepared for major earthquakes?
Afghanistan is frequently hit by earthquakes, especially in the Hindu Kush mountain range, which lies near the junction of the Eurasian and Indian tectonic plates.
The epicentre of Monday's quake was just a few hundred kilometres from the site of a 7.6 magnitude quake that struck in October 2005, killing more than 75,000 people and displacing some 3.5 million more, although that quake was much shallower.
In Nepal twin quakes in May killed more than 8,900 people, triggered landslides and destroyed half a million homes.