The celebs got together for a patriotic video to gear up viewers for the Pakistan Day Parade on March 23
An investigation revealed Tsujihara was promising roles to actresses in exchange for sexual favours
Fan groups said they will be taking a case agains the filmmakers to French courts for "sullying" Jackson's memory

Securing Pakistan's economy is the key to securing its borders.
Selected and translated by Rakhshanda Jalil.
Feminism with conditions is no feminism.
The 28-year-old was reportedly arrested by India's National Investigative Agency during a crackdown on Jamaat-i-Islami.
May will likely ask for an extension until June 30 which could give her a chance to get parliament to bless her deal.
"He may have sought notoriety, but we in New Zealand will give him nothing, not even his name," vows PM Jacinda Ardern.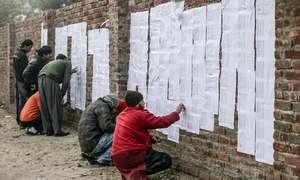 Pakistan's political and economic futures will depend, in large part, on whether we can provide decent jobs.
Who is behind the viral Instagram account 'Swinery'? And what does its popularity tell us about ourselves?
The mother of 10-year-old Amal Umer, killed by a policeman's bullet last August, appeals for a resolution.

The audience has high hopes from director Kamal Khan's debut feature Laal Kabootar, lined up for release on March 22.
Captain Marvel is Marvel Studios' first female-driven superhero film and while it may not be spectacular, for the most
In 2005, the Cinefondation's Atelier was created at the Cannes Film Festival to 'encourage the emergence of a new