Nadia Jamil
Idyllically composed shots blended with soulful background music make for an absorbing prelude to director Haissam Hussain's latest artistic offering on Hum TV, produced by Momina Duraid and 'SixSigma'. The title Durre-Shehwar, is in keeping with the serial's vintage feel, brimming with the director's trademark style which adorned his magnum opus Dastaan.
Pakistan's television dramas have evolved over the years with high-tech production equipment raising the bar of plays considerably. Buttressed with professional directors qualified in filmmaking, television serials have paved the way for a flourishing industry that has struck a chord with a large cross-section of people. Ventures like Humsafar and Dastaan are telling examples of how a swelling audience from across the board has been lured to TV plays once again following a protracted 'dry spell', post PTV's oft-reminisced and romanticized 'golden era'.  In Pakistan even the loyal fan-base of the ostentatious Indian soaps, has now slowly but surely shifted from Star Plus to local productions.
Thematically though more often than not, television serials have stuck to the age old formula of love triangles and Saas-Bahu sagas. A multilayered plot, rousing dialogues and nuanced characterization thus enables Durre-Shehwar to stand out from the herd. The current crop of Pakistani dramas is rife with warped and stereotypical portrayals of submissive, fatalistic women who are catapulted to a position of reverence or the 'immoral, modern girls' in western outfits, relegated to the category of vamps. Durre-Shehwar comes as a breath of fresh air for the characters reflect shades of grey which gives them depth and reality.
Durre- Shehwar explores the intricacies of relationships, the trials and tribulations experienced in them and the tough compromises reached. The project's parallel plots outline the stories of married couples at different junctures of their lives.
One sub-plot revolves around a husband and wife living in an urban setting and undergoing the overwhelming rigours of marriage, employment and parenthood. The effervescent Nadia Jamil has been paired together with the brooding Nauman Ijaz in this narrative of conjugal discord.
Nadia Jamil, who graces television screens after a long hiatus, looks like a million bucks in her come-back project. She fleshes out the role of a disgruntled wife with effortless ease in a rendition that is spontaneous and punchy. Nauman Ijaz, as a flustered husband, compliments Nadia beautifully and manages to generate moments of heightened tension without the crutch of melodrama.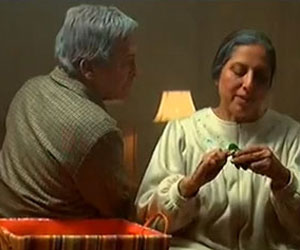 Meanwhile, a parallel theme revolves around a loveable old couple leading a retired life in the serene mountains.  Veteran actors Samina Peerzada and Qavi Khan have many endearing, heartwarming sequences showing romance and mutual dependency which they enact with great sensitivity. The picturesque backdrop of Murree in these portions makes the play a visual treat.  Many of the frames have a painting like quality with breathtaking scenes of glistening mist caressing lush green locales, dotted with colourful, dew-dropped flowers. The mountainous scenery is captured in full glory showing sunlight bursting through tall trees, bathing old wooden houses perched on immaculate hills and plumes of smoke rising from chimneys. Durre-Shehwar's sleek cinematography and poignant direction add to the luster of its subtle screenplay and gives the production a unique character.
The play's formidable cast also includes Mikaal Zulfiqar and Sanam Baloch who will be seen in forthcoming episodes portraying a younger Qavi Khan and Samina Peerzada in flashback sequences. One expects sparks to fly when such powerhouse talents come together and the opening episodes of the show do not disappoint in that respect.
Durre-Shehwar occupies the coveted eight-o-clock slot on Saturday nights which was up until recently ruled by the blockbuster Humsafar. There are few plays that tug at the heart's strings and stir the soul. If first impressions are anything to go by, Durre-Shehwar appears to be a promising project and one that has the tendency to absorb the viewer into a tranquil fantasy of scintillating emotions.
The drama serial can be watched on Hum Television at 8:00 pm on Saturdays.
The writer is a freelance journalist.