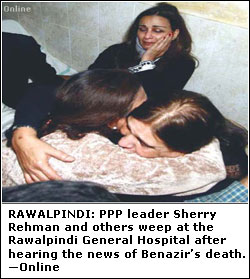 I first met Benazir Bhutto when she was elected prime minister in 1988, and asked to see me at her Rawalpindi office to be interviewed by her for the post of Principal Information Officer (PIO).
The thing that I remember most is that she stood up when I walked into the room where she sat on a long sofa with, if memory serves, Major General (retd) Nasirullah Babar and Wajid Shamsul Hassan, at that time chairman of the National Press Trust.
This was the elected prime minister of Pakistan, and a lady to boot, standing up to receive her guest, even if he was to be appointed to a lowly Grade-20 position. I remember remarking to friends that she came out as someone from one's own family: relaxed, easy, and eager to put her guest at immediate ease. I saw Benazir in many situations, at many times, and always found her to be a good person; she was what in Punjabi is called a 'Chunga Banda'. Indeed, I saw her relate to ordinary people, and relate well to them, often being moved to tears hearing their problems.
Benazir was a very decent person at heart. In whatever I saw and heard of or from her as PM, she reacted well and appropriately to situations where her instructions were needed or asked. I so remember a time when some of her most trusted advisers suggested that the government go public on a private affair where someone who was her leading tormentor had been caught en flagrante delicto and she came down hard on the persons making the suggestion in no uncertain terms.
There are two more instances that come to my distraught mind at this time: One had to do with the fact that as PIO I was overwhelmed by the lifafa culture of the time and the bad press this 'Sindhi' was getting at the behest and urging of the Establishment that was always looking for ways to put her down.
I asked to see her and she invited me to come to the PM's House at her walk time. A whole lot of officials used to be present on these walks and were asked, by turn, to walk with her so she could hear what they had to say.
I told her straight away that I needed some funds to match the lifafas of the opposition because it was using money to influence the more purchasable parts of our press. "Are we like them (the Establishment)?" said Benazir.
"No, prime minister," I said; "but we must play by the rules of the game as set by the all-powerful Establishment". "No" she said emphatically, "we will not. Let them do what they want; we will not do the wrong thing".
The other instant I remember was when I sent her a file one day and heard that same evening that she had left for Karachi to have Bakhtawar without announcing the impending birth of her child.
What proved beyond a shadow of doubt that Benazir was a woman with great diligence (and extreme courage) was when the file landed back on my desk on the third day of my having sent it with a long remark duly written by herself! Meaning that she worked on it on the day after Bakhtawar's birth! She was a good woman, was Benazir.
I have to add that the country's politics are in a state of devastation now that she, another Sindhi leader, has been so cruelly assassinated. It is not enough to ask any more to ask that a day may come when we Pakistanis can breathe a little easy. The time is here to ask whether our country can remain a country under dictatorship.
To Asif and the children, my heartfelt condolences. May Benazir rest in eternal peace.