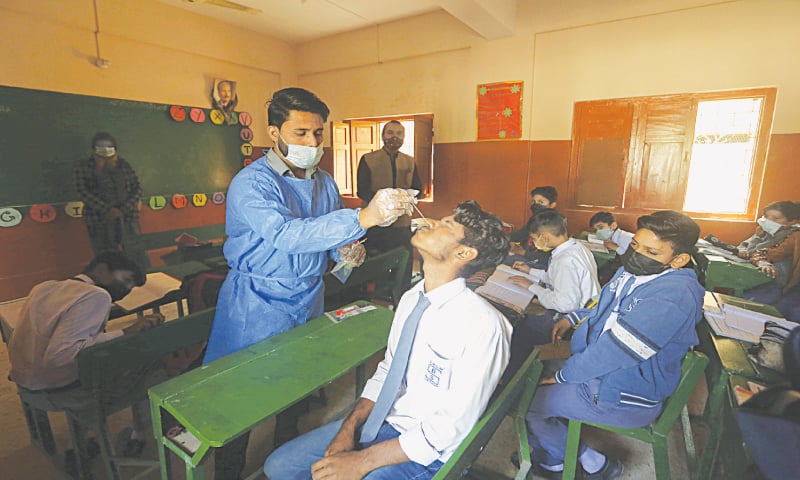 KARACHI: City's Covid-19 situation driven by the highly transmissible Omicron variant is turning from bad to worse as new cases jumped from 2,000 plus to over 3,000 in the last 24 hours, official figures said on Wednesday.
With 3,081 new cases, Karachi's positivity rate stands at 40.13pc, the highest in the country. The infection rate is also rising in Hyderabad from where a total of 242 new cases are reported in a day.
Keeping in view the situation and in compliance with the decisions of the National Command and Operations Centre (NCOC), the Sindh government banned all types of indoor gatherings, including weddings, dining, with effect from Jan 24 in Karachi and Hyderabad.
It decided that gyms, cinemas, shrines, amusement parks will continue to operate with 50 per cent capacity for fully vaccinated individuals only. On-campus classes for children under 12 would be held in schools of Karachi and Hyderabad in alternatives days with 50pc attendance.
Outdoor gathering with 300 individuals maximum are, however, allowed in Karachi and Hyderabad. Market/ business activities to continue without time restriction but with strict compliance of standard operating procedures. The new order will remain in place till Jan 31. However, the ban on indoor weddings and related functions will continue till Feb 15.
Call to adopt new vaccination guidelines
East tops list of hard-hit districts
According to the data released by the Chief Minister House, district East reported 1,147 cases out of Karachi's total 3,081 cases followed by district South with 840 cases.
Both these districts have the largest vaccinated population in Karachi — over 60pc in East and 82pc in South.
"The vaccination status of these districts should not be taken as an argument against vaccination. The fact is that these districts see more aggressive Covid-19 testing than other areas in the city," explained Dr Rafiq Khanani, senior pathologist heading the Infection Control Society of Pakistan.
He also pointed to lack of data on the area of residence of travellers, a significant number of whom arrived in Pakistan with Covid-19 infection. "While we do have data on new cases, we don't have stats readily available on travellers. I think these districts [East and South] have a larger number of (infected) travellers than others."
About infection in the vaccinated population, Dr Khanani said vaccination did play a vital role in minimising the impact of the virus on the body. The Omicron variant, he pointed out, was more transmissible but less severe than other variants because it kept itself largely limited to throat and nasal areas.
"We need to follow new vaccination guidelines and start vaccinating children above five years as is done in other countries. Also, we still have some 30 million partially vaccinated population that should receive their second dose while a larger population is in need of a booster dose after six months of their second dose," he said.
26 Omicron cases
According to the CM House stats, 26 more cases of Omicron variant emerged when 28 samples were tested, lifting the tally to 500.
A patient died overnight whereas a total of 3,648 new Covid-19 cases were diagnosed across the province through 16,735 tests.
"As many as 473,008 patients have recovered so far, including 269 overnight. Currently, 30,406 patients are under treatment, of whom 30,022 are in home isolation, 32 at isolation centres and 352 at different hospitals. A total of 300 patients are in critical condition, including 22 patients who have been shifted to ventilators."
Besides South and East, 484 cases were reported from district Central, Malir 339, West 166 and Korangi 105.
Published in Dawn, January 20th, 2022