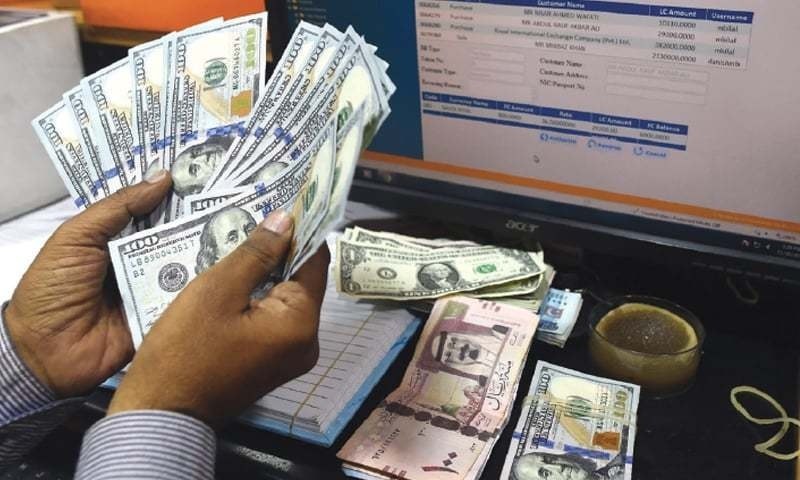 KARACHI: Foreign currency dealers in the open market have deposited more than $2.8 billion in banks during the first nine months of the current fiscal year (9MFY21) indicating the deposits could touch an all-time high figure of $4bn by the end of FY21.
Inflows of foreign exchange from both the open market and banking channels have increased significantly during the current fiscal year, with the total reserves of the country touching $20.68bn — the highest since July 2017.
"We have been depositing $300-350m per month in banks, with the total deposits nearing $2.8bn in nine months," said Forex Association of Pakistan (FAP) President Malik Bostan.
Currency dealers said higher forex deposits in banks are because of a very low consumption in the domestic market. Dealers said they are selling over 90 per cent dollars to banks. The situation was different before the Covid-19 pandemic made its way to Pakistan in the beginning of 2020, they added.
"The coming two months including Ramazan would bring more foreign exchange for the country. We can deposit up to $400m per month in the next two months," Mr Bostan said.
Traditionally, overseas Paki­stanis remit higher amounts to their families in Ramazan and Eid. At the same time, visitors coming to Pakistan bring foreign currencies with them which increase the supply in the open market.
"If currency dealers make a total $4bn deposit in the banks by end of this fiscal, it would be a record high. Pakistan has so far received 24pc higher remittances being sent by the overseas Pakistanis during 9MFY21," the FAP president added.
Currency dealers do not see higher consumption of foreign currencies in the domestic market since the pandemic has blocked international travel, including religious pilgrimage, and impacted the plans of students enrolled in foreign universities.
Mr Bostan said dollar buying for Haj has yet to begin, adding that previously people started buying the greenback before Ramazan.
"I believe very little amount would be required for Haj this year. The strict Haj policy of Saudi Arabia will mean that a limited number of people will get the opportunity to perform this pilgrimage," he explained.
The low demand in domestic market has also affected the exchange rate in favour of local currency which was declared as the second best currency in the world by the governor State Bank in a recent interview.
The dollar was traded at a price of Rs152.80 — a two-year low — in the inter-bank market on Friday. Currency dealers in inter-bank market said the inflows were higher due to higher remittances and higher selling of export proceeds. Exporters are selling their proceeds in fear of further appreciation of the Pak rupee which reduces their earning in local currency.
Published in Dawn, April 11th, 2021
Now you can follow Dawn Business on Twitter, LinkedIn, Instagram and Facebook for insights on business, finance and tech from Pakistan and across the world.