Q. Do black roses really exist? And if so, can they be grown in Islamabad? I took a chance and ordered seeds from an online store and have planted them in a mixture of soil and manure.
A. No, they do not exist. Actually, there is no naturally black flower in existence. The closest you get is a very dark maroon, red or purple. The legend of black roses has its origins in Halfeti, Turkey but the roses are simply an extremely deep, dark red which may look black in certain light conditions. Roses, in general, do well in Islamabad but are notoriously difficult to propagate from seed: the seed must be subjected to stratification (a period in the freezer) prior to sowing. It is best to propagate from cuttings.
Q. Which plants can be grown in Karachi to attract dragonflies?
A. Dragonflies are not attracted by plants but by water and tiny insects such as mosquitoes, which they eat in surprisingly large numbers. You will, no doubt, find many internet articles/videos claiming that the plants they are promoting do attract dragonflies — but this is sales departments at work; sometimes heavily disguised sales departments, but sales departments all the same. The best way of attracting dragonflies to your garden is to create a pond, even a small one, and surround it with as wide a mixture of plants as possible.
Q. I bought an eight-foot-tall, bushy Hibiscus sinensis in a 24-inch clay pot three years ago, from a nursery in Lahore. It flowered well the first year but refused to flower the second year until after the rains, when it put out a bloom or two after considerable coaxing. This year the foliage appeared late, in June, but it is still fairly bare and there is no bloom. I live in a rented house, otherwise I would have removed it from its container and planted it in the ground. Any suggestions? I have fertilised it, ignored it and threatened it in turn.
A. Presumably the plant is still in the same pot, with the same soil, it was initially purchased in. This being the case, it needs repotting into a larger pot with new soil/organic compost. Once this is done, it should, in time — now that its roots have the necessary space to grow and its basic nutrition is being met again — reward you with a bountiful display of blooms next season.
All your gardening queries answered here
Q. I was advised to grow Tecomaria on a tall wall at the end of my garden in DHA, Karachi. The wall gets sun all day. I planted four to five tecomaria hoping they would grow tall and cover the wall. Some of them grew well and had beautiful pink flowers but, as the hot summer months approached, they would shrivel, the leaves grew pale and the flowers and buds burnt. I kept on replacing them and, after several failed attempts over three years I have decided to give up and plant something hardier and fast growing. Please advise which vine/ creeper will grow best.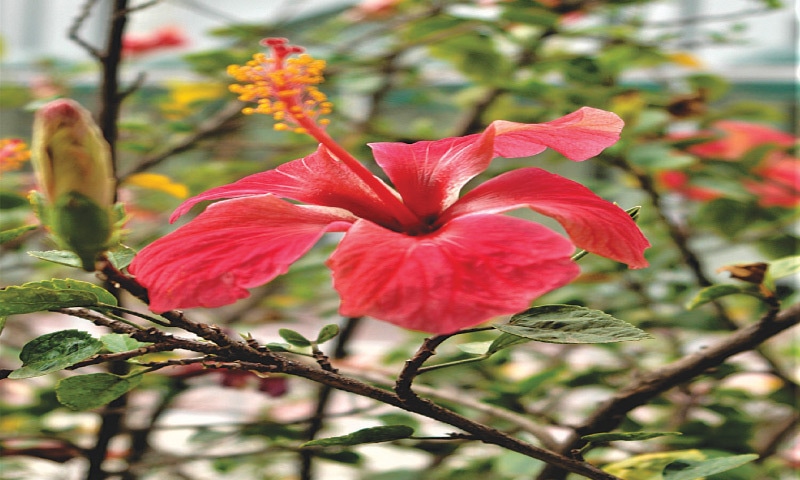 A. Try Tecoma grandiflora — also known as Campsis grandiflora, the Chinese trumpet vine, or hardy favourite Bougainvillea, as both of these should be tough enough for the location described.
Q. I am planning an experiment to fortify the zinc content of tomatoes, with the intention of overcoming zinc deficiency in humans, mainly in children. I am starting this experiment in Peshawar and need to know which variety of tomato grows best in this area, from August to November.
A. Roma, Rio Grande and Marmande tomato varieties have all been reported as thriving in the Peshawar area. I suggest that you contact the Agricultural Research Institute in Tarnab for additional information as, I believe, they have been conducting research into tomato cropping patterns over the last few years.
Q. I want to grow raspberries, blackberries and blueberries in Islamabad but have no idea where to find the plants or seeds. I also need information about the necessary growing conditions for each species.
A. I suggest that you read the column of May 27, 2018 of this magazine as it should answer your questions.
Q. Last year I planted an orange tree at my home in Chitral, but it is not growing. Its height remains the same, 1.5 feet, as when I bought it. I have applied urea and diammonium phosphate, along with cow manure from time to time.
A. Citrus, of any kind, can be notoriously slow to pick up after being transplanted and I suspect that this is the case, especially as Chitral is not ideal for orange cultivation. Protect its roots with a good layer of straw this coming winter, continue to care for it as best you can and hope that it decides to adjust to its surroundings in the coming spring.
Q. Can I grow bonsai apple, papaya and kiwi fruit in Karachi? If so, which months are suitable?
A. The art of creating bonsai is extremely complicated and one which requires years of patience. It shall be dealt with in a future article. Whilst apple trees can be trained into bonsai (but not in the Karachi climate), papaya and kiwi fruit vines are not suitable subjects for this art form.
Please continue sending your gardening queries to zahrahnasir@hotmail.com. Remember to include your location. The writer does not respond directly by email. Emails with attachments will not be opened
Published in Dawn, EOS, August 23rd, 2020