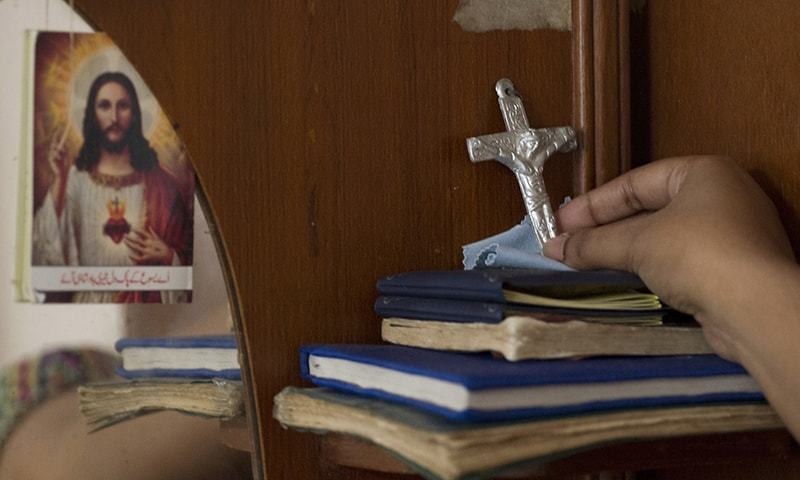 TOBA TEK SINGH: Gojra's Bishop John Samuel has accused the Saddar police of registering an "unjustified" case under the terrorism charge against 15 nominated and 30 unidentified people from the Christian Colony of Chak 281-JB Dawakhri.
Addressing a press conference along with other members of the community on Sunday at the Church of Pakistan, Bishop Samuel claimed that late on Dec 5 police raided the mehndi event of Sajid Masih, entered the women's section, thrashed people and damaged their valuables. They also arrested several relatives of the groom.
He claimed that several guests were wounded, but police did not allow them to get their medico-legal certificates from the Gojra THQ Hospital. He demanded the first information report (FIR) registered under Section 7 of the ATA over "false and fabricated charges" be quashed. He warned that if his demand was not met, the community will be forced to adopt other measures to protest against the police.
Scores of men, women and children staged a demonstration against the police on the occasion on the Church of Pakistan premises.
District Police Office spokesperson Attaullah alleged that police conducted the raid as some of the guests were firing in the air in jubilation and had later resisted and attacked policemen. He claimed that Dawakhri checkpost in-charge Assistant Sub-Inspector Naveed Shahzad and Constable Muhammad Waqas were seriously injured with fractured bones and had been admitted to the Gojra THQ Hospital.
He refuted the bishop's allegations that the injured were not allowed to get medico-legal certificates. He said the injured had not contacted police so far and when they did they would be sent to hospital immediately for the purpose.
Sajid Masih's brother Javed Masih told reporters that police were not registering a case against the policemen who tortured his family members. He claimed that he had submitted an application to Gojra Deputy Superintendent of Police Fateh Kahlon for registration of cross version in the FIR registered against them, but so far it had not been registered.
Published in Dawn, December 9th, 2019