In what appears to be a jail cell measuring 12 feet by eight feet, Sarmad Khoosat sits in solitary confinement portraying a prisoner on death row, 'Prisoner Z', awaiting his ultimate fate. These are the last 24 hours of his life and he's set to be hanged shortly. Sarmad emotes an amalgamation of restlessness, sleeplessness and grief, yet there is also a tinge of hope that his sentence will be commuted. Here, he is rehearsing for something unprecedented, unique and unheard of in Pakistan.
On the World Day Against Death Penalty on Oct 10, Sarmad performed for 24 hours straight — without breaks — in a performing arts piece titled No Time To Sleep that was streamed live exclusively on Dawn.com. The performance piece was put together by the Justice Project Pakistan (JPP), Olomopolo Media and Highlights Arts of the UK.
The performance charts how a death-row prisoner — JPP's first client in this case — spends his last 24 hours before he's hanged: his family meeting him for the last time, lawyers making last-minute efforts to ensure the sentence is commuted, doctors checking up on him, and the prisoner himself experiencing varied emotions.
A ground-breaking 24-hour-long performance was streamed live on October 10 to humanise issues around the death penalty. For Sarmad Khoosat who played the role of the death-row prisoner on his last day, and for the team behind the piece, the logistics of putting it together were as challenging as the objectives of the project
Prisoner Z is based on Zulfiqar Ali, who spent 17 years waiting to be executed for killing two robbers in self-defence. In those 17 years, his execution was scheduled and stayed more than 20 times. While in prison, Zulfiqar earned more than 30 diplomas and educated hundreds of prisoners. When his final execution warrant was issued, dozens wrote to newspapers protesting. However, he was finally hanged in Kot Lakhpat Jail in Lahore in May 2016.
While the concept of a 24-hour, non-stop play sounded bizarre, and rightly so, Sarmad says he was excited about the challenge. "The excitement outweighed the fear," he recalls his reaction on finding out about the performance. "But since it wasn't a play or scripted, the idea of not having a script and improvising in real-time was scary because it was streamed live and you have to make it engaging or riveting enough to pull it off for 24 hours. That's when the excitement took the backseat and the actual challenge took over. However, the theme was the big purpose behind it. I did take a couple of days to think about it, but I sure was excited."
His sister Kanwal who directed the project says, "I had no idea what we were going to do. Ryan and Debra [from Highlight Arts] were very instrumental in making us understand how to approach the narrative. It was not a play but a durational performance arts piece that was mostly non-verbal. We used universal expressions mostly so people the world over could relate to it. The rehearsals were more meditative for the director, writers and performers. The spirit was understood at the time of the performance only."
Talking about the concept and how she planned to tackle it, Kanwal said that since mostly the performance was based on a person sitting and waiting, what he is going through and his surroundings, "we had to make it engaging and relatable for the audience. In such a situation, we can only imagine what's going to happen, but not experience it. We were just inducing the feeling, but the actual feeling was felt only during the performance. The rehearsals were mechanical but the actual performance showed how we responded."
It was actually Ryan Van Winkle of Highlight Arts, UK, who planted the seeds of the 24-hour concept into the minds of the JPP team. "I operate purely on ideas that I think are interesting, evocative and can highlight some emotion without being didactic or lecturing or trying to overtly have an agenda," he says. "We were just having a conversation about what to do on the World Day Against Death Penalty besides just creating awareness in Pakistan and worldwide as a big international campaign. At first, I was thinking only on the social media level — to have an online prologue blog that would have been cheap and easy to do from afar in English and Urdu, based on something I had seen on social media about a Guantanamo Bay prisoner. I floated the idea and I think it was Sarah Belal of JPP who, being gutsy and ambitious, loved the idea. She was enthusiastic about doing a live stream with an actor who can really make it possible."
With little information on the personal life of Zulfiqar, Sarmad decided to apply the method school of acting. "I really had to find things that made it different from other performances of mine on film or TV, I needed to go method," he tells Icon about how he prepared for the role. "I needed to understand confinement, for which I realised I could channel my serious claustrophobia to remotely experience the situation, which I did. I realised that I will have to bring in some dramatics and improvise. That method worked. And then it wasn't as much about the incarceration as an actor but about what does a person do inside all alone? As an actor, I thought the performance has to have some activity about it. There was an emotional map set by creators Ryan and Debbie that they wanted me to loosely follow. Then there were physical beats, such as guard change, superintendent, family members, power outages that I reacted to." Incidentally, Sarmad's real-life father and veteran actor Irfan Khoosat also makes a surprise appearance.
Sarmad adds that in order to get as close to Zulfiqar's character as possible, he spent time staring at a passport-size photograph of the prisoner. "Also, I worked in a mental institution as part of my degree in psychology. In the asylums the aggressive patients were kept in prison-like cells. So the smells, ideas, bars, uniform that I could recall from those days, I tried to channel some of that. And I deliberately did not recall any film references."
As the director, Kanwal felt her job was to make the performance inspiring, and make it easy and comfortable for the actors. "My strengths and weaknesses are both in art direction, so environment is very important for me. I had to make it as realistic as possible but also take a few dramatic licences, add a bit of drama to enhance impact, yet approach it as realistically as possible."
Knowing that the performance would go on for 24 hours non-stop without any breaks, there were naturally some limitations or challenges to this formula in terms of the audience: very few, if any at all, would actually sit for the entire duration to catch the performance. What did the team think would make this performance effective and achieve its desired objectives? Sarmad claims to have expected all sorts of surprises.
"From a consumer's point of view, the idea attracted people by its unusualness. I don't think anything can be so riveting to glue someone for 24 hours in front of a screen. If somebody is genuinely interested in the content, idea, format, broader topic or even me, they would watch a bit and maintain a mental anticipation to check back after a few minutes. Efficacy-wise, that's what we do to most art forms: keep consumption and viewer-angle in mind much prior to production. The format and content have a big statement to make, but will it translate into numbers, we had no idea. To be more poetic about it, there was so much honesty and hard work about it. We have to also understand it in the regional context — this wasn't an easy concept to break or create a change," the actor says optimistically.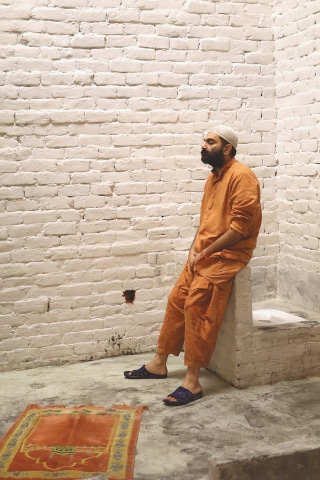 Kanwal feels when the concept is so heavy, one is bound to get affected even if you don't add a lot of shebang to the acting. "Even during the mechanical rehearsals we got goosebumps at times. The concept wasn't even meant to be watched for 24 hours. That's why it's called endurance performance for performers. Also, I didn't want it to be any other story or be didactic about it. This wasn't a TV play with sad music in the background of a sad scene. It had to be more personal. It also depended on who watched at what time and how much. You need to understand it's a 24-hour performance and no actor could be acting all throughout; they would be sleeping, resting also. It didn't have to be dramatic all the time."
Such a seemingly larger-than-life concept would have brought in its share of challenges for the entire team. The director felt that it was a test of endurance for the actors, but she had administrative concerns as well. "I wanted to ensure synergy between the technical teams for a smooth execution. I had to make sure there was no technical glitch, that the internet connection was smooth because even if we got everything right, there could have been a technical glitch at the last moment."
Ryan shares her concerns about external and technical challenges. "We prepared a lot for external challenges such as power, internet, burn-out, actors getting tired, stress, how to take care of each other, making sure Sarmad was comfortable and had no health issues."
The actor says he considered his performance as part of a bigger universe and whatever little contribution it could make. "I hope its gets people talking about the death penalty and moratorium. I do feel it was meant to only drop that idea and see where it goes. How about we look at it slightly analytically rather than emotionally? Even if you disagree with abolition of the death penalty, at least ask questions, analyse and not be a mob," says Sarmad about his expectations before he went on to perform such a demanding act.
Often times when actors perform such emotionally, physically and societally challenging characters, it takes a lot out of them as human beings. "Mostly, the focus is on getting into the character and every process is directed towards getting into the skin, but the way out isn't figured out," he says. "After Manto [the film he directed and starred in], I had to lose weight in the most unnatural way. But the challenge was so far more exciting than foreseeing the damage perhaps. It was one of those badass moments."
Published in Dawn, ICON, August 14th, 2018