Out of the many female doctors who graduate from medical schools every year, most do not continue with the profession after getting their degrees. This is true in Pakistan, even though women far outweigh the number of men in any medical school incoming class, due to cultural pressures and domestic taboos.
When girls are discouraged from being full-time doctors, their potential is clamped down. Meanwhile, the huge gap between the number of available doctors and the number of patients grows even wider.
Enter doctHERs. While the government is busy re-working quotas and policies, this startup is taking the problem head-on with an innovative approach: merging online technology with healthcare, to create a marketplace where female doctors can access patients remotely.
doctHERs is available to patients in both rural and urban areas. While challenges differ in the two areas, gains are the same: doctHERs creates employment opportunities for women, and improves the quality of healthcare in the region.
Related: 50pc of female doctors never work after graduation
How doctHERs works
The clinics operate in a simple manner. Nurses are available at various time slots to conduct the patients' history and examination. The details are then communicated to the assigned female doctor, who in collaboration with the nurse provides the needed advice and treatment.
All treatment procedures are carried out by the nurse under the virtual supervision of the doctHER. The programme consists of peripheral diagnostic tools as well, so the doctor can assess her patient's vital signs remotely.
Since the clinic is dedicated to treating patients under a cost-effective price, it charges a minimum of Rs100 to a maximum of Rs1,200 per patient and virtual clinic consultation. 50 per cent of the revenue is paid to the doctHER network, and 25 per cent to the nurses and community health workers.
The remaining 15pc covers operational costs, yielding a net profit of 10%. In order to assist patients who cannot afford healthcare, the organisation is also working on incorporating a 'Zakat and Welfare Model.'
Improved healthcare
doctHERs launched its first clinic in Model Colony in May 2015. The clinic includes a mini pharmacy, a family planning lab and a lab collection. The center has seen up to 3,600 patients already, who have visited the clinic seeking treatment for diabetes, eye care, skin issues and a range of other medical issues. Patients also come seeking ultrasounds and specialised treatments.
doctHERs vision emphasises on improving care in both rural and urban areas. In accordance with this goal, clinics have also been set up in Manshera in Khyber Pakhtunkhwa. The Manshera clinic treated 250 patients on its inauguration day alone.
The organisation trains and employs female nurses, community health workers and community midwives to assist doctors. 'MidWives assist doctHERs', is a specific campaign that hires midwives and nurses in assessing patients at points-of-care (PoC) set up at the clinics.
Adjusting to technology
Of course, the use of technology raises eyebrows in a culture that does not support the idea of the Internet as a positive force. Hardly 15.9 per cent of Pakistan's population uses the Internet, while the rest are only adjusting to the use of cell phones.
Co-founders of doctHERs believe that changing the mindset of the community will be integral in the startup's success — people have to believe in the advent of technology. To deal with this hostility, doctHERs is using individual mobilisation and has launched a massive door-to-door campaign.
But implementing a system like doctHERs in areas where people have never used a computer or a smart phone requires dedicated efforts. To address peoples' lack of comfort, training and mock sessions are held in areas with clinics, so users can familiarise themselves with the system, and know where to go for medical help.
Along with that, awareness and advertising social campaigns are also being carried out to eliminate fears associated with technology. doctHERs is encouraging both patients and doctors to join the network.
Dr. Iffat Zaffar, co-founder of doctHERs believes that digital health is the future. "In 10 years, it will be a part of the healthcare reforms," she says. "Not only will tele-medicine become a subject in medical schools but rather will be a specialised field on its own."
Paving their own paths
Despite the challenges, the co-founders see a prosperous future for the organisation and hope to launch at least 50 more clinics by the end of 2016.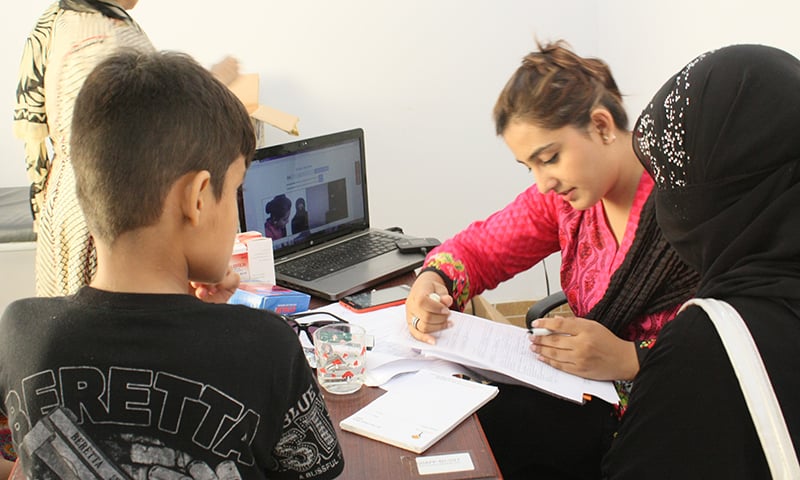 doctHERs' outreach is a huge step forward in promoting women in leadership positions. Their training networks and conferences have engaged more than 300,000 female physicians in Pakistan.
According to the Pakistan Medical and Dental Council, more than 70 per cent medical students are women, and yet only 23 per cent are registered female doctors. DocHers is a small but significant way to rectify the gap between trained and practicing female doctors, nurses and community health workers.
As Dr. Sara Khurram, co-founder of doctHERs says: "Women should not have to choose between having a family and a career. It is integral for their existence that they pave their own path."
Farah Saleem is an educationist, writer and digital strategist.
Do you want your product/service reviewed? Email us at web@dawn.com